May Days Training Week 8: March 22nd - March 28th
This week's summary is a little late due to the traveling I did this weekend. Doesn't mean that this week wasn't great, though! Because it was. Read on...
Mar 22
8.5 mile tempo run
that I totally rocked! I loved running to running group and didn't even mind the run home. I can't wait to do this more often. I love that I can run to the group start. And, honestly, I think I get there in the same amount of time as if I drove. Crazy, huh?
Mar 23
3 miles at lunch
with the lunch-time group. Thankfully, even after my hard Monday night run my legs didn't feel like concrete blocks. Sometimes I dread going out on Tuesdays but in the end I love getting out of my office and taking advantage of the weather when it's nice.
After work I headed to the gym for about 40 minutes of strength training.
Strength Training with
Legs
focus
Wide Stance Squat: 15 @ 10 lbs x2
Seated Leg Extension: 20 @ 25 lbs
Seated Leg Press: 15 @ 60 lbs; 12 @ 80 lbs; 20 @ 55 lbs
Push Up (on Knees): 20 (WOOOOOOOO!)
Seated Back Extension: 20 @ 65 lbs; 15 @ 70 lbs
Seated Rear Deltoid: 20 @ 15 lbs
Low-Pulley Straight Bar Curl: 12 @ 15 lbs
Seated Dip: 20 @ 35 lbs
Wide Stance Leg Press: 20 @ 30 lbs x2
Horizontal Calf Raise: 20 @ 30 lbs; 15 @ 30 lbs
Crunch: 20
Reverse Crunch: 20
Crunch with Legs In (Stability Ball): 20
Crunch with Legs Vertical: 20
90 Degree Side Oblique Crunch: 20
I am stupid excited that I was able to do 20 push ups even if they were on my knees. Two weeks ago I was only able to do 12 at a time. Granted, that was after doing chest presses, but still. Now, I just need to be able to do 20 in a row OFF my knees.
Also, another 100 crunch day! Yesssss!
And, I'll be honest, those three sets of leg presses were pretty killer towards the end.
Mar 24
I made it to the gym with about 30 minutes to spare before my Hi/Lo class. So, I concentrated on ab work.
Crunch with Legs Up (Stability Ball): 20
Oblique Crunch with Legs Up (Stability Ball): 20
Reverse Crunch: 20
Crunch with Legs Vertical: 20
Crunch: 20
Hamstring Curls (Stability Ball): 10
Bridges: 2 sets of 10
Planks: 2 sets of 30 seconds
I'm not going to lie, while I worked it harder than some people in the class, I didn't go totally all out during Hi/Lo. I was pretty tired. And when I got home, WHEW my butt was sore. I think the combination of Legs and then the Bridges and then all the hamstring moves we do in class killed me. My triceps were pretty sore at the end of class, too. Lots of hardcore punching during "Duel of the Fates".
Also, I'd like to take this moment to applaud that I did
2
sets of planks for
30 seconds
. I HATE planks. I'm horrible at them. But while these felt challenging, I didn't want to die. I think this is a sign that my core *is* actually getting stronger. YAY!
Mar 25
I didn't get a chance to run at lunch due to a meeting. However, on Monday my gym called and offered me a free 30 minute personal training session. I scheduled that for Thursday night.
I arrived at the gym a little early and warmed-up by walking on the treadmill for 10 minutes. Then I met with the trainer who asked me what I was interested in working on.
Since I have no lower ab strength and I've discovered that my upper back is also really weak I asked her to help me with those two areas.
We used the cable machine to do one armed rows while in a squat position (hello, burning quads!) and it was really nice to have her there to correct my form. Then we did lat pulldowns. Next she had me get into essentially a plank position with my elbows on the stability ball. Her plan was to have me roll the ball out slightly and then alternate bringing my knees up to the ball as I rolled it back in. Except, once again, the trainer underestimated my lack of lower ab strength. I was wobbling all over the place and she worried I was going to hurt my back. So, we left out the knee part. We did this circuit twice.
Then she had me do this crazy plank maneuver where you start out in a plank position on your elbows and then get yourself into push-up position one arm at a time. Then you lower yourself back down on your elbows one arm at a time. Do this one for one minute. Then die. Although, she did tell me my form was good! If you want to play along at home, here's a video with the move in it:
Following the want-to-die plank move we once again attempted to focus on my lower abs and, once again, she had to modify the move she wanted me to do. I ended up essentially doing a reverse crunch instead. And then another crazy plank thing. And then some more reverse crunches.
Then we did hanging leg raises. And called it an evening.
All in all, the trainer was super nice and had some good ideas for me. She didn't try to sell me on more sessions or anything, either. However, I really did like having someone there to push me and tell me "one more!" when I thought I couldn't go on.
Mar 26
Rest Day! Also, a travel day as Jason and I drove to visit my parents.
Mar 27
Even though I wasn't looking forward to running 10 miles, I ended up having one of the best
double digit runs
I've ever had. Certain parts of it were really windy so I even got some Illinois "hill" training in as well. Then I spent a few hours at the mall with my mom and came home with a super cute outfit: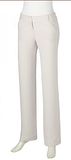 Click to see larger
Mar 28
Sunday was spent visiting with my parents, driving back home, and then prepping for the upcoming week. So, no gym time or anything. My legs were a little bit sore from running and then walking around the gym. It felt nice to relax. At least until I got home and had to do laundry and prep meals for the week.
Total Mileage: 21.59
Another 20+ week! I seem to be having a difficult time getting closer to 25 miles per week this time around. I think it's because I'm doing more cross-training? Either way, my runs have been great so I don't plan to change things up too much.
However, I have this next week as an easier week since we're traveling again this weekend. On Saturday, my usual long run day, we'll be in
Flagstaff, Arizona
. Which, by the way, is not in the desert. It's in the mountains. At 7000 feet above sea level. If I get a run in, it will be nice and short and easy lest I pass out from the change in altitude. For reference, where I usually run? About 600 feet above sea level.
Hope everyone has a great week and that the spring weather (for those of us who have to suffer through winter) sticks around!