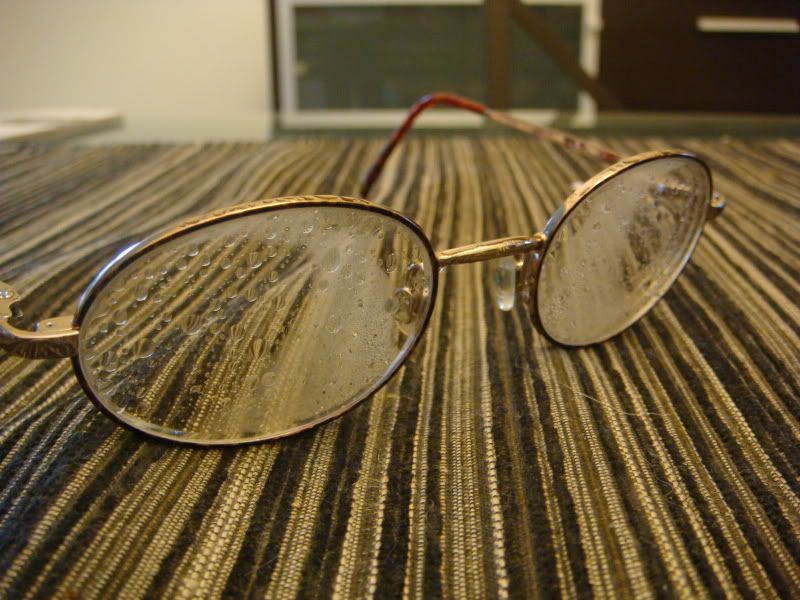 Click to see larger
The problem with wearing glasses while running in the rain? It's almost like not wearing glasses at all. And that's with wearing a visor.
Obviously the rain did not stay away from my 9 mile run on Saturday morning. Thankfully, though, it wasn't pouring. Instead, I ran through mist and drizzle before the day turned into a colder, rainier mess.
It's amazing how much a fifteen degrees and an hour can make. Last week I struggled to keep my 8 mile run near my training plan pace. This week I struggled to go slow enough! In fact, I ended up running negative splits without even really trying!! The Bones in Motion data looks a little funky due to the many stops I had to make at intersections, but the straight-from-the-Garmin data says this:
Mile 1: 10:08.45
Mile 2: 10:05.97
Mile 3: 10:21.72
Mile 4: 10:18.32
Mile 5: 10:03.53
Mile 6: 9:48.38
Mile 7: 9:48.00
Mile 8: 9:17.35
Mile 9: 9:00.80
I really should have written this post on Saturday right after my run because I'm sure I would have had so many more thoughts to include. Now, though, I can't tell you a single thing I thought about. And I didn't even run with music or a podcast so it really was just me and my thoughts. Actually, I'm impressed with how well I did sans music.
I thought I would be the only person out in that miserable weather, but I saw quite a few runners and cyclists. Well, when I
could
see, anyway. To be honest, I didn't even notice that I was damp from the rain until I stopped moving. If my glasses hadn't been foggy and rain-speckled it wouldn't have been much different than running under just overcast skies.
And before you say I'm hardcore to run in the rain, I just say this: you never know what it's going to be like on race day so you'd better get used to running in anything. Except lightening. I don't run outside when there's lightening.
But, okay, maybe I am a little bit hardcore.
Regardless, I can't wait until I have my contacts back.
*************************
Activity
Route:
--
Elev. Avg:
626 ft
Location:
Forest Park, IL
Elev. Gain:
+0 ft
Date:
03/13/10
Up/Downhill:
[+49/-49]
Time:
08:02 AM
Difficulty:
2.4 / 5.0
Weather:
Light Rain Fog/Mist
46 F temp; 92% humidity
46 F heat index; winds E 12
Performance
Distance:
9.00 miles


Time:
1:28:53
Speed:
6.1 mph
Pace:
9' 53 /mi
Calories:
1074
Map
Elevation (ft)
Pace (min/mile)
Splits
Mile
Pace (min/mile)
Speed (mph)
Elevation
Gain
actual
+/- avg
actual
+/- avg
1
10' 12

+0' 19

5.9

-0.2

+4 ft
2
9' 57
+0' 04
6.0
-0.0
+6 ft
3
10' 25

+0' 32

5.8

-0.3

0 ft
4
10' 20

+0' 27

5.8

-0.3

-9 ft
5
10' 03

+0' 10

6.0

-0.1

+13 ft
6
9' 48
-0' 05
6.1
+0.0
-3 ft
7
10' 12

+0' 19

5.9

-0.2

+3 ft
8
9' 22

-0' 31

6.4

+0.3

-13 ft
end
8' 58

-0' 55

6.7

+0.6

0 ft
Versus average of 9' 53 min/mile