May Days Training Week 7: March 15th - March 21st
Mar 15
Managed a
5+ mile tempo run
without the aid of the Oak Park Runners Club. And even made it book club before anyone else arrived!
Mar 16
I struggled through a
3+ mile run at lunch
. Thank goodness the sun was shining or I really would have questioned why I was out there. Oh, who am I kidding, I was asking myself that anyway.
After work I went to the gym. It's also been a month since I lifted on a Tuesday night. Oh man, I was definitely tired. Normally I bump up the weights on the leg press machine but on Tuesday my knees were creaky and I could tell that using a higher weight would really kill me.
45 minutes of strength training with
Back
focus
One Arm Row (Stability Ball): 15 @ 7.5 lbs x2 each arm
Close Grip Pulldown: 20 @ 20 lbs; 14 @ 22.5 lbs (Aside: I hate these so much)
Sit Down Row: 12 @ 40 lbs; 10 @ 25 lbs (Not a fan of this either. I think my form is horrible)
Seated Back Extension: 15 @ 70 lbs; 20 @ 70 lbs
Seated Chest Press: 20 @ 20 lbs x2
Seated Shoulder Press: 14 @ 15 lbs (my shoulders are WEAK)
Low-Pulley Straight Bar Curl: 15 @ 12.5 lbs (much more difficult than using either of the seated curl machines)
Straight Bar Pushdown: 20 @ 15 lbs
Seated Leg Press: 20 @ 55 lbs x2
Seated Leg Curl: 20 @ 35 lbs
Horizontal Calf Raise: 20 @ 35 lbs x2
Crunches: 20
Reverse Crunch: 20 x2
Side Oblique Crunch: 20
Crunch with Legs Elevated: 20
I decided to go ahead and manually tell the computer program to reenable the automatic weight progression. I figure I've done enough strength training in my life to know if something is too heavy. Hopefully this doesn't bite me in the butt.
Also, the program only had me doing 95 crunches of various kinds. I add an extra 5 to make it an even 100. Woo! 100 crunches!
Mar 17
Normally on Wednesdays I go to the gym and take my Hi/Lo aerobics class and do a little bit of strength training. But this particular Wednesday I just wasn't feeling it. Some if may have had to do with the fact that last Wednesday I discovered that I don't like taking aerobics while wearing my glasses. Part of it may have been that I was tired. I don't know.
So, instead, I decided to be a good dog owner and actually take the dogs for a walk. I convinced my husband to come with so that I could run into the library and grab the next book for book club (
One Hundred Years of Solitude
. Anyone read it?) at the same time. Which means we got in a 1.5 mile walk. I suppose that's something.
Mar 18
Got in a
4.5+ mile run
with the running group and Kim! The weather was PERFECT. Oh, how I wish it could stay like that forever.
After work I went to the gym to do strength training. My knees were still feeling creaky and I wasn't thrilled that it was a Legs day. Thankfully everything felt a-okay.
45 minutes strength training with
Legs
focus
Wide Stance Squat (1 Dumbbell): 15 @ 10lbs x2
Seated Leg Extension: 20 @ 20 lbs
Free Motion Squat: 12 @ 30 lbs; 20 @ 20 lbs
Wide Grip Pulldown: 20 @ 10 lbs x2
Push Up: 2 sets of 14
Seated Back Extension: 20 @ 65 lbs; 15 @ 70 lbs
Seated Rear Deltoid: 20 @ 15 lbs
Seated Arm Curl: 15 @ 15 lbs
V-Bar Pushdown: 20 @ 20 lbs
Adductor: 20 @ 50 lbs; 20 @ 110 lbs x2
Horizontal Calf Raise: 20 @ 30 lbs x2
90 Degree Crunch: 20
Side Oblique Crunch with Legs Elevated: 20
Bicycle Maneuver: 2 sets of 15
Decline Crunch: 15
Hamstring Curls (Stability Ball): 2 sets of 10
Mar 19
Rest Day!
Mar 20
Ran
9 miles
in the wind and the snow flurries. Almost as badass as running the rain.
Also, I happened to be out on my run when it hit
2:00 PM Eastern Time
. Once I realized that I'd be on the bike path somewhere when the time came to take a photo I hoped I'd be or see something cool at the exact moment. I totally didn't plan it this way, but just as the alarm on my phone went off I came to this: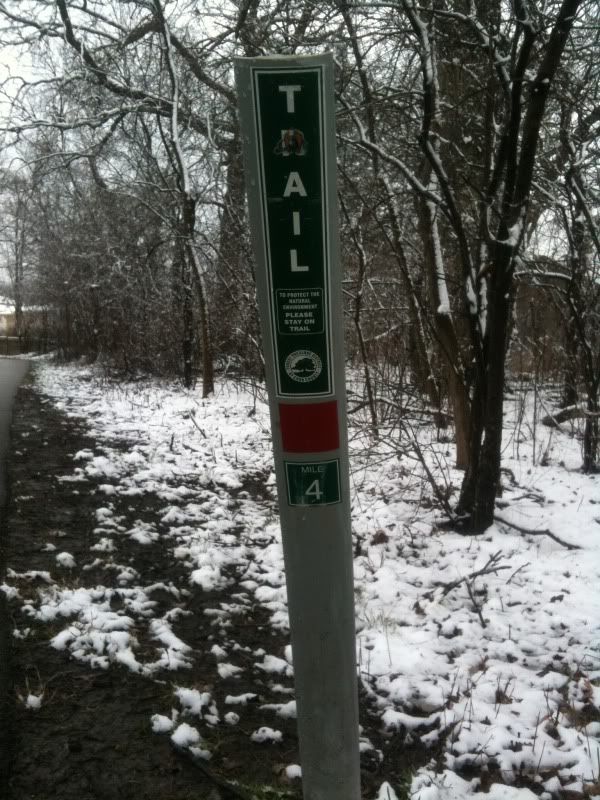 And the view directly behind me?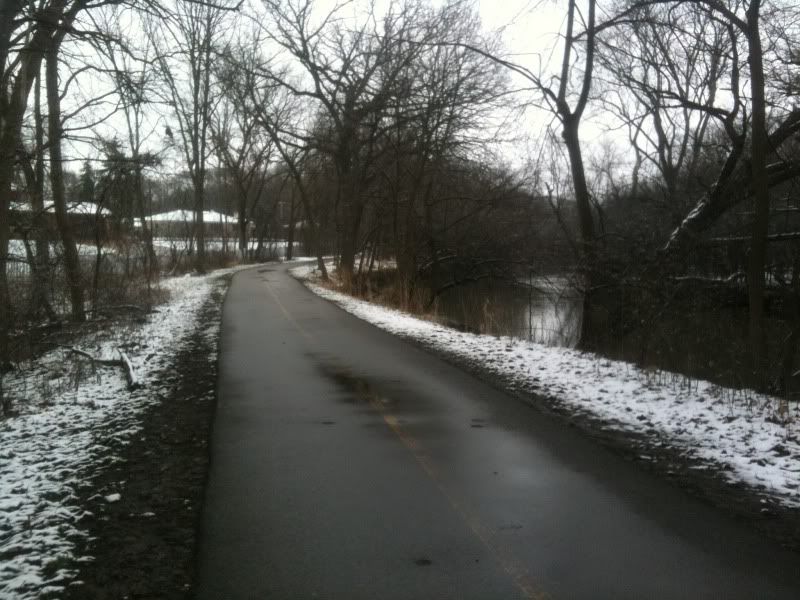 So those are the photos I sent to
A Minute in the Life
taken at 2PM Eastern Time on Saturday, March 20th.
Mar 21
No running or gymming today but that doesn't mean I didn't help out the running community in some way. No,
Kim
and I headed down to the Chicago Shamrock Shuffle to volunteer at Gear Check. However, due to no fault of our group's organizer, we were only there for about an hour and most of that involved standing around. Not nearly the craziness of last year. Ah well. At least we managed to have an enjoyable lunch together afterward!
Total Mileage: Approximately 22.20 (give or take a quarter of a mile here and there due to the Garmin being flaky)
Yay for being back over 20 miles!
This upcoming week will have a few new things. I'm going to try and run TO running group tonight. Then my long run will be done in the town where my parents live. I've already got a route mapped out. It will also be my first double-digit run since July 2009. Right now the weather looks like it will be perfect. Let's hope it stays that way!