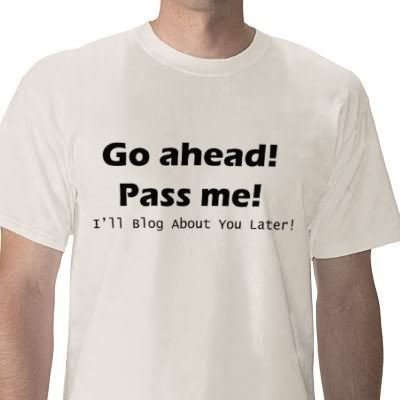 Last night I totally skipped the gym and took my dogs for a walk instead. Which means you think I would have been a speedy machine during our lunch run today. Not so much. Of course, it was also the first WARM day we've had in 2010. Warm as in shorts and a t-shirt warm. Warm as in I wished I was wearing a tank-top warm. Just like you have to adjust to the cold you also have to adjust to the warm.
We had quite a large group for today's run.
Kim
even joined us! That meant we were four women strong today. Of course, the guys left us in the dust anyway but at least we all got left.
And looking at my Garmin stats for this particular run no wonder it felt hard! All but one of my miles was under 9 minutes. Whew! At least the conversation was good and I didn't even notice the killer hill towards the end thanks to our discussion of siblings, rebellious phases, and stupid things we've done. You know that book
What I Talk About When I Talk About Running
? I'd love to read one called
What I Talk About When I'm Running
.
If you run with people, what do you find yourself talking about?
I actually wasn't super chatty on today's run. Probably because I was freaking running my 10K race pace! Anyway, the other gals in the group asked how Kim and I knew each other so of course I told them about this here blog since Kim and I met via our blogs.
If you have a blog, do you tell people about it? Have you met anyone because of your blog?
I've met lots of people due to this blog and others. I love blogging for that very reason!
Speaking of blogging, a blog I read called
This Just In
posted today about a totally awesome photography project called
A Minute in the Life
. This idea is so awesome! Here's the jist:
Wherever you are in the world
at 2:00 P.M. Eastern time
Saturday, March 20, 2010

(1) Take a photo of where you are, what you're doing, what you see.
Don't set it up, just set your alarm and snap the shot.
(2) Turn completely around and take another photo of what's behind you.
(3) Send your photos to aminuteinthelife@gmail.com

Then check out the website, to see what the rest of the world was doing the very minute that you took yours.
I'm totally going to do it. Maybe I'll be out running. Maybe I'll be at the gym. Maybe I'll be in my house. I don't know what I'll be doing. But how to fun to take a picture and share it. I'm setting the alarm on my phone right now. You should do it, too.
************************
Activity
Route:
--
Elev. Avg:
590 ft
Location:
Chicago, IL
Elev. Gain:
-7 ft
Date:
03/18/10
Up/Downhill:
[+170/-177]
Time:
12:18 PM
Difficulty:
2.1 / 5.0
Weather:
Mostly Cloudy
59 F temp; 49% humidity
59 F heat index; winds W 17 G 23
Performance
Distance:
4.69 miles


Time:
0:41:35
Speed:
6.8 mph
Pace:
8' 52 /mi
Calories:
553
Map
Elevation (ft)
Pace (min/mile)
Splits
Mile
Pace (min/mile)
Speed (mph)
Elevation
Gain
actual
+/- avg
actual
+/- avg
1
8' 44

-0' 08

6.9

+0.1

+3 ft
2
9' 00

+0' 08

6.7

-0.1

-20 ft
3
8' 58

+0' 06

6.7

-0.1

0 ft
4
8' 53
+0' 01
6.8
-0.0
+7 ft
end
8' 54
+0' 02
6.7
-0.0
+3 ft
Versus average of 8' 52 min/mile