A few months ago I was in Sports Authority looking for what the
Chic Runner
calls "booty shorts". I struck out on finding shorts but I did find two nice pairs of capri pants on the clearance rack for 40% off.
The one pair was technically a pair of tights in that they were really fitted and were tight at the spot where they hit just below the knee. Normally I don't like these kind because they make me self conscious of my hips and sometimes they're too tight on my lower leg.
However, this pair was super cute (gray with purple stripes at the bottom) and they even had a zipper pocket in the back! They were the only pair and grabbed them from the "Small" section of the rack and tried them on. Amazingly, I LOVED them. They fit perfectly and I thought they made my legs look pretty nice.
You can see me modeling them during the 8 mile run I did with Kim: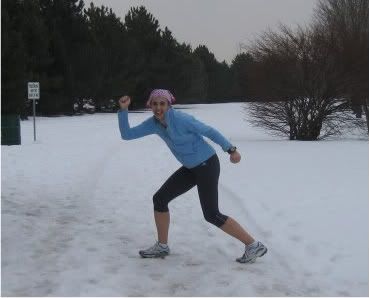 What I realized after the fact is that the tag says they're a size Large! I figured that the reason they were on the clearance rack was because they were mislabeled.
After wearing them for a few runs and deciding they are now my favorite pair of capris EVER I wanted to get some more. But these were the only pair at Sports Authority and I didn't feel like searching every sporting goods store in the world, especially since I'd thrown out the tags and had no idea what they were called.
The internet to the rescue! I starting Googling some of the numbers on the tags still in the capris and discovered that what I owned was a pair of Adidas Response DS Three Quarter Length Tights. And that 6pm.com had them on sale for $27!
But! Now I had the dilemma of what size to order. The ones I owned were tagged as a Large but were they really? Then I read the following review on Zappos (where they are also for sale but for $45):

These were extremely tiny! I wear a small in Nike for running pants and these smalls look like a child's small! Wow, please note this when ordering.
Okay then. I ordered a large.
I got them in the mail on Wednesday and they are PERFECT. I ordered a pair that are dark gray with black strips on the legs. However, I really want these, too:
Too bad those are still $45.
Anyway, as much as I love them, I think it's pretty crappy that the sizing is so off. Don't we go through enough hassle in our every day clothes without having to deal with crazy sizing issues in our workout clothes?
Sigh. On a more positive note, do you have a favorite item of workout clothing that you wish you had (or do have) more than one of?