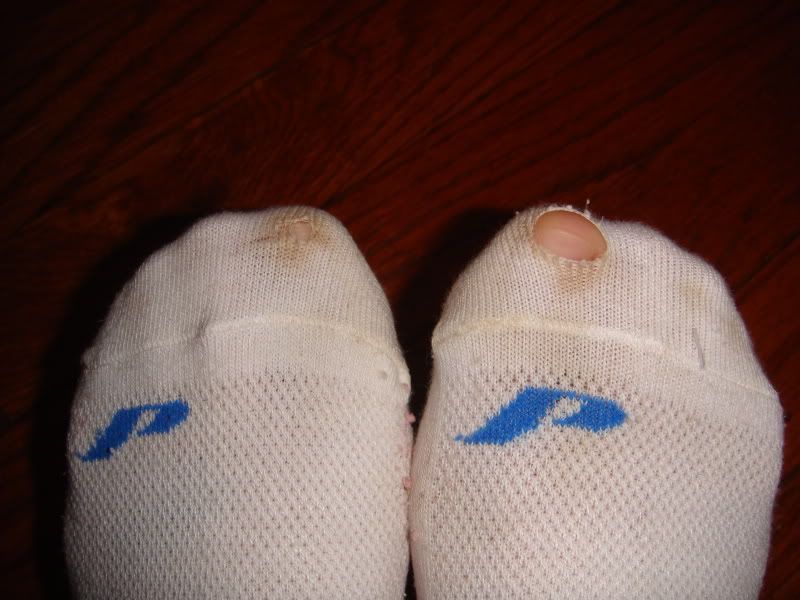 I took that photo on Friday after my 14.27 mile run. I got home, took my shoes off, and realized I'd run through the socks on both feet. Oops! Guess I've got to suck it up and quit buying the cheap-o socks at Target, huh?
Anyway, after two days off from running (but not from exercising. I did level 1 and level 2 of the 30 Day Shred on Sunday) I had a nice, easy three mile run on the books for last night. I left the house a little before 6:30 and planned to meet Jason and Trinka Deu at the dog park when I was finished with my run.
I thought I was going slow. My Garmin showed me I was averaging a 9:59 minute per mile pace. Yet, when I hit the end of mile one it informed me that I was running at my tempo speed! Argh. At that point I had to make a choice: slow down or try and stay steady. Well, I admit that I was feeling kind of run down last night so I did try and slow down. My brain wasn't really in the mood to run and I kept thinking that these three miles were super hard and that how in the world was I going to run 10 more in less than 12 days. However, my legs had other thoughts. Check out my splits:

Hot damn! Those may be the best splits I've ever done. They're all so close to one another AND my middle mile was the fastest instead of the slowest (like usual). And when you see the splits chart from Bones in Motion you'll be even more impressed.
Anyway, by the time I made it back to the dog park I was happy to be done. I was hot! Jason, the sweetheart that he is, offered me some nice, cool Gatorade while I stretched. Also, I was happy to be off my feet. The blister I got on Friday night was bothering me. I'd put a bandaid on it but I could feel it niggling at me. It's a lovely blister, isn't it?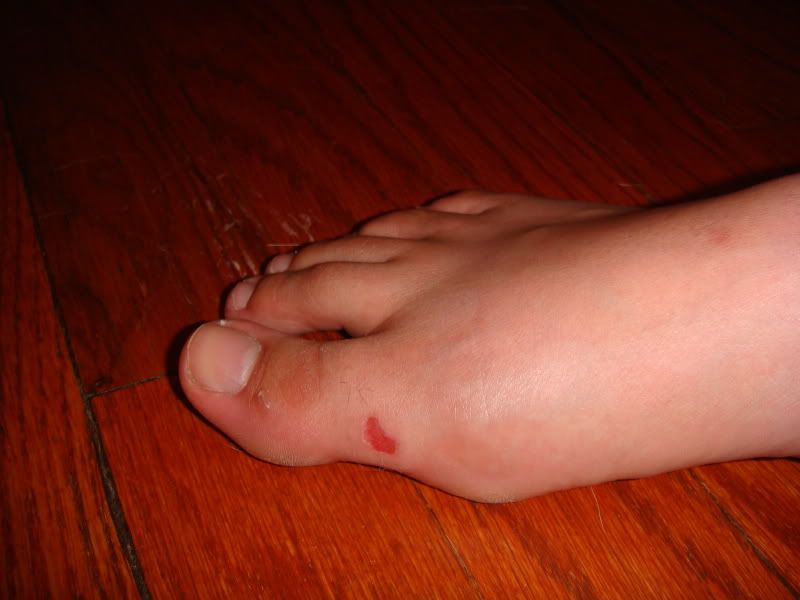 Click to see larger....if you dare
Anyway, I've currently got some antibiotic ointment and a bandaid on it and I'm thinking positive thoughts that it will be healed by the 19th. I'm really kicking myself for walking so much in those sandals on Friday. Stupid!
After Trinka Deu wore herself out at the dog park, we headed home where I started dinner and rewarded myself for a good run by putting my poor, abused feet up and enjoying a glass of wine on the back porch.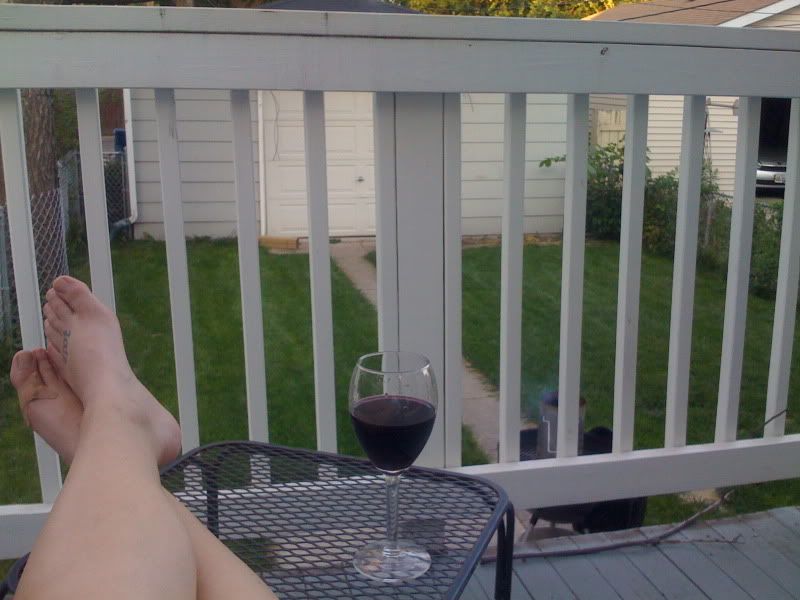 It was a lovely ending to what turned out to be a lovely evening run.
Activity
Route:
--
Elev. Avg:
625 ft
Location:
Forest Park, IL
Elev. Gain:
+0 ft
Date:
07/06/09
Up/Downhill:
[+45/-45]
Time:
06:27 PM
Difficulty:
2.2 / 5.0
Weather:
Partly Cloudy
80 F temp; 39% humidity
79 F heat index; winds NE 6
Performance
Distance:
3.00 miles


Time:
0:29:25
Speed:
6.1 mph
Pace:
9' 48 /mi
Calories:
307
Map
Elevation (ft)
Pace (min/mile)
Splits
Mile
Pace (min/mile)
Speed (mph)
Elevation
Gain
actual
+/- avg
actual
+/- avg
1
9' 43
-0' 05
6.2
+0.0
+3 ft
2
9' 43
-0' 05
6.2
+0.0
+3 ft
3
9' 45
-0' 03
6.2
+0.0
-6 ft
end
7' 30

-2' 18

8.0

+1.9

0 ft
Versus average of 9' 48 min/mile