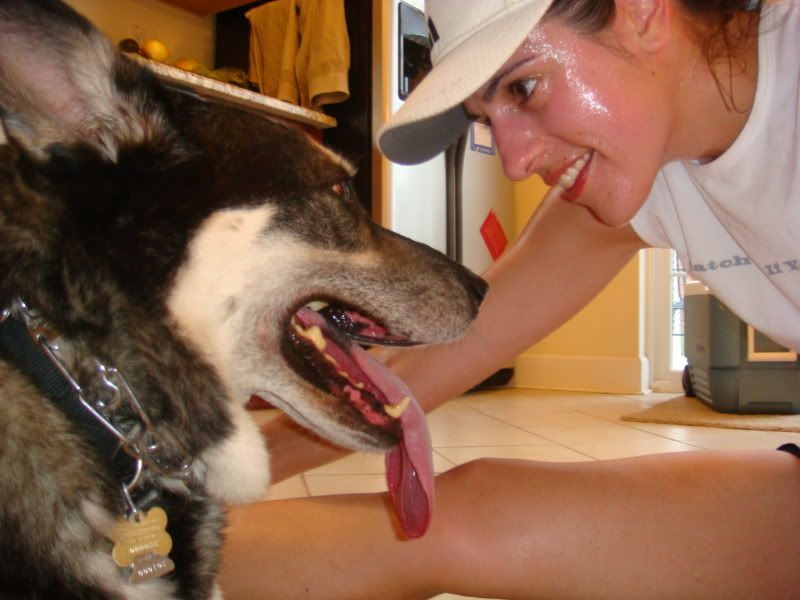 Last night I went for my first run post-half-marathon. That's right. I went over a week without running. Craziness!
I thought my first run back would be sluggish. Although, as I laced up my shoes, I was itching to get going. I decided to take the dog with me for part of my run. I figured if I ran slow then she wouldn't get too tired. If I was running to fast, she would slow me down.
We walked around a bit so she could, ahem, clear her system, then we took off. I decided not to get too far from the house so that I could drop Trinka Deu back off if she started to lag behind. Also, they're doing major construction on some of the streets I cross on my usual route and I wanted to avoid that.
Interestingly enough, I've never really run around my neighborhood. I hate doing loops that go by my house because I was always afraid I'd be too tempted to stop. Out and backs are my bread and butter of running. But last night I did one loop around part of the neighborhood and realized I'd gone almost 1.5 miles. Interesting.
I dropped the dog off and decided to run the same loop again to make for an even three miles.
I don't know if it was the new route, the fact that I took over a week off, the short distance or the (very) short break to toss the dog back in the house, but I ran some awesome negative splits. I felt speedy. I didn't feel worn out. And aside for some slight foot pain on the bottom of my right foot (it may be time for new shoes), the run felt fabulous! I wasn't as dog tired as I thought I'd be :-) I was sweaty, though. And, yes, I did just post the photographic evidence. Although it was overcast and I felt one or two raindrops, the air temperature was over 80 degrees and, as always, humid. Sweat city!
I'm still debating what I'm going to do in terms of running. My long-term goals are to keep lowering my 5K time, get my 10K time solidly under an hour, run a sub 2-hour half-marathon, and, of course, run (or run-walk) a marathon. Which to tackle first? I don't know. But I do know that I think I need to just run for the sake of running for awhile. Last night reminded me that sometimes you just need to get out there and enjoy it without any predetermined goals. You know, run like you were a dog :-)
Activity
Route:
--
Elev. Avg:
620 ft
Location:
Forest Park, IL
Elev. Gain:
+0 ft
Date:
07/27/09
Up/Downhill:
[+16/-16]
Time:
06:13 PM
Difficulty:
2.2 / 5.0
Weather:
Mostly Cloudy
82 F temp; 47% humidity
82 F heat index; winds SW 13 G 22
Performance
Distance:
2.97 miles


Time:
0:28:08
Speed:
6.3 mph
Pace:
9' 28 /mi
Calories:
354
Map
Elevation (ft)
Pace (min/mile)
Splits
Mile
Pace (min/mile)
Speed (mph)
Elevation
Gain
actual
+/- avg
actual
+/- avg
1
9' 51

+0' 23

6.1

-0.2

-3 ft
2
9' 28
+0' 00
6.3
-0.0
+6 ft
end
8' 59

-0' 29

6.7

+0.3

-3 ft
Versus average of 9' 28 min/mile