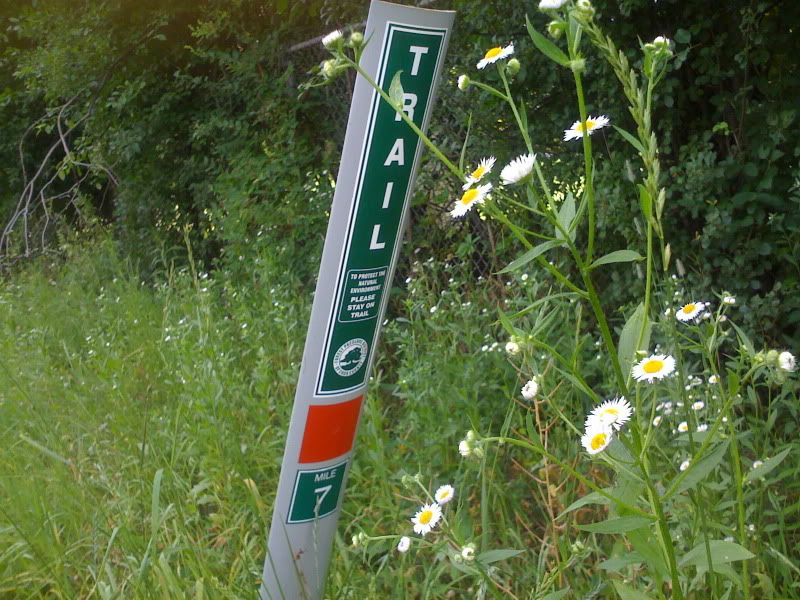 Technically this week was supposed to be the start of my "taper" week. That's where you start backing off on your mileage so that you can have nice, fresh legs for your race. However, I recently read that two weeks is too long of a taper for a half-marathon. So, instead of cutting back to a 10 mile run for this week's long run I decided to go all out and achieve my goal of seeing the end of the bike path. Therefore, in contrast to Wednesday's short and sweet workout, this one was going to be long and, well, probably not as sweet.
The bike path is 7.1 miles long. I do out-and-back runs meaning that the total, if I ran to one end and then back, would be 14.2 miles.
As you can see from the above picture, I certainly saw mile 7! And, of course, a little bit further since my Garmin likes to be a few hundredths of a mile off from the path's mile markers. And, yes, I made it all the way back under my own power as well. What's at the end of the bike path? A newly built prairie restoration park and some giant mansions.
My goal for this run was to aim for a 10:45 minute per mile pace. I started off nice and slow and did my first mile in 10:50. Once again, the Garmin was having issues giving me a correct pace during each mile. I'm beginning to think it doesn't like all the trees and foliage that now tower over the trail. I was feeling good. Sure, there were some pauses to cross streets, but overall I was keeping a nice steady pace. I had two bottles of water/Gatorade mix. I didn't have any beans or gels or goos so I'd stuffed some pretzel bits into my waistpack for fuel. I was trying to only drink at every mile marker, but as the run went on and the day warmed up I had to stop myself from chugging fluids at what felt like 2 minute intervals.
I told myself I would not hit the wall at mile 7. And, although I did walk for about .2 miles when I got to mile 7, I didn't! Actually, I managed to make it all the way to 11 before I felt tired. My legs felt fatigued. My mental state was telling me to just quit and walk. My cardiovascular system, on the other hand, was doing just fine.
You know, I admire people who can slow down enough to run a 12, 13 or 14 minute per mile pace. My legs seem to be stuck at not much slower than 11:00 minutes per mile. I've read that when you hit the wall you should just shuffle instead of actually walking. But the slower I go the more likely I am to walk. My brain doesn't understand the shuffle. JUST WALK, it screams. And I do. Which is why I think I do much better on runs when I have someone running with me. Someone who won't just stop to walk. Someone to whom I feel accountable. I give in to my own brain way too easily. Which is why between the start of mile 11 and the end of mile 13 I walked. A lot. But you know what the amazing thing is? My pace on this longer run was still a few seconds faster than my pace on my long run last week. And, in running, a few seconds can make a big difference.
So, even though my pace turned out to be 11:04 minutes per mile instead of the 10:45 I was aiming for, I'm happier about it than I was last week. I can't promise I'll hit any time goals for my half in two weeks, but that's not really my aim this time anyway. I just want to finish strong. And now, with two race distance-plus long runs under my belt this time I know I can. I also know I need to bring two bottles of liquid with me. I drained both my waistpack bottle and my handheld one!
Sad part of the run? I lost one of my favorite bandannas. I had it tucked into the strap of my waistpack and it fell out at some point. By the time I realized it was gone I didn't have the energy to walk back along the trail (for who knows how many miles) looking for it. Good bye, pink and black paw print bandanna! I'll miss you!
Amazing part of my run? This is officially the furthest I've ever run in my entire life! And I did it without my usual day of no activity before hand. I did level one of the 30 Day Shred on Thursday night and ran on Friday morning. Also, I didn't take a nap afterward and actually ended up walking over 3 miles around downtown Chicago last night. In heeled sandals. Good thing I got my long run out of the way on Friday morning because this lovely blister I now have from my sandals is a doozy.
***************
Stats
Activity
Route:
--
Elev. Avg:
627 ft
Location:
Brookfield, IL
Elev. Gain:
+4 ft
Date:
07/03/09
Up/Downhill:
[+374/-370]
Time:
07:43 AM
Difficulty:
3.2 / 5.0
Weather:
Mostly Cloudy
72 F temp; 59% humidity
72 F heat index; winds NW 8
Performance
Distance:
14.27 miles


Time:
2:38:10
Speed:
5.4 mph
Pace:
11' 05 /mi
Calories:
1157
Map
Elevation (ft)
Pace (min/mile)
Splits
Mile
Pace (min/mile)
Speed (mph)
Elevation
Gain
actual
+/- avg
actual
+/- avg
1
11' 06
+0' 01
5.4
-0.0
-6 ft
2
11' 20

+0' 15

5.3

-0.1

+7 ft
3
10' 39

-0' 26

5.6

+0.2

+13 ft
4
11' 15

+0' 10

5.3

-0.1

-7 ft
5
10' 27

-0' 38

5.7

+0.3

+3 ft
6
10' 45

-0' 20

5.6

+0.2

+10 ft
7
10' 22

-0' 43

5.8

+0.4

+3 ft
8
11' 45

+0' 40

5.1

-0.3

+7 ft
9
10' 21

-0' 44

5.8

+0.4

-13 ft
10
10' 48

-0' 17

5.5

+0.1

0 ft
11
10' 41

-0' 24

5.6

+0.2

-13 ft
12
11' 52

+0' 47

5.0

-0.4

-4 ft
13
13' 21

+2' 16

4.5

-0.9

-3 ft
14
10' 56

-0' 09

5.5

+0.1

-7 ft
end
11' 58

+0' 53

5.0

-0.4

+6 ft
Versus average of 11' 05 min/mile