Image from http://www.kosmic-kabbalah.com/index.htm
On Saturday I did my last long run of this training cycle. I meant to blog about it yesterday while it was still semi-fresh in my mind but got caught up in being a totally lazy bum. Hey, sometimes you need those days, right?
Anyway, I dragged myself out of bed Saturday morning, used Facebook to grumble about how much I miss sleeping in on Saturday mornings, ate breakfast, and got on the bike patch at 8:00 AM.
It had thunderstormed like the world was going to end around 5 AM and although that had helped the temperatures cool down a bit, it left the air full of moisture. It was so humid that I felt like I was swimming for the first mile.
I started out super slow. Of course, not having any clue what speed I was actually going I just let myself shuffle along as slow as possible. When I hit the first mile marker at just over 11 minutes, I realized that I could try and aim for negative splits for the rest of the run. Meaning, I wanted each subsequent mile to be faster than the mile before it. Also, I wanted to do it without hitting the Pause button each time I stopped for an intersection.
I lucked out and only had to stop for more than a second once or twice. The big major intersection with a traffic light was in my favor both times. I passed one of the Chicago Area Runners Association training groups (they're training for the Chicago Marathon) which always gives me motivation. Heck, if they're out there running, I can too!
It took me awhile to get into the groove, but the slightly cooler temperatures and the slow start really helped me feel good on the second half of my run. I thought about going all the way to 10 miles instead of 8, but I figured that since I'd already done an extra 3-4 miles on Thursday that I should take it easy.
I don't know what it is about 8 miles. I think it might be my favorite distance. Or, at least, it's my favorite distance on this particular bike path. I didn't have to stop to walk at all. I felt good while I was out there. And check out my times. Remember, the goal was to have negative splits.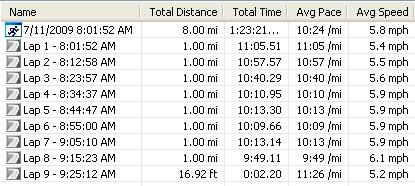 While they weren't totally negative, miles 4 through 7 are awfully close! And much better than the past few long runs.
Anyway, I hope this bodes well for the race on Sunday. Less than a week! I'm going to start packing tonight. The place we're staying has wireless internet access so I'll hopefully be able to update before and after the race. Until then, though, I've got two more training runs to do before I hop a plane on Thursday. Eeeee!
Activity
Route:
--
Elev. Avg:
620 ft
Location:
Brookfield, IL
Elev. Gain:
-4 ft
Date:
07/11/09
Up/Downhill:
[+196/-200]
Time:
08:01 AM
Difficulty:
2.3 / 5.0
Weather:
Mostly Cloudy
73 F temp; 76% humidity
73 F heat index; winds N 3
Performance
Distance:
8.00 miles


Time:
1:23:22
Speed:
5.8 mph
Pace:
10' 25 /mi
Calories:
601
Map
Elevation (ft)
Pace (min/mile)
Splits
Mile
Pace (min/mile)
Speed (mph)
Elevation
Gain
actual
+/- avg
actual
+/- avg
1
10' 58

+0' 33

5.5

-0.3

-7 ft
2
10' 53

+0' 28

5.5

-0.2

+10 ft
3
10' 22
-0' 03
5.8
+0.0
+10 ft
4
10' 02

-0' 23

6.0

+0.2

-6 ft
5
10' 07

-0' 18

5.9

+0.2

+4 ft
6
10' 04

-0' 21

6.0

+0.2

-7 ft
7
10' 10

-0' 15

5.9

+0.1

-6 ft
8
9' 45

-0' 40

6.2

+0.4

+4 ft
end
9' 50

-0' 35

6.1

+0.3

-3 ft
Versus average of 10' 25 min/mile