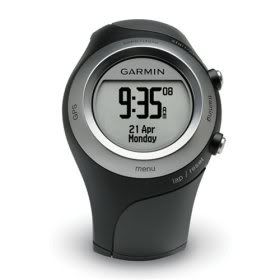 Tuesday I responded to the usual "You in for running today?" email from work colleagues by saying that I would be in for running Thursday at noon.
Wednesday night I packed my bag. Shoes, socks, shorts, sports bra, shirt, visor.
Thursday morning I threw in my toiletries. Hair band, face wash, towel, deodorant.
Thursday mid-morning I realized I forgot to pack my Garmin.
Cue freaking out.
I'll be honest. I almost skipped this run. It wasn't one on my training schedule anyway. I really didn't want to run without knowing my pace or my distance. Ever since I got my Garmin in December and ever since I started this blog in January I've felt the need to track those things.
But, I ran anyway. We did somewhere between 3 and 4 miles. I don't know exactly how far we ran because I can't quite map it accurately on any of the online mapping sites. And I don't know how fast. I know I kept up with the guys for the first 2 miles but then started lagging behind on the return portion. But that was okay because the other girl who was running with us was also lagging behind. We ran together. I know that I probably could have kept up with the guys on the return trip, but I would have been totally wiped out for the rest of the afternoon. Plus, I would have felt bad for leaving my sole female companion in the dust.
Was it freeing to run without knowing my pace and distance? Many runners assured me it would be. Honestly, though, it wasn't. Yes, there was a time not that long ago when I ran just to run. I didn't really time myself but I did know my distance. But I also wasn't trying to get faster then. I knew that speed would come as I increased distance. Now I've hit that spot where speed and distance are separate entities. I LIKE seeing myself get faster.
On the other hand, perhaps if I've know how fast I was or wasn't going on my run yesterday I might have gotten psyched out. I guess I'll never know. All I know is that I hope I don't ever forget my Garmin again!