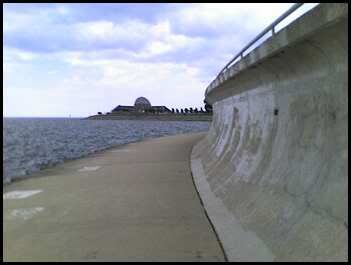 Kim took this and the photo below on her run a few weeks ago. I'm stealing them because it pretty much looked just like this today when we ran the same path.
Normally I do my three mile runs on Mondays. But I wanted to get one more run in with Kim before my race on Sunday. Since she does her three mile runs on Tuesdays, I just shoved mine over one day. Worked out well since I had my book club last night after work (by the way, we read Wally Lamb's
The Hour I First Believed
. Anyone else read it?) and I always feel rushed when I run before book club.
Anyway, today we planned to go SLOW. We also decided to head south on the lake front path instead of north. I'd never been south so I was excited about that. Turns out that south takes you past both Shedd Aquarium and Adler Planetarium. And right on the lake. The sun was super hot so the wind blowing off the water felt really nice.
So nice, in fact, that our slow pace was still speedy. We're bad at slow. Although, I always feel bad because Kim is chatting away, asking me questions, and I'm over there huffing and puffing trying to answer and then never asking her anything back. But at least it keeps my mind occupied and I rarely think about how fast we're going. Today, though, I glanced at my Garmin (which was sort of behaving itself for once) and realized that we were hitting an 8:35 pace. Yeah, I asked to slow down. All the way to 9:00 minutes per mile on the way back! Whew.
I really, really enjoy running with friends. I never realized it until just recently. Which is why I'm so excited that I'm running this next half-marathon with a friend!
Holly
just made an awesome
post
about how excited she is for me to get there. Sure, I'm excited and nervous about my race but I'm mostly excited to do it WITH someone. Someone who I've known online for years but never met in person. Someone who gave me a reason to not only take a vacation but run in a place I never dreamed I would run. Someone who inspired me to run in the first place. I know she's hoping for a PR (personal record) in this race. While it would be fabulous if I got one myself I'm more excited to be doing something I love with someone I care about. And, yes, I truly believe you can care about someone even if you've never met them in person.
And with that, I'll leave you with today's stats while I go off to squeeze in the last little bit of core strength training for the week.
Activity
Route:
--
Elev. Avg:
581 ft
Location:
Chicago, IL
Elev. Gain:
-3 ft
Date:
07/14/09
Up/Downhill:
[+88/-91]
Time:
11:42 AM
Difficulty:
2.0 / 5.0
Weather:
Mostly Cloudy
77 F temp; 29% humidity
76 F heat index; winds S 12
Performance
Distance:
3.01 miles


Time:
0:27:49
Speed:
6.5 mph
Pace:
9' 14 /mi
Calories:
352
Map
Elevation (ft)
Pace (min/mile)
Splits
Mile
Pace (min/mile)
Speed (mph)
Elevation
Gain
actual
+/- avg
actual
+/- avg
1
9' 32

+0' 18

6.3

-0.2

-13 ft
2
9' 10
-0' 04
6.5
+0.0
-7 ft
3
9' 00

-0' 14

6.7

+0.2

+17 ft
end
6' 40

-2' 34

9.0

+2.5

0 ft
Versus average of 9' 14 min/mile