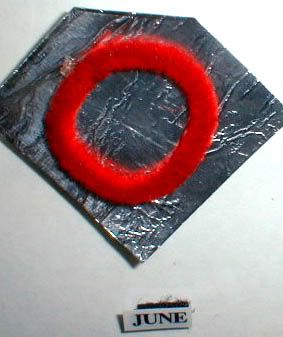 Wow, is June over already? Amazing! Where did it go? I guess because it took almost half of June before it really felt like summer weather-wise I'm finding it hard to believe it's already July.
So, how was June in terms of running? Well, I always like to think about it in terms of firsts. I think the biggest first was that I started running at lunch! I ran once with people from work and, since then, I've started running with
Kim
! Speaking of which, we did another 3 miler yesterday. It was nice and overcast and relatively cool. In fact, I was downright chilly before we started running. I was lagging a little behind so I don't think I quite held up my end of the conversation, but otherwise it was a nice run at almost 5K race pace (for me anyway). I'm beginning to think I need to recruit speedy people to run all my races with me. I'd blow my times out of the water with someone faster by my side! Anyway, I'll put the stats at the end of this post.
Other firsts for June? Well, June brought me the first 10+ mile training runs I've ever done. I've done a twelve miler and a half marathon distance (13.1) as training runs. Whew! That's a lot of miles. Actually, you know what my distance was for June?
87.15
! That's .15 miles more than March which was my previous highest mileage month. Amazing.
With that mileage came my first run skipped due to injury. I feared I was getting plantar fasciitis but a day of rest and lots of icing and massaging have kept it at bay. Thank goodness!
June also gave me a new PR for a 5K race. 26:57.7. I wanted to break 27 minutes and I did. I'm so proud of that time.
June saw me getting up earlier and earlier to get in my long runs and practice running around the time that long races actually start. While I wasn't perfect, I did better at getting out there before mid-afternoon.
However, I will admit that many of my runs in June have been hard and I worry that I may be at the verge of over-training. In fact, after July 19th I'm looking forward to cutting back my mileage and working on running the best 5K I can run and getting a new 10K PR. And, you know, sleeping in past 7AM on Saturdays. Maybe.
18 days until my next race!
Until then, here are the stats from my latest lunchtime run:

Activity
| | | | |
| --- | --- | --- | --- |
| Route: | -- | Elev. Avg: | 585 ft |
| Location: | -- | Elev. Gain: | -6 ft |
| Date: | 06/30/09 | Up/Downhill: | [+144/-150] |
| Time: | 11:37 AM | Difficulty: | 1.7 / 5.0 |
Performance
Distance:
3.01 miles


Time:
0:26:42
Speed:
6.8 mph
Pace:
8' 52 /mi
Calories:
326
Map
Elevation (ft)
Pace (min/mile)
Splits
Mile
Pace (min/mile)
Speed (mph)
Elevation
Gain
actual
+/- avg
actual
+/- avg
1
8' 35

-0' 17

7.0

+0.2

-23 ft
2
9' 40

+0' 48

6.2

-0.6

+10 ft
3
8' 34

-0' 18

7.0

+0.2

+20 ft
end
9' 17

+0' 25

6.5

-0.3

-13 ft
Versus average of 8' 52 min/mile