Over in the
Original Livejournal Runners' Club
they put up an Year in Review Questionnaire. I thought it was good enough to fill out over here as well. Enjoy!
How many miles/km did you run this year?
743.18 miles. Approximately. This is the first year I've ever kept track of my running mileage. I'll admit, I'm really proud of this number even though I have nothing to compare it to. If Google is to be believed, I could have run from London, England to Paris, France with this distance. Google doesn't say if that's over or under the English Channel, however.
What was your best mileage month?
Hands down it was
June.
87.15 miles that month.
What was your longest run?
14.27 miles
How many races did you enter in 2009?
I ran 8 races!
2 5Ks, 1 3.5 miler, 1 8K, and 2 10Ks and 2 half marathons. Check out the 2009 Race Calendar on the right hand side of my main blog page for links to recaps of each.
Do you have a favorite/memorable run from this year?
So many of them were memorable. Not all for good reasons. But I think my favorite and most memorable runs of the year were my races. Every single one of them was unique in some way. Here's why: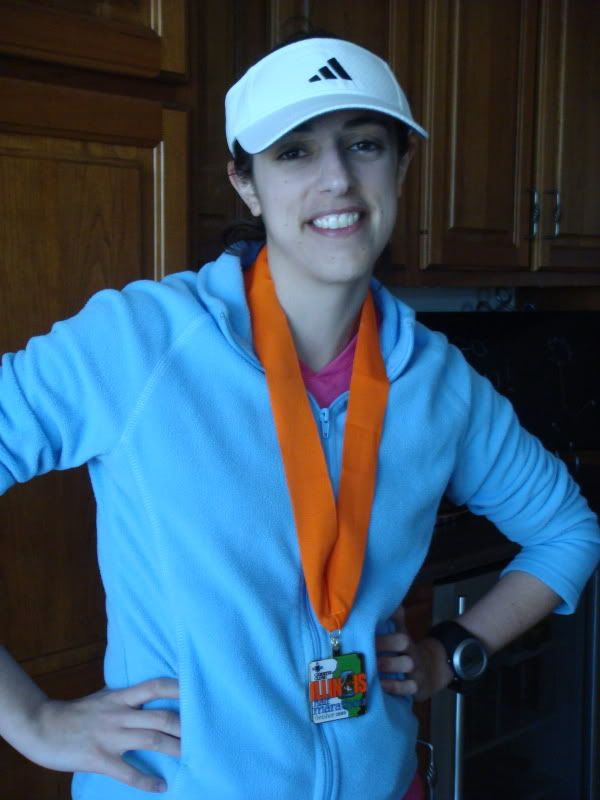 The Illinois Marathon Half Marathon. My very first half marathon. Memorable not only because it was my first, but because so many people came out to cheer for me along the way.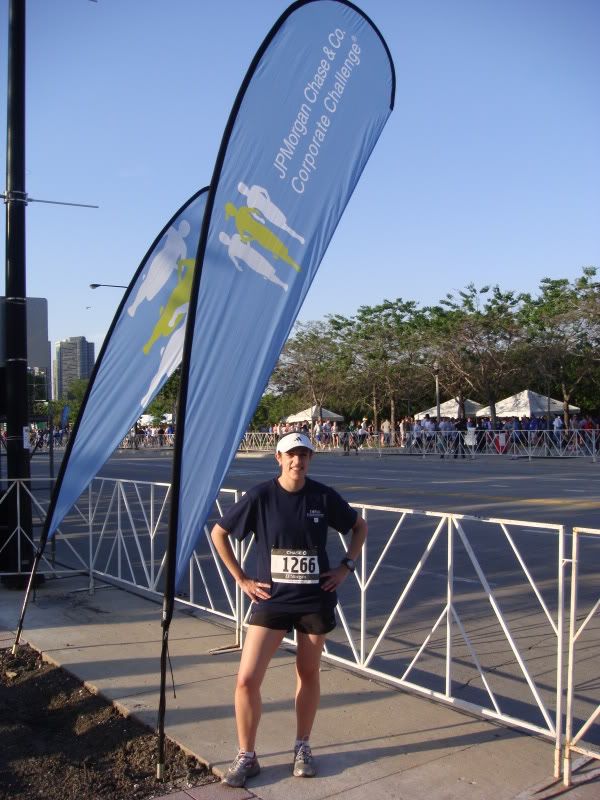 Chase Corporate Challenge. A race "sponsored" by work! And with our own private party afterward. The race itself was strange, but by running it I learned about the running group at work.
Skirt Chaser 5K. Unique concept and my best 5K time to date. Memorable because I thought I'd bombed this race only to find out that I hadn't. Also, memorable because new friends came out to cheer for me AND take pictures.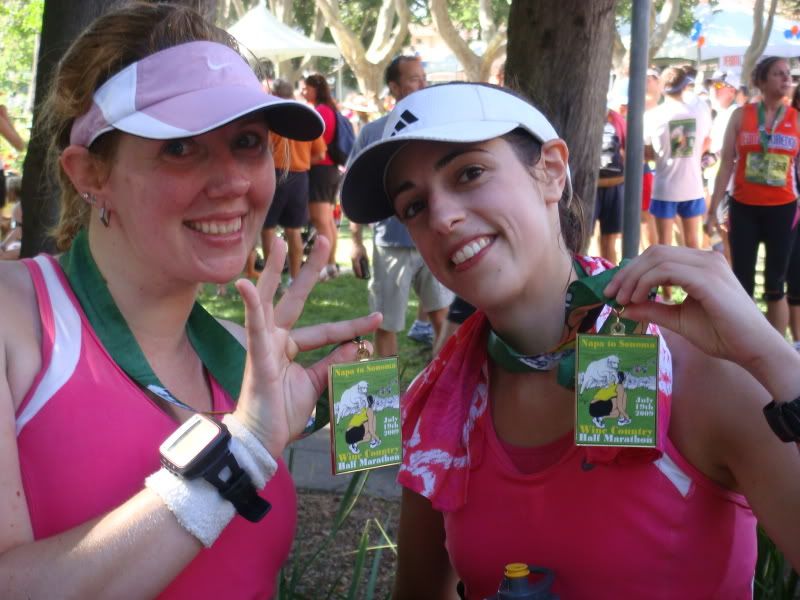 Napa to Sonoma Half Marathon. TOTALLY memorable. I got to meet and run with
Holly
as well as take a vacation in California wine country with my husband and my parents. Wish every race came with my own private pool to jump into afterward.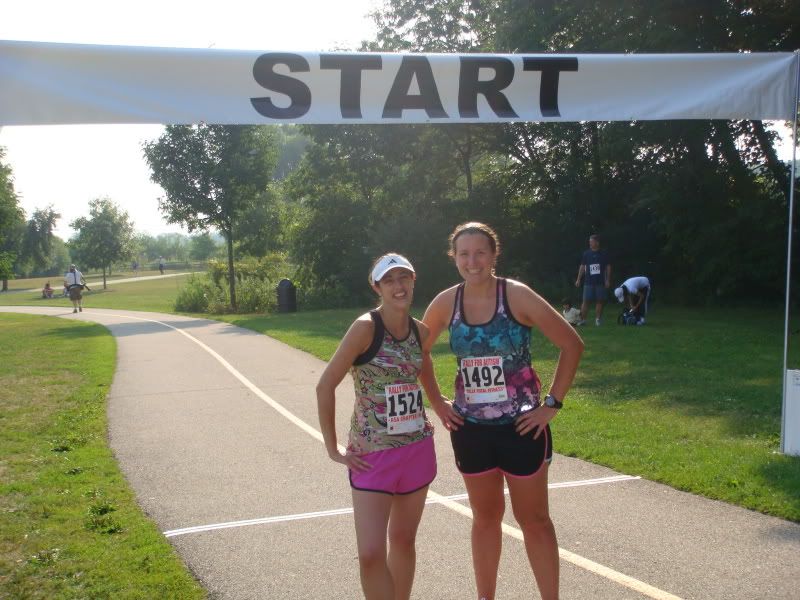 Rally for Autism 5K. First race with
Kim
! Not our best race ever, but I love running with her regardless.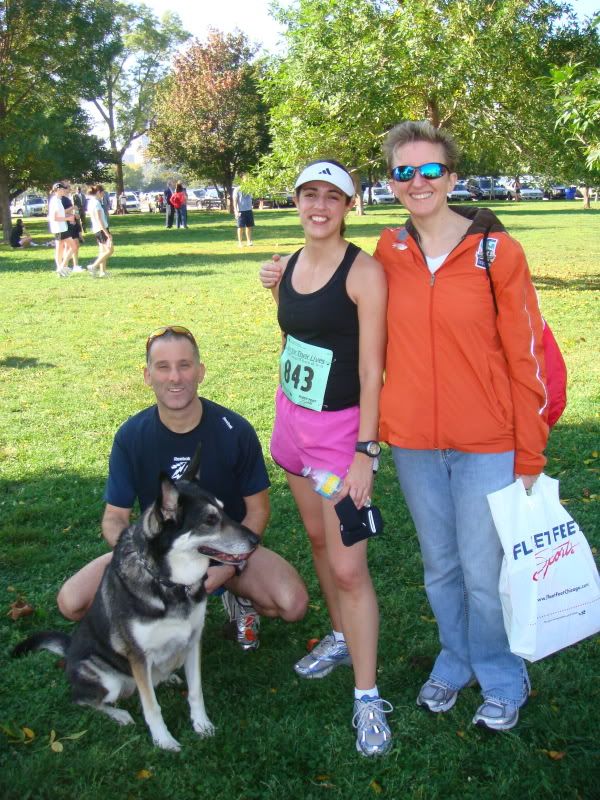 PAWS Run for Their Lives 8K. My first race with a pacer! And a killer PR. Still can't believe people from my running group offered to pace me. Amazing.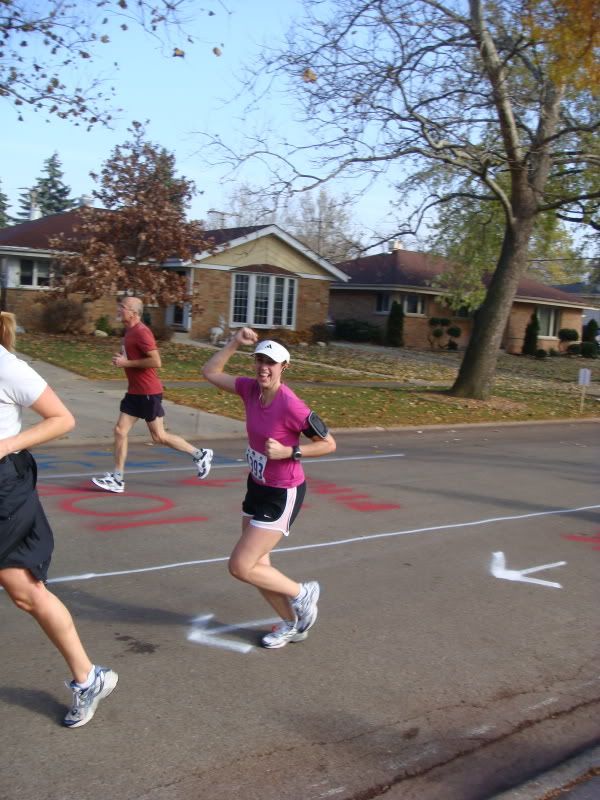 Westchester VeteRUN 10K. Crazy warm weather...in November....in Chicago! Totally set a personal record with my time for this race. Until...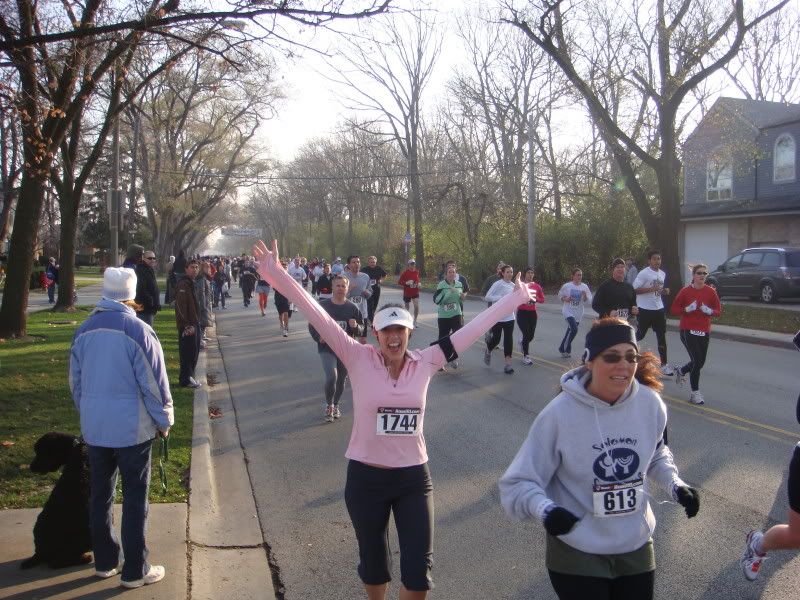 The Lincolnwood Turkey Trot 10K. My best 10K time yet! Followed by breakfast with people from the running group from work. A GREAT race and great company.
What was the craziest weather or other type of adverse conditions you endured on a run in 2008?
Granted,
I
wasn't running, but thousands of other people were on March 29, 2009. That was the date of the Shamrock Shuffle 8K. I didn't register in time to run so I decided instead that I would
volunteer
. We woke up to a blizzard and freezing cold. I almost wished I was running instead of working at gear check. Maybe then my hands and feet would have been warm.
What were your goals for 2009? Did you achieve them?
My main goal for 2009 was to run a half marathon. I ran two. I'd say I achieved it! My more minor goals were to PR at my other race distances and, yes, I did that as well.
What are your goals for 2010?
Number one main goal? Run a marathon! I *think* I'm going to register for the Chicago Marathon. It really makes the most sense.
Other goals? I'd love to keep getting better and better with my 5K and 10K times and get a PR in the half marathon. I'd love to get my half marathon time under 2 hours but I don't know if this is the year for that or not. Maybe. I also want to have fun at as many races as possible as well as volunteer for a few along the way.
Also, I would like to point out that as of January 2, 2010 this little blog is officially one year old!
When I started this I had no idea if I'd really log all my runs (I have), if I'd have something to say for each one (apparently I have), if anyone would read this thing (you do!) or where it would go.
To say I'm proud of myself for doing all the writing to go along with all the running would be an understatement. I'm so happy I started this blog. If not for this, I never would have found
Kim
who got me through much of my summer running (and who will hopefully join me again this summer!) as well as became a good friend and I never would have discovered such a huge world of bloggers out there. A big huge thank you to everyone who comments (either here, via email or in person). Thanks for making this past year great. Every time I go for a run I think about what I'm going to share here. Your comments really do keep me going sometimes.
So, keep them coming in 2010! I've got big plans :-)