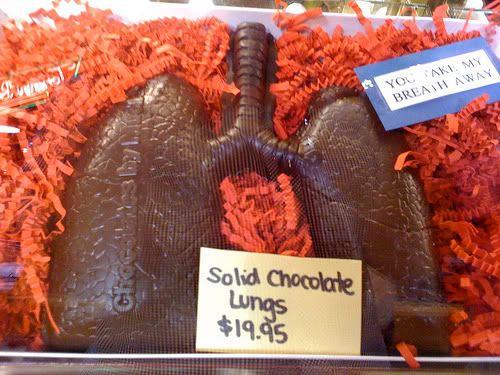 Photo from http://www.jconner.net/blog/
Solid chocolate lungs would definitely been an improvement over the frozen solid lungs I had after my long run on Saturday afternoon. I did 8.5 miles outside where the air temperature was hovering around 28
o
F. I've certainly run in colder, but for some reason Saturday's run left me coughing and hacking for most of the rest of the afternoon.
I wore a tank top, two long sleeved tech shirts, tights, shorts and mittens. I got a little warm but never warm enough to push up my sleeves or take off my mittens. Because I never rolled up my sleeves, I couldn't see my Garmin for the entire run. Since I was pretty much running blind it was a good exercise in trying to pace myself. I have to say, I think I did pretty well. Not perfect and, of course, some of the times are thrown off my waiting for stop lights, but overall I was fairly consistent. During mile 8, however, I hit some sort of strange disconnect where my legs were moving but I wasn't even aware of it. It felt GREAT! Now, if I could just figure out how to harness that feeling for the entire run.
The sidewalks were mostly clear although there were a few icy spots where I had to tread lightly or veer off into the street. I saw lots of people out walking their dogs but I only saw one other runner. That may have been because I ran in the afternoon instead of in the morning. Why the afternoon? Because earlier in the day I hit the gym for 45 minutes of strength training! So, yes, 45 minutes of weights and an 8.5 mile run in the same day. Pretty awesome.
************************
But enough about that. On to what you're really here for. To find out if you won the
Infinity Scarf Giveaway
! We're pretty low tech over at Eri-thon industries so instead of using an online random number generator I just drew names out of a hat.
This hat, to be precise: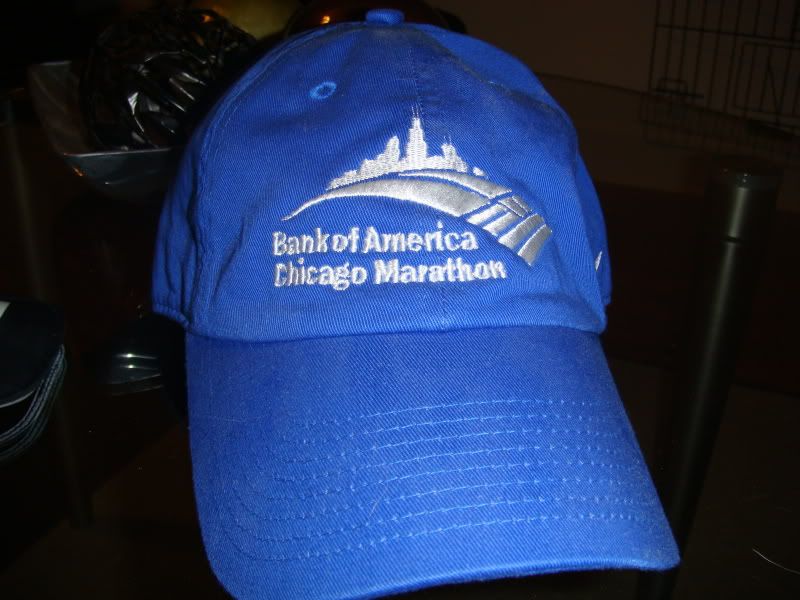 See? There are all your names (if you linked to my post in your blog and told me about it your name is in there twice, I promise!).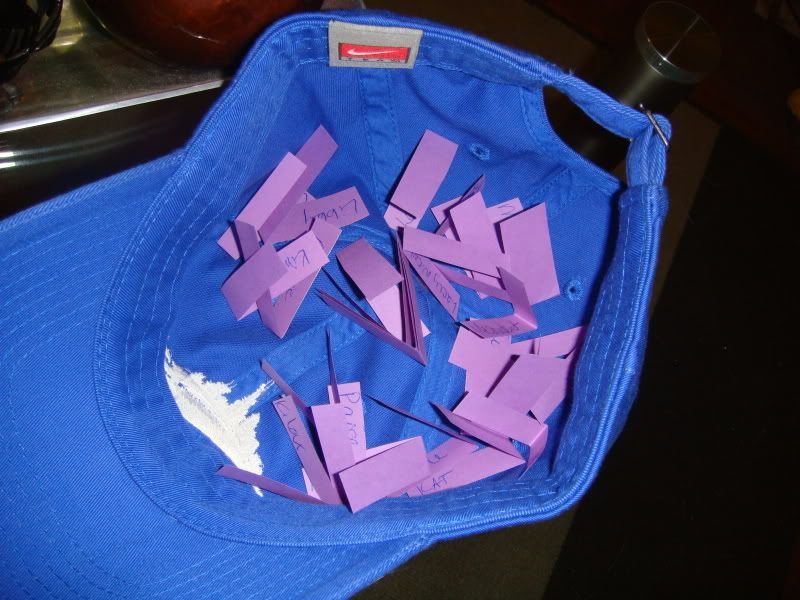 So which lucky person had their name drawn? Well,
the winner is
:
Kelly
!! Turns out, her birthday was also last week so this is sort of a belated birthday gift as well. Kelly, I'll be in touch!
Thanks for everyone for commenting!
****************************
Saturday's Stats
Activity
Route:
--
Elev. Avg:
626 ft
Location:
Forest Park, IL
Elev. Gain:
+0 ft
Date:
01/16/10
Up/Downhill:
[+52/-52]
Time:
01:32 PM
Difficulty:
3.0 / 5.0
Weather:
Overcast with Haze
28 F temp; 81% humidity
28 F heat index; winds SW 6
Performance
Distance:
8.52 miles


Time:
1:22:06
Speed:
6.2 mph
Pace:
9' 38 /mi
Calories:
1010
Map
Elevation (ft)
Pace (min/mile)
Splits
Mile
Pace (min/mile)
Speed (mph)
Elevation
Gain
actual
+/- avg
actual
+/- avg
1
9' 33

-0' 05

6.3

+0.1

+3 ft
2
11' 44

+2' 06

5.1

-1.1

+6 ft
3
9' 31

-0' 07

6.3

+0.1

0 ft
4
9' 22

-0' 16

6.4

+0.2

-6 ft
5
9' 47

+0' 09

6.1

-0.1

+7 ft
6
9' 40
+0' 02
6.2
-0.0
0 ft
7
10' 36

+0' 58

5.7

-0.6

0 ft
8
9' 18

-0' 20

6.5

+0.2

-9 ft
end
9' 52

+0' 14

6.1

-0.1

0 ft
Versus average of 9' 38 min/mile