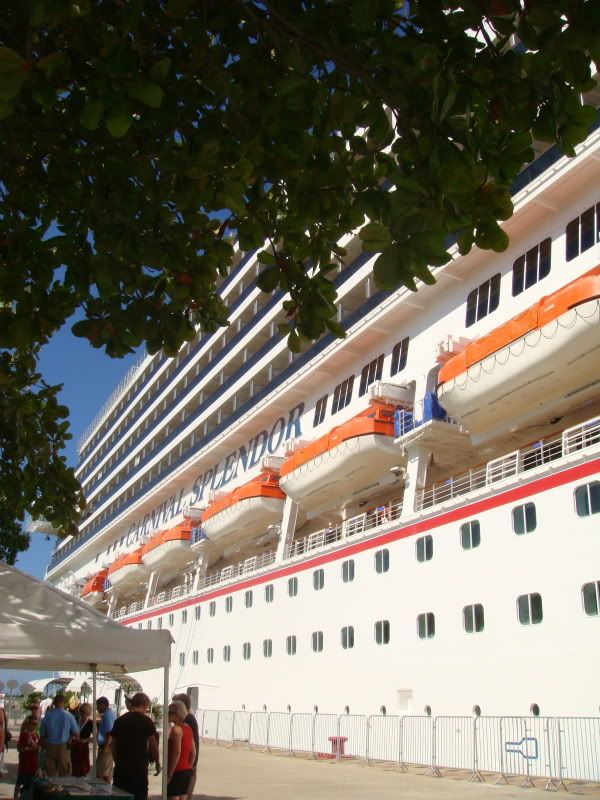 Click any of the photos to see them larger
I'm back! And I have a whole list of posts to write. Sadly, only one of them details an actual run. I didn't run as much on my cruise as I wanted. A combination of booze, staying up late, partying and catching a cold conspired to put running and working out on the back burner. I only ran the first full day and did the elliptical the second day. I did weights both days. And then I lazed about for the rest of the time. Okay, technically I didn't laze about the ENTIRE time. But I'll get to that in a second.
The cruise ship has a small track that runs around the top part of half the ship. The part that surrounds the giant exhaust/smoke stack. And when I say a small track, I mean it.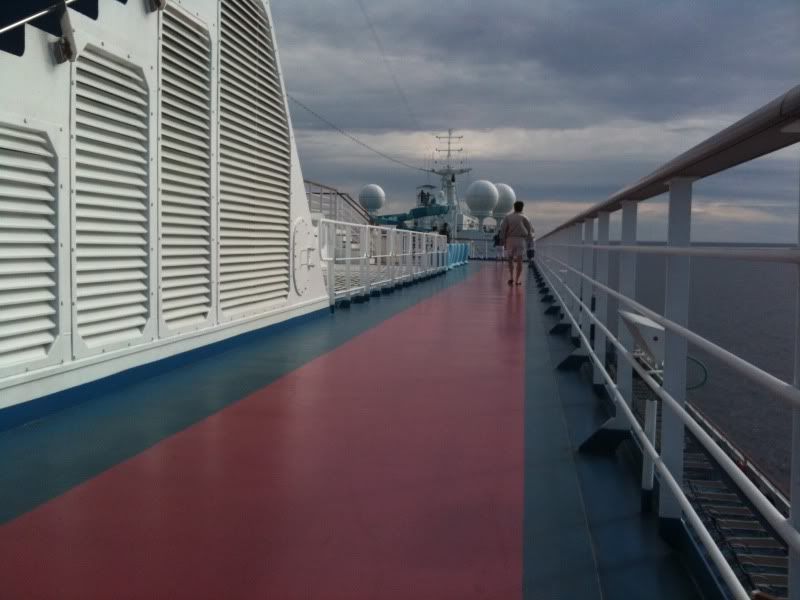 I headed up there about 1:30 PM last Monday. Thankfully, even though we were on the Pacific the weather was cool. In addition, the boat was moving which created quite a breeze. In fact, I would say that it was rather windy. At least when running the same direction the boat was moving. Running around and around on the track was certainly not the most exciting thing on the planet. However, believe it or not, I broke some speed records! Seriously, I ran 11.63 miles in 30 minutes! That's an average pace of 2:35 minutes per mile! I'm the fastest person on earth!
Just kidding. I wore my Garmin and instead of it picking up
my
speed it picked up the speed of the ship. Which was cruising along at just over 20 miles per hour.
I ran for 30 minutes and didn't bother to count the number of laps I did. Perhaps someone out there who is WAY better at math than I am can figure out how far I went. I'm just guesstimating that I went 3 miles. I have to say, even though going around and around in circles isn't the most thrilling way to run, looking out into the open sea makes for some unique scenery!
After running, I hit up the gym on board. It's not huge and they had the temperature way too hot. I avoided the treadmills and did weights after my run. On Tuesday I did 30 minutes on an elliptical and then did some weights. Let me tell you, using a balance ball or an elliptical on a moving cruise ship is a challenge in and of itself!

Photo by Cathieo
Wednesday I didn't hit the gym, but that doesn't mean we didn't get a work out. See, we decided to go zip lining in the jungle outside Puerto Vallarta. Combine hiking up steep dirt paths, climbing rope ladders and hanging onto a cable for dear life and you have our two hour workout. Sadly, due to a lack of funds we don't have our photos yet. Perhaps in 2-3 weeks. So, for now, I leave you with a taste of what it looks like to watch someone zip line:
Thursday we didn't leave the ship. Instead, we slept in and then relaxed on the deck by the pool. This deck, actually: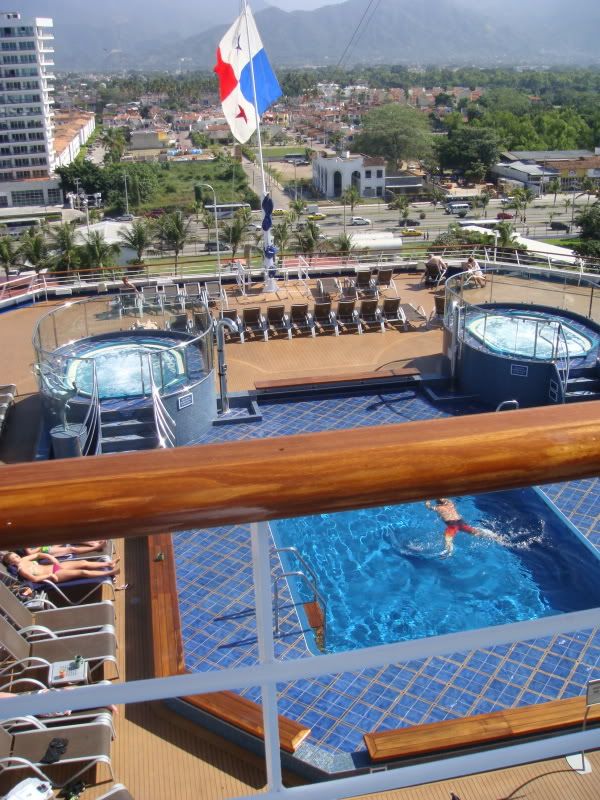 I kept meaning to get up and run or hit the gym, but the sun (and my book) sucked me in. So instead of running around the track, I stared out of the cityscape of Mazatlan, Mexico.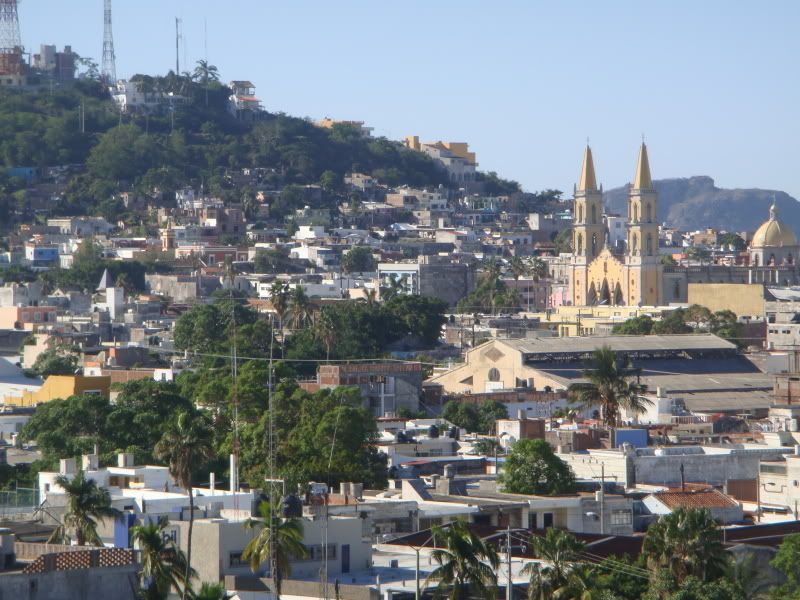 And Friday. Oh Friday. The aftermath of New Year's Eve. Thursday night I wore a killer dress that showed off my awesome runner's calves and I danced (and drank free champagne) until way too late.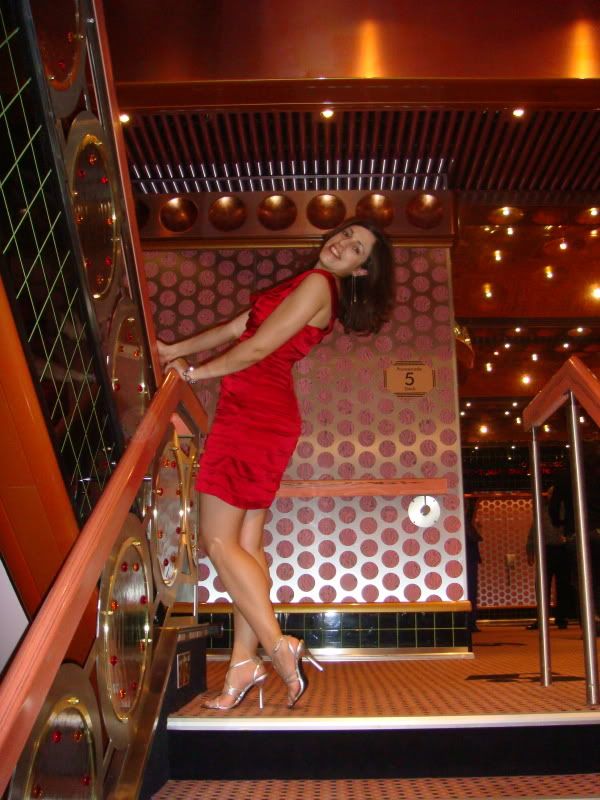 And then somehow dragged myself out of bed to go parasailing at 9AM on Friday.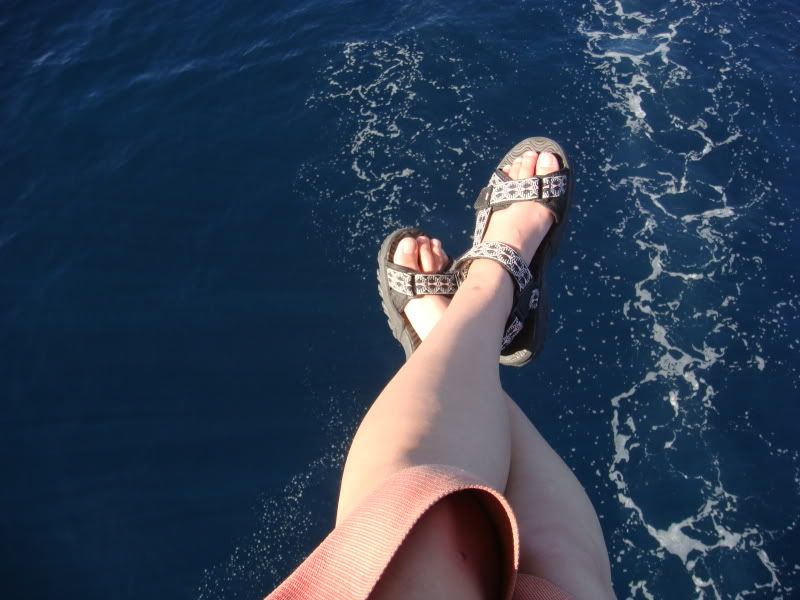 Then spent the rest of the day on a chaise lounge on the Adults Only deck basking in the sun.
Saturday the boat pitched and rolled as we drove at full speed against the swells to make it back to port by Sunday morning. The cold I caught combined with feeling a little seasick left me prone in our cabin with a book. At least our cabin was comfy and we had our own private balcony.
So while I didn't work out as much as I had originally planned, I think that's okay. I mean, it's vacation!
Now it's a new year and I've got a December Wrap-Up post to write, a year in review post to write, and a year in preview post. Stay tuned!
But first, one last little bit of the holidays. The group photo from our Christmas Eve Santa Hat Run:
I'm in the front next to the guy in the yellow vest.
*******************
"My" stats from my cruise ship run
Activity
| | | | |
| --- | --- | --- | --- |
| Route: | -- | Elev. Avg: | 0 ft |
| Location: | Guerrero Negro, | Elev. Gain: | +0 ft |
| Date: | 12/28/09 | Up/Downhill: | [+0/-0] |
| Time: | 01:38 PM | Difficulty: | 0 / 5.0 |
Performance
Distance:
11.63 miles


Time:
0:30:08
Speed:
23.2 mph
Pace:
2' 35 /mi
Calories:
681
Map
Elevation (ft)
Pace (min/mile)
Splits
Mile
Pace (min/mile)
Speed (mph)
Elevation
Gain
actual
+/- avg
actual
+/- avg
1
2' 37

+0' 02

22.9

-0.3

-- ft
2
2' 37

+0' 02

22.8

-0.4

-- ft
3
2' 35

+0' 00

23.1

-0.1

-- ft
4
2' 35

+0' 00

23.1

-0.1

-- ft
5
2' 34

-0' 01

23.3

+0.1

-- ft
6
2' 34

-0' 01

23.3

+0.1

-- ft
7
2' 30

-0' 05

23.9

+0.7

-- ft
8
2' 35

+0' 00

23.1

-0.1

-- ft
9
2' 36

+0' 01

22.9

-0.3

-- ft
10
2' 36

+0' 01

23.0

-0.3

-- ft
11
2' 30

-0' 05

23.9

+0.7

-- ft
end
2' 33

-0' 02

23.5

+0.3

-- ft
Versus average of 2' 35 min/mile