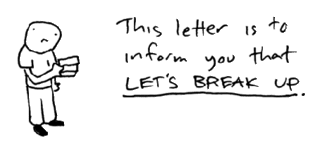 Dear Treadmill,
I've been trying to recall how our love-affair started. I've been thinking about this time last year when we spent so many hours together. Our time together, while not always perfect, was good. I had stars in my eyes and you were there to help me fulfill my dreams. And for that I thank you.
But the time has come. It's difficult for me to say this, but I think we need to break up.
I don't want to say that old, tired line about how it's not you, it's me but I think it might be true. You just don't motivate me anymore. We seem to be stuck in a rut, doing the same thing over and over again. We're not going anywhere. I'm sure you agree.
I don't want to accuse you of lying, but I can't understand why you make things so much harder when I do them with you as opposed to without you. You stand there, so full of promises. So full of potential. But then, the last few times we've been together it's just been so difficult to stay with you. Instead of joy and exhilaration, I feel pain and defeat when we're together. I think I can do better than you.
So, Treadmill, I think I'm going to move on. I'm not going to depend on you anymore. I don't want to string you along. I'm sure we'll still see each other occasionally and I hope we can be friends. Maybe we'll go on walks together in the future, but for now I think the most you'll see of me is a wave as I run past the window.
I hope there are no hard feelings.
Sincerely,
The girl who attempted a 4.5 mile run at the gym last night but couldn't even make it a full 2 miles even at 10:00 minute/mile.