This weekend I did something I hadn't done in awhile.  Well, technically two things I hadn't done in a while.
Thing #1 – I ran in the rain.
I went to Waterfall Glen forest preserve with my running club where it proceeded to rain on us for almost the entire run.  When I arrived my fellow club members were huddled together underneath the small overhang of the bathroom roofs.  The rain didn't seem to be letting up so finally we decided to brave it.
"But I'm not even training for anything!" I whined.  "I don't HAVE to run!"
Apparently, though, my legs felt differently.  I actually ran on both Monday and Thursday of last week so this was my third run of the week.  Something I haven't done in months.  You'd think my legs would be dead.  Nope.  After a slower first mile I ended up running negative splits and feeling amazing.  I ran the first 30 minutes with the club and then turned around and ran the second 30 minutes by myself.
I swear, rain makes you run faster.
I always forget how much I love running in the rain.
Thing #2 – I ran two days in a row
After running Monday, Thursday and Saturday my left leg didn't feel too bad.  I've been rolling out my hip using a combination of a tennis ball and a foam roller and it seems to be helping some.  So when Kim suggested a run on Sunday morning I said sure.
She was coming to my house to help me finish packing for my move but first we took advantage of the non-rainy weather with a 5 mile run through my soon-to-be-former town.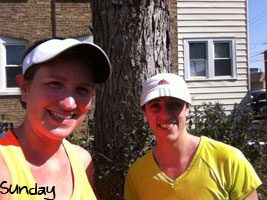 I was totally overdressed.  Apparently I've forgotten how to dress for running. 
Anyway, it was a nice, easy (aka slow) 5 miles and my leg didn't bother me.  Hurray! 
Was it smart to go from 5-10 miles a week to double that?  Probably not.  But at this point I'm just doing what I want and seeing how my leg responds. 
And after tonight's run it will probably become a rest week.  If you call getting ready to move "rest"!