This weekend's long run consisted of dragging myself out of bed earlier than I usually get up to go to work, driving to the bike path, and running 13 miles.
How'd it go? It went really well, actually. When I left the house around 7:15 AM it was actually chilly enough that I wore a light jacket over my tank top. Cooler weather is definitely a good sign.
I wasn't super thrilled that I had to use the port-a-potty at the bike path's trail head but you've gotta do what you've gotta do.
The run itself was pretty uneventful. There were a lot of people out on the path at that time of the day. Runners, bikers, and walkers galore. Jason had mentioned something the night before about possibly going to the path for a bike ride, too, so I kept my eye out for him. Playing a game of "is that biker in the distance Jason or not" kept me occupied for most of the second half of the run. I never did see him and found out later that he left the house about the time I was driving home.
My goal was to keep my pace under 10:30 but I took my first mile nice and slow as an easy warm-up mile. I took a one-minute walk break at mile 3. At mile 6.5 I walked and ate some
PowerBar Gel Blasts
(not very good). I walked again at mile 10 and ate a few more Blasts. The rest of the run felt so good that I admit I briefly thought about trying to hit a half-marathon distance PR but figured that probably wasn't a good plan for a training run. Still, in the end, I ran this training run at almost the same pace I ran
my first half marathon
.
But guess what I discovered when I got home: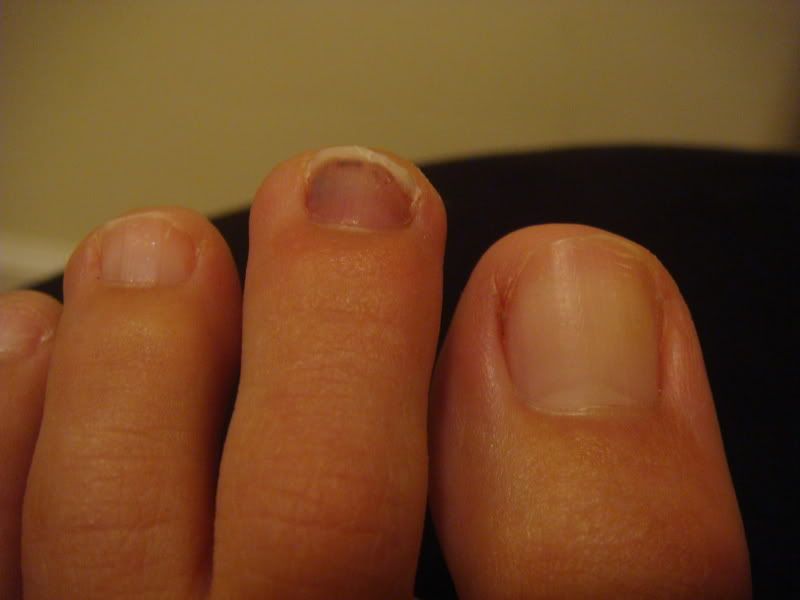 Yes, my very first black toenail. A runner's badge of honor. At least that's what we tell ourselves. I just didn't expect it to hurt quite this much. It didn't hurt at all while I was running, but sleeping on Saturday night was interesting. Every time I put pressure on it I would wake up. Running this week might be fun.
*******************************
Activity
| | | | |
| --- | --- | --- | --- |
| Route: | -- | Elev. Avg: | 626 ft |
| Location: | Brookfield, IL | Elev. Gain: | +0 ft |
| Date: | 08/28/10 | Up/Downhill: | [+429/-429] |
| Time: | 07:42 AM | Difficulty: | 3.2 / 5.0 |
Performance
Distance:
13.03 miles


Time:
2:12:27
Speed:
5.9 mph
Pace:
10' 10 /mi
Calories:
1553
Map
Elevation (ft)
Pace (min/mile)
Splits
Mile
Pace (min/mile)
Speed (mph)
Elevation
Gain
actual
+/- avg
actual
+/- avg
1
10' 40

+0' 30

5.6

-0.3

-4 ft
2
10' 20

+0' 10

5.8

-0.1

+10 ft
3
10' 20

+0' 10

5.8

-0.1

+7 ft
4
10' 53

+0' 43

5.5

-0.4

-7 ft
5
10' 05
-0' 05
6.0
+0.0
+3 ft
6
9' 54

-0' 16

6.1

+0.2

+10 ft
7
10' 47

+0' 37

5.6

-0.3

+4 ft
8
9' 46

-0' 24

6.1

+0.2

-6 ft
9
9' 29

-0' 41

6.3

+0.4

-10 ft
10
9' 30

-0' 40

6.3

+0.4

+3 ft
11
10' 15

+0' 05

5.8

-0.1

-7 ft
12
9' 54

-0' 16

6.1

+0.2

-7 ft
13
9' 20

-0' 50

6.4

+0.5

+3 ft
end
9' 30

-0' 40

6.3

+0.4

0 ft
Versus average of 10' 10 min/mile