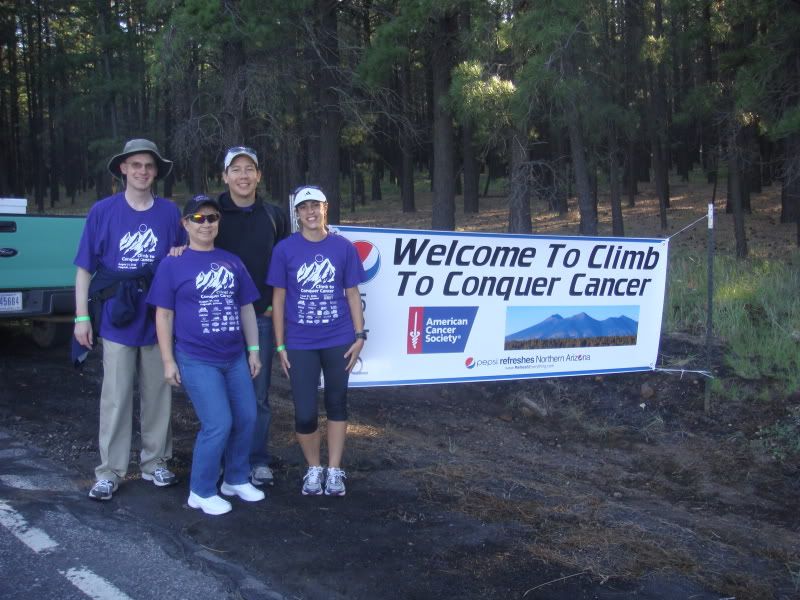 In lieu of a long run this past weekend, I spent 2.5 hours on my feet, walked almost 7 miles, and went from 7,000 feet of elevation to 9,300.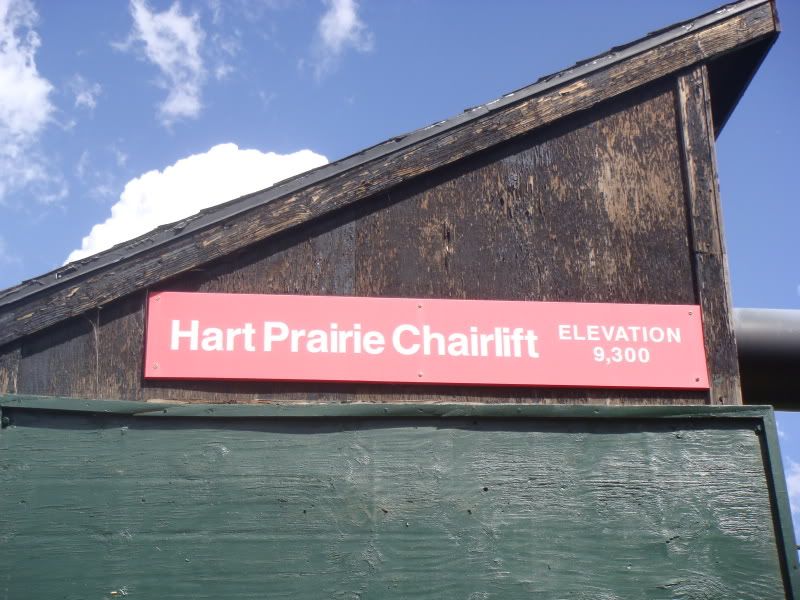 Since I started running, I've done almost 30 organized races. However, I've never done a walk-only, non-competitive event. I admit, I was expecting it to be similar to a race where everyone lines up at a starting line, some things are said, and a horn would sound. Instead, there was only the Welcome sign and no announcements. Save one: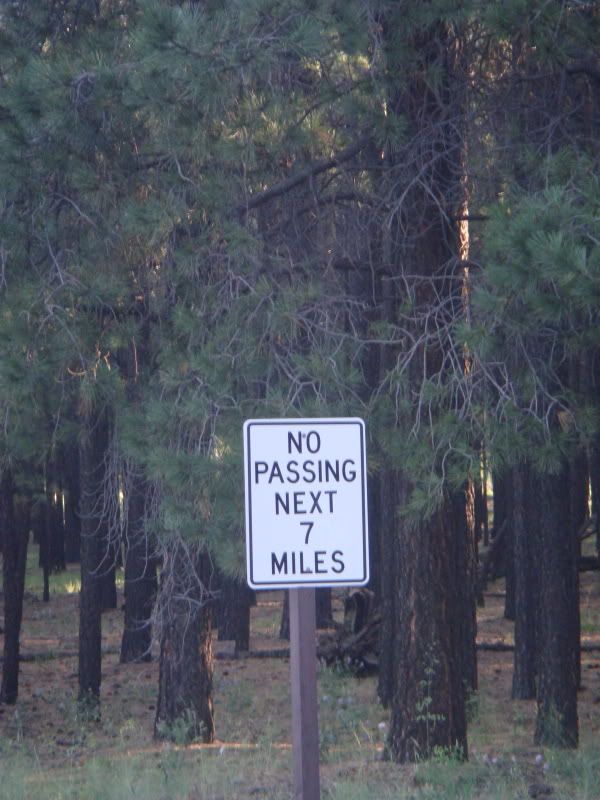 Just kidding :-)
Jason, his mom, his step-dad, and I started walking up the mountain a little after 7 AM. The sea of purple shirts stretched up the road in front of us and down the road behind us.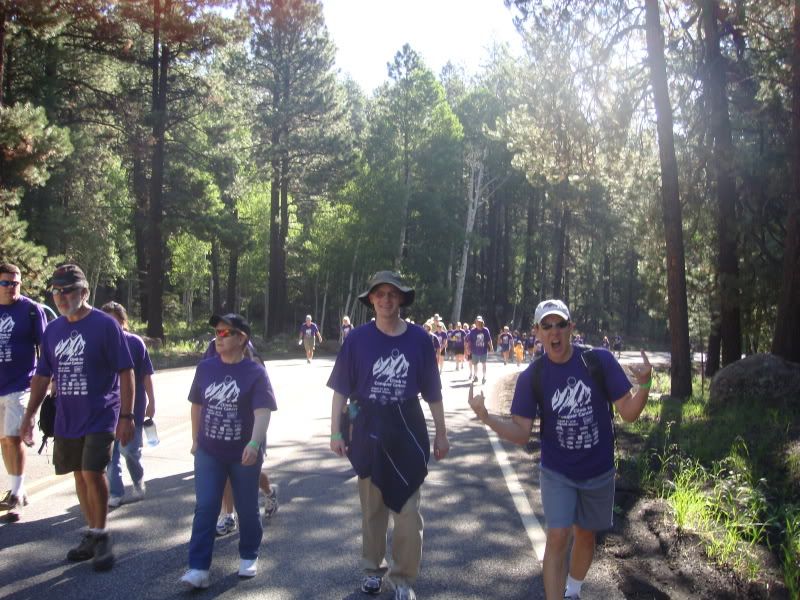 The weather was perfect. Not too hot, mostly sunny, no humidity. A great day for walking.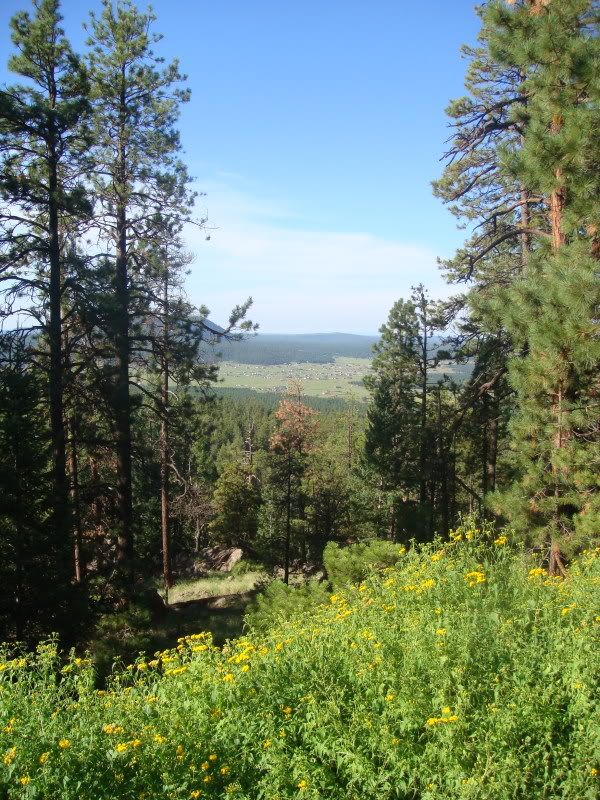 In an effort to stay hydrated and ward off elevation sickness I'd been drinking water like it was going out of style. However, this meant I had to take advantage of the port-a-potties. Of course, so did quite a few other people. I told Jason and his parents to go ahead and that I would catch up with them.
I waited in line for quite some time and by the time I was done I was afraid I'd never find my family in the sea of purple. I started jogging but between dodging walkers and the elevation (8,000 feet...I passed the sign) I quickly decided just to speed walk instead. My calves and shins were protesting the incline but I pressed on. Finally I had my group in my sights and I jogged the rest of the way to catch them.
Around mile 4 Jason's mom decided that she needed to take a break. She'd had foot surgery about six weeks before and the walk was causing some discomfort. Thankfully the walk organizers have a contingency plan in place for this very thing.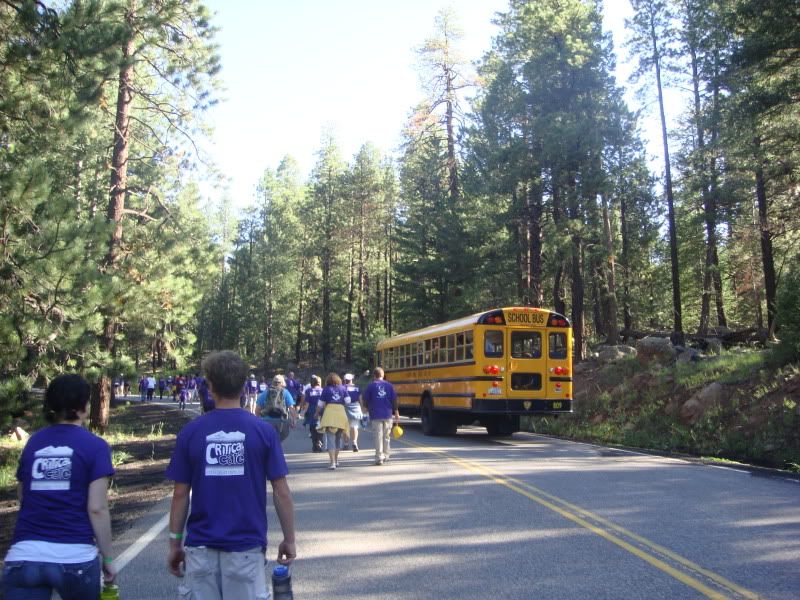 Buses! Jason joined his mom on the next bus to the top and his step-dad and I continued walking. We talked about living in Chicago versus living in Flagstaff, about their most recent vacation, and their upcoming 5-month sabbatical to Italy. The last few miles went by so quickly that I could barely believe it when we rounded a corner and saw the sign welcoming us to Snowbowl, our final destination.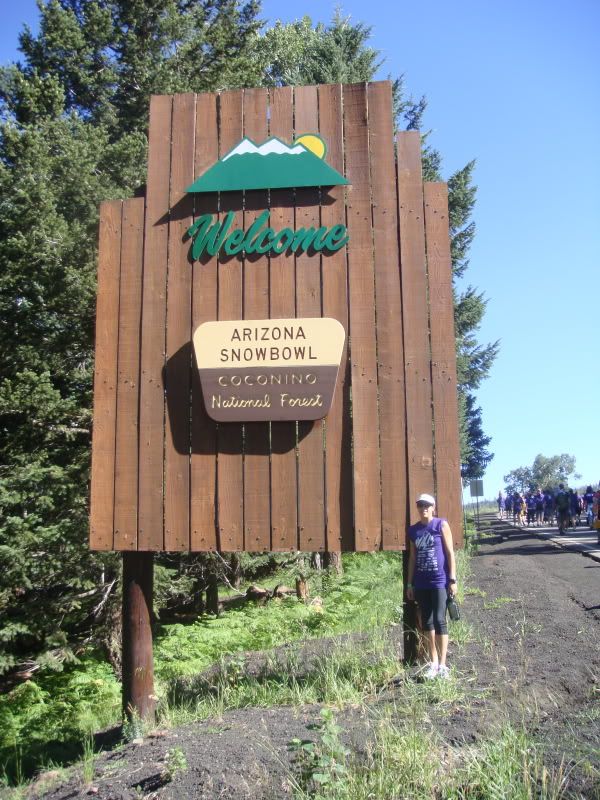 A few hundred yards later we were welcomed by a gaggle of cheerleaders and an official-looking finish line complete with a sign that I think should be at the end of every endurance event.
And just like at the end of any endurance event, it was time for food. Miraculously we were able to find Jason and his mom almost immediately and grab something to eat. Turned out that they had only ridden the bus for about a mile and then walked the final mile together and were waiting for us just on the other side of the finish line.
After resting for a bit, we got in line for the buses that would drive us back to our car at the foot of the mountain. Overall, it was a fun, no-pressure event. Not once did I think the distance felt long or even worry about how long we'd been out there. In fact, it almost went by too fast! Being part of the giant sea of purple full of everyone from people being pushed in wheelchairs, to people struggling to make it the entire distance, to people jogging by (yes, there were some people running), to groups of people walking and chatting and laughing while wearing shirts or carrying signs in memory or in support of someone with cancer was just part of the greatness of the event. My in-laws kept joking that I should go on ahead, that their pace would drag me down. But it wouldn't have been the same if I'd skipped the camaraderie or taken the time to enjoy myself. For some people this climb is all about a personal challenge. For others, like me, it's a chance to do something with the people I care about and have fun while doing it.
And it was certainly fun. If you ever need a reason to visit Flagstaff, I recommend this as one. It's not a big fancy race, but in some ways it's so much better.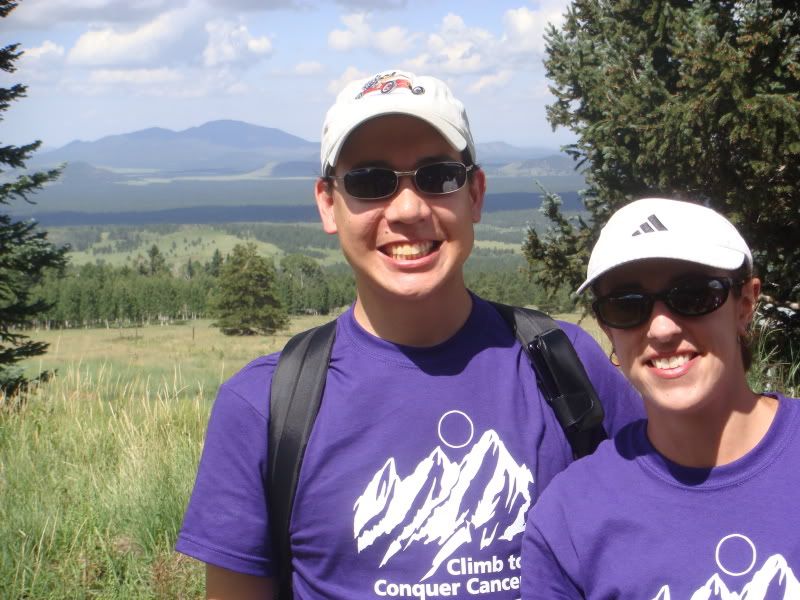 *************************
Note: I was so busy looking for the "official" start of the walk that I didn't think to start my Garmin when we actually started, you know,
walking
. Hence the 5.85 miles instead of the just under 7 that Jason's GPS tracker recorded.
Activity
| | | | |
| --- | --- | --- | --- |
| Route: | -- | Elev. Avg: | 8353 ft |
| Location: | Arizona Snowbowl Ski Area, AZ | Elev. Gain: | +1857 ft |
| Date: | 08/21/10 | Up/Downhill: | [+1902/-45] |
| Time: | 08:16 AM | Difficulty: | 4.3 / 5.0 |
Performance
Distance:
5.85 miles


Time:
2:02:32
Speed:
2.9 mph
Pace:
20' 57 /mi
Calories:
505
Map
Elevation (ft)
Pace (min/mile)
Splits
Mile
Pace (min/mile)
Speed (mph)
Elevation
Gain
actual
+/- avg
actual
+/- avg
1
20' 58
+0' 01
2.9
-0.0
+242 ft
2
20' 04

-0' 53

3.0

+0.1

+292 ft
3
18' 17

-2' 40

3.3

+0.4

+351 ft
4
23' 15

+2' 18

2.6

-0.3

+351 ft
5
19' 36

-1' 21

3.1

+0.2

+314 ft
end
22' 28

+1' 31

2.7

-0.2

+298 ft
Versus average of 20' 57 min/mile