Part of one of my running routes is currently under construction. It makes for some fun times when crossing that road. Talk about off-roading!
I think it's an apt metaphor for my running right now. It's under construction. I'm feeling like I haven't made much progress over the past 8 months. I know that's not true. I've run two half-marathons. I've run longer distances than I've ever run before. But I feel like it's not being reflected in my pace. Instead of getting better, I feel like I'm getting worse. Or, at the very least, getting stagnant.
I did 5 miles last night after work. Originally I thought I'd do between 3 and 4, but I decided to try out a new route and it ended up putting me back near my house at 4.5 miles. I figured I'd just finish off that last half-mile for an even 5. I admit that my goal was to stay as close to 9 minutes per mile as possible. And I did stop my Garmin whenever I had to wait for traffic. So, my Garmin times versus my Bones in Motion times are drastically different. See?
Bones in Motion
Splits
Mile
Pace (min/mile)
Speed (mph)
Elevation
Gain
actual
+/- avg
actual
+/- avg
1
9' 30

-0' 10

6.3

+0.1

+4 ft
2
9' 37
-0' 03
6.2
+0.0
+6 ft
3
9' 18

-0' 22

6.5

+0.2

0 ft
4
10' 42

+1' 02

5.6

-0.6

-9 ft
end
10' 15

+0' 35

5.8

-0.4

0 ft
Versus average of 9' 40 min/mile
Garmin

Yeah, that didn't go so well either way you look at it. I had to walk twice and it was definitely slower than Monday night's run. But, to be honest, I was worn out from Monday night. I think I pushed it harder than I thought. In fact, my legs are informing me today that we need to take a break tonight.
So, in an effort to break out what I feel is a running slump, I'm going to try and shake up my routine. It involves four different classes at the gym and running whenever I can. I may go crazy. But, it's only an 8 week experiment so we'll see how it goes. I do have an 8K race (just under 5 miles) in a little over a month. Last year I ran it in 46:49. I'd love to beat that time. Let's hope my period of construction pays off.
And if it doesn't, I'll just try to remember how I felt last night after my run. I was standing on our back deck, stretching, listening to Wynonna Judd singing about how there's nothing she won't do to be loved by you, and I looked up at the sky to see this: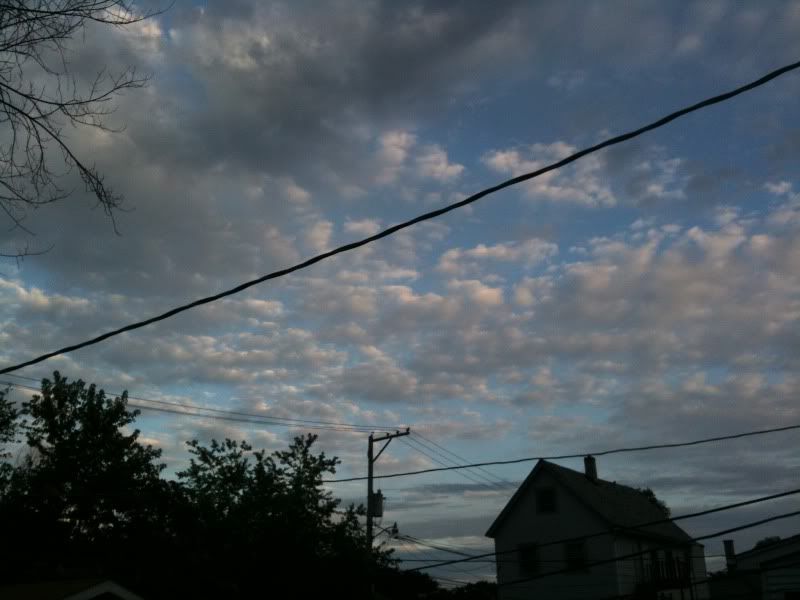 I don't think it was a runner's high, per se, but it was definitely a feeling of accomplishment and peace that swept over me as I looked at the clouds scattered over the blue sky. It was a nice feeling. Remind me how much I enjoyed it next time I'm feeling down, okay?
Also, note to self: When you run with your iPhone instead of your iPod, don't forget to turn off the "Shake to Shuffle" function. Otherwise you'll spend the first minutes of your run very confused.
*************
Stats
Activity
Route:
--
Elev. Avg:
625 ft
Location:
Forest Park, IL
Elev. Gain:
+0 ft
Date:
08/18/09
Up/Downhill:
[+49/-49]
Time:
06:17 PM
Difficulty:
2.4 / 5.0
Weather:
Mostly Cloudy
78 F temp; 45% humidity
78 F heat index; winds W 9
Performance
Distance:
5.00 miles


Time:
0:48:18
Speed:
6.2 mph
Pace:
9' 40 /mi
Calories:
582
Map
Elevation (ft)
Pace (min/mile)