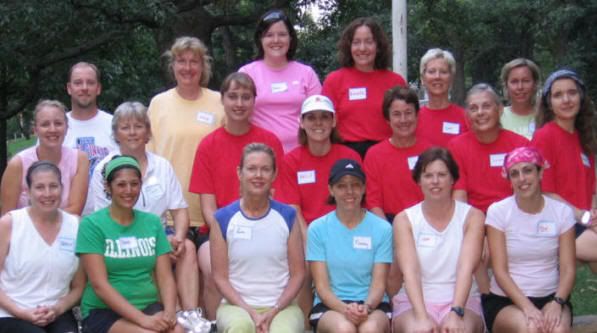 Today's Take It and Run Thursday question over at Runners' Lounge is:
When did you know you had become a runner? Was there a defining moment, or was it a gradual progression over time?
Interestingly enough, a friend just recently asked me this question, too!
I don't think it was one moment when I decided I was a runner. It was an accumulation of changes in my life and my attitude.
See, I didn't decide to become a "runner". I decided I wanted to try running. So many people I knew online were doing it and I always thought, "Hey, if they can do it so can I!" I tried on my own for awhile but didn't get very far. So, I joined the Beginning Women's Running Group pictured above (I'm on the bottom right with the pink bandanna on my head).
We trained for a 5K. I ran that 5K. And then something weird happened. I kept running. I made time in my schedule to run. I said things like, "Okay, but I've got to run first." I got up early on weekends to get in a run before I did anything else. I wanted to see how far I could go. 4 miles? 5 miles? 9 miles??
I stopped thinking of running as a way to lose weight and instead wanted to run to increase my distances and my speed. I stopped thinking of my gym trips as just gym trips and started thinking of them as cross-training. Instead of looking for ways to workout that would burn the most calories, I looked for options that would benefit my running.
I started planning my life around my running instead of the other way around. You know how magazine articles always say you should schedule working out just like you would a meeting or an appointment? I actually started doing that. Running took precedence. It still does.
When my friend asked me, I said another way I knew I had become a runner was when I felt guilty about missing a run. Not guilty like "oh no, I didn't work out today" but guilty like "I running have goals and I want to meet them".
But, the more I think about it, the more I think that I knew I had truly become a runner when I was able to answer "yes" when someone asked me if I wanted to go for a run.
Yes, I want to go for a run. Because I'm a runner.