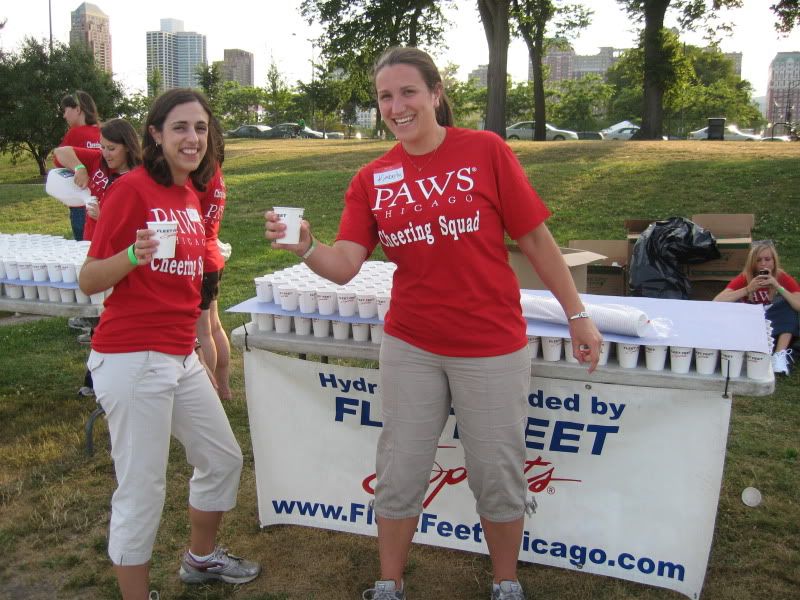 Last night
Kim
and I volunteered to hand out water for PAWS at the Elvis is Alive 5K in downtown Chicago. The race started at 6:45 but, as volunteers, we were supposed to check in at 5PM.
We walked about a mile from our offices to the check in point. It took us awhile to find it because the race organizers didn't really communicate the volunteer tent's location to our volunteer coordinator. After we checked in, we then walked another mile to the actual water station.
We stood around for what felt like a LONG time before the aid station coordinator had us start setting up our tables of water. I'm so glad Kim was there so that I had someone to talk to. The view wasn't bad, either, as we were right on the lake looking out over one of the harbors.
Kim and I took our time and chatted while we poured water and lined up cups on our table. We had the choice to staff a water table or a Gatorade table. I chose water. I had a feeling we'd get kind of wet and while wet was okay with me, sticky was not. And, as Kim said at the end, I chose wisely.
After our cups were filled and lined up, we waited around some more before runners started coming through. While we were waiting, a group of guys came up and started chatting with one of the volunteers. They were all tourists from Australia and London. And they wanted to help out. They provided some great comic relief for us. Probably not so much for the runners, though. But I thought it was cute and hilarious that they were so earnest about it!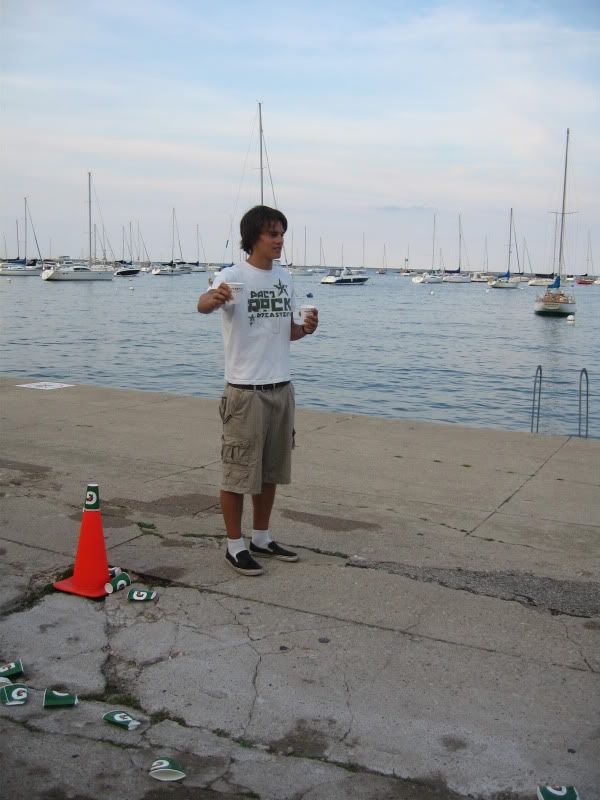 Now, with a race name like "Elvis is Alive", you have to expect some running Elvises, right? Well, the race certainly didn't disappoint. Kim and I took turns handing out water and taking photos. Here's a little slideshow of some of the costumed runners we saw:
(If that doesn't work for some reason, hopefully you can view it
here
.)
There were all kinds of other funny t-shirts, wigs, and people wearing glasses with sideburns attached. Some of the runners even thanked us with a "Thank you. Thank you very much."
Kim and I were at one of the later water tables so by the time most runners got to us they had either grabbed water or had decided they didn't want any. As you can see, we had a LOT of volunteers.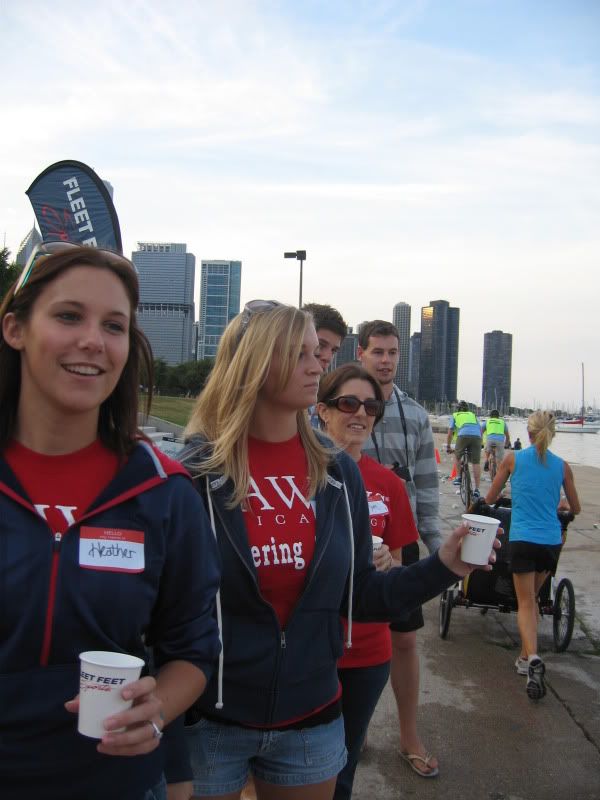 And what do you do with all the water that people don't take at the aid station? You dump it. No, not cup by cup. You dump it table by table.

Cue Hermione Granger: "Is that what my hair looks like from the back??"
The Fleet Feet volunteers took care of all the heavy lifting and the rest of the clean-up leaving us to walk the mile back to the volunteer station and attempt to claim our promised dinners. Sadly, the food was at the back of the beer tent and it appeared they only had ham and turkey sandwiches. For one vegan and one person who wasn't in the mood to fight through a large crowd of sweaty post-race runners, it wasn't the best set up. But, I don't volunteer at races for the perks. I volunteer because I like to give back to the sport that I love. And last night was a great night to do so. Perfect weather, a good friend to chat with, and a nice, laid back race.