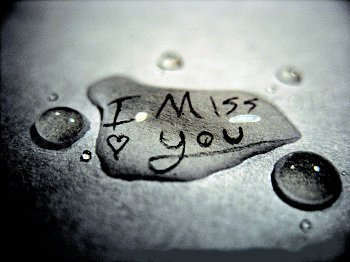 Ahhh, OPRC, I actually missed you!
I haven't run with them since we got our new greyhound. Instead, Monday nights have been devoted to obedience class. But last night class was canceled so I got to run!
And boy, did I run! I originally thought I'd be slow as molasses based on Sunday's run and the fact that I haven't run very much in the past week. I even told two new women that I'd be at the back of the pack keeping them company.
But then one of the regulars paired herself up with me stating that she wanted to "go slow."
She's a talker, that one. Managed to keep me distracted the entire time with her chatter. So distracted that it wasn't until mile 3 that I realized we'd left the "back of the pack" people in the dust and were running my hoped-for 10K race pace! Oops! I felt so bad about leaving the new people behind. So bad, in fact, that when we got to the park where we all stop to re-group I ran back aways to see if I could find them. Sadly, I couldn't. Another club member and I stood around hoping to see them but we never did. We were getting cold in the cool and drizzly weather, so we left. I still feel guilty.
However, other than the guilt, it was an AWESOME RUN. Oh, it was awesome. I have confidence now that I can kick this upcoming 10K's butt.
And then, after the run, we all went out for dinner and drinks to celebrate a club member's birthday AND the fact that she qualified for the Boston Marathon on her very first try! I even got to see some of the photos from our Chicago Marathon water station. Here's one (I'm on the far right):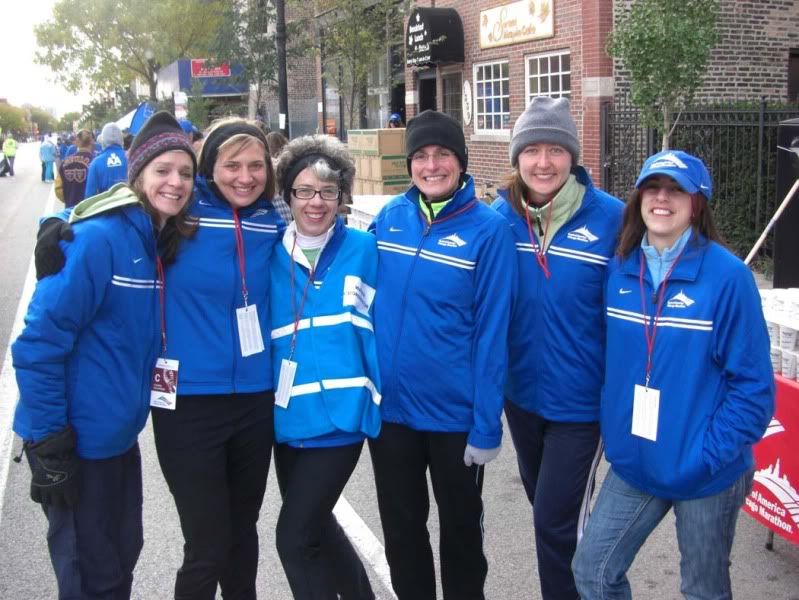 We drank some drinks, ate some food, and even had cake! Yummy strawberry or banana cake that another of the members brought. Overall, it was a great evening.
****************
Stats
Activity
Route:
--
Elev. Avg:
628 ft
Location:
Forest Park, IL
Elev. Gain:
+0 ft
Date:
10/26/09
Up/Downhill:
[+19/-19]
Time:
06:35 PM
Difficulty:
2.1 / 5.0
Weather:
Light Rain
52 F temp; 92% humidity
52 F heat index; winds SW 6
Performance
Distance:
5.51 miles


Time:
0:50:31
Speed:
6.5 mph
Pace:
9' 10 /mi
Calories:
655
Map
Elevation (ft)
Pace (min/mile)
Splits
Mile
Pace (min/mile)
Speed (mph)
Elevation
Gain
actual
+/- avg
actual
+/- avg
1
9' 30

+0' 20

6.3

-0.2

-3 ft
2
8' 53

-0' 17

6.8

+0.2

-9 ft
3
9' 00

-0' 10

6.7

+0.1

+6 ft
4
9' 04

-0' 06

6.6

+0.1

+3 ft
5
9' 12
+0' 02
6.5
-0.0
0 ft
end
10' 14

+1' 04

5.9

-0.7

+3 ft
Versus average of 9' 10 min/mile