And, no, not that kind either.
I think we should consider it a miracle that I ran at all this weekend. I think we should consider it an even greater miracle that my run was good!
See, on Thursday afternoon we got a new addition to our family. Meet Phil: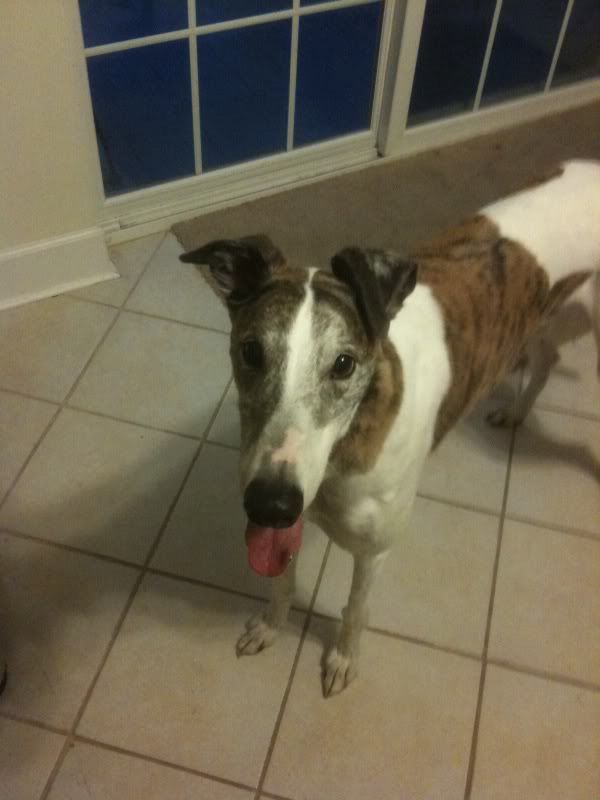 Phil is a 9 year old greyhound who we adopted from another family. Phil is taking awhile to settle in. Phil was getting on my last nerve. Saturday I had what I term post-adoption depression. My motivation to do anything was non-existent. I didn't want to run. I didn't want to clean. I didn't want to do errands. Plus the weather was crappy (cold and rainy) which decreased my motivation even more. So, in the end, instead of running, I did Level 1 and Level 2 of the 30 Day Shred.
Saturday night Phil howled in his crate all night. Finally, at 6:00 AM I dragged myself out of bed to deal with him. It was only 30 minutes earlier than I'd planned to get up. I had plans to go apple picking later in the day so I wanted to give myself plenty of time to get a run in. So, after dealing with the dog (who I think had an upset stomach) and taking a quick cat-nap on the couch, I got out the door for a run at 7:30 AM. The plan? 8 miles at 10:00 minutes per mile pace.
The outcome? 8.5 miles at just a hair under 10:00 minutes per mile pace. Success! This run felt awesome. I don't know if it was the cooler weather, the fact that I was escaping a stressful environment, or what. I ran from my house to the starting point for my usual Monday night runs, did the Monday night route, and came home. I had to stop at some intersections, of course, and at one point I had to stop and put a dog back in his yard. I paused briefly for a drink at a water fountain. But otherwise I was flying. I was in a groove. I could have gone for way more than 8.5 miles. In short, it was exactly the kind of run I need when I'm in a funk. I felt so good when I got home that I didn't even mind cleaning dog crap up off the kitchen floor.
Apple picking later that day, though, was a literal pain in my ass. I always forget how sneaky that Jillian is. My quads and glutes were so freaking sore after doing the DVD and running. At one point I squatted down to pick something up and could barely stand back up. I'm still sore today, actually. Normally I'd have a run tonight to work out the soreness, but I might not be running on Mondays for awhile. See, Phil doesn't know any commands. So, we signed him up for obedience classes. The only one that worked for us? On Monday nights. I might alternate with Jason and have him take Phil to class by himself some weeks so that I can still go running. I'm kind of irritated at having to miss running group but I know that, in the end, a well-behaved dog trumps running. I'll just have to figure out how to push myself on my own.
************************
Activity
Route:
--
Elev. Avg:
626 ft
Location:
Forest Park, IL
Elev. Gain:
+0 ft
Date:
10/04/09
Up/Downhill:
[+52/-52]
Time:
07:30 AM
Difficulty:
2.4 / 5.0
Weather:
Mostly Cloudy
49 F temp; 79% humidity
49 F heat index; winds W 10
Performance
Distance:
8.58 miles


Time:
1:25:40
Speed:
6.0 mph
Pace:
9' 59 /mi
Calories:
1016
Map
Elevation (ft)
Pace (min/mile)
Splits
Mile
Pace (min/mile)
Speed (mph)
Elevation
Gain
actual
+/- avg
actual
+/- avg
1
9' 53

-0' 06

6.1

+0.1

+3 ft
2
10' 45

+0' 46

5.6

-0.4

+6 ft
3
9' 54
-0' 05
6.1
+0.0
0 ft
4
9' 49

-0' 10

6.1

+0.1

-9 ft
5
9' 54
-0' 05
6.1
+0.0
+13 ft
6
9' 51

-0' 08

6.1

+0.1

-3 ft
7
10' 21

+0' 22

5.8

-0.2

+3 ft
8
10' 00
+0' 01
6.0
-0.0
-13 ft
end
10' 11

+0' 12

5.9

-0.1

0 ft
Versus average of 9' 59 min/mile