Good thing I was running :-)
But seriously. After a long day of sitting in conference rooms I had several options: hit the bar by myself, take a nap, or go for a run.
I chose the run. Originally I was going to do it in the hotel's fitness room but the weather outside was too gorgeous. Who knew central Florida could be so lovely? Plus, even after rinsing out my workout clothes (I only packed one set) and letting them dry they still REEKED of b.o. I didn't think it was fair to subject the other fitness room users to that.
I ended up running around the cart path on the golf course at my hotel. 5 miles once around. I did one of the sections twice, though, for a total of 7 miles. Apparently you're not supposed to run on the cart path on the golf course. I suppose there's a chance you could get beaned by a errant golf ball or run over by a out of control golf cart. Luckily, at 6:00 PM on an October Saturday 2 miles from Disney World there aren't many golfers out and about and no one said anything to me.
It was a great run. There were few weird pangs in my shins and my left knee, but they went away as my muscles and joints warmed up.
And afterward I stretched while overlooking part of the hotel's grounds. Like being in a tropical paradise.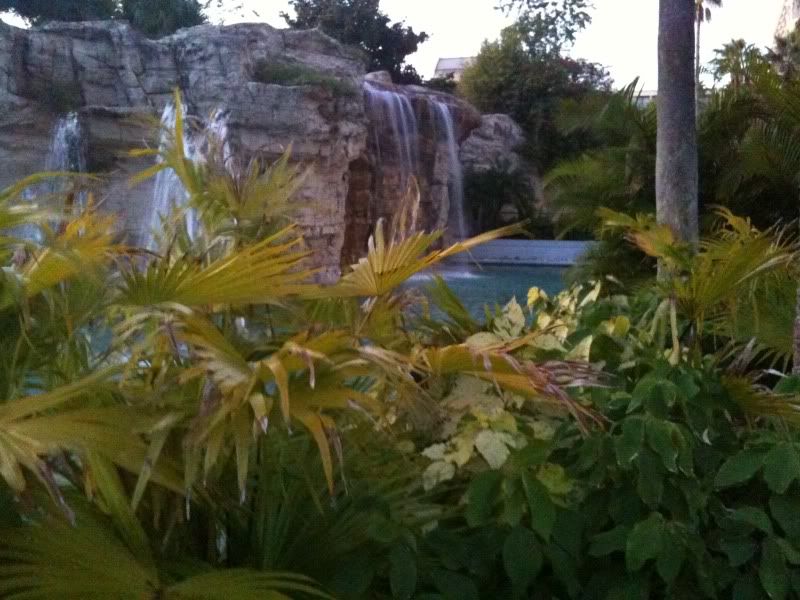 *******************
Stats
Activity
Route:
--
Elev. Avg:
101 ft
Location:
Lake Buena Vista, FL
Elev. Gain:
+0 ft
Date:
10/17/09
Up/Downhill:
[+62/-62]
Time:
05:56 PM
Difficulty:
2.1 / 5.0
Weather:
A Few Clouds
63 F temp; 58% humidity
63 F heat index; winds NW 12 G 18
Performance
Distance:
7.19 miles


Time:
1:09:46
Speed:
6.2 mph
Pace:
9' 42 /mi
Calories:
852
Map
Elevation (ft)
Pace (min/mile)
Splits
Mile
Pace (min/mile)
Speed (mph)
Elevation
Gain
actual
+/- avg
actual
+/- avg
1
9' 31

-0' 11

6.3

+0.1

+4 ft
2
9' 44
+0' 02
6.2
-0.0
-3 ft
3
9' 45
+0' 03
6.2
-0.0
-4 ft
4
9' 47

+0' 05

6.1

-0.1

+3 ft
5
9' 50

+0' 08

6.1

-0.1

-7 ft
6
9' 51

+0' 09

6.1

-0.1

+10 ft
7
9' 55

+0' 13

6.0

-0.1

-3 ft
end
9' 52

+0' 10

6.1

-0.1

0 ft
Versus average of 9' 42 min/mile