So, I'm a runner. I think this means that I have to subscribe to Runner's World. At least, it does when I was able to get a one-year subscription for like $6.00. I signed up last November. I've been getting renewal notices with each new magazine for the past few months. I'm still debating whether or not to renew my subscription. Then, last night, I took a closer look at the renewal form. And at the little subscription card that fell out of the magazine.
Can you see the problem here?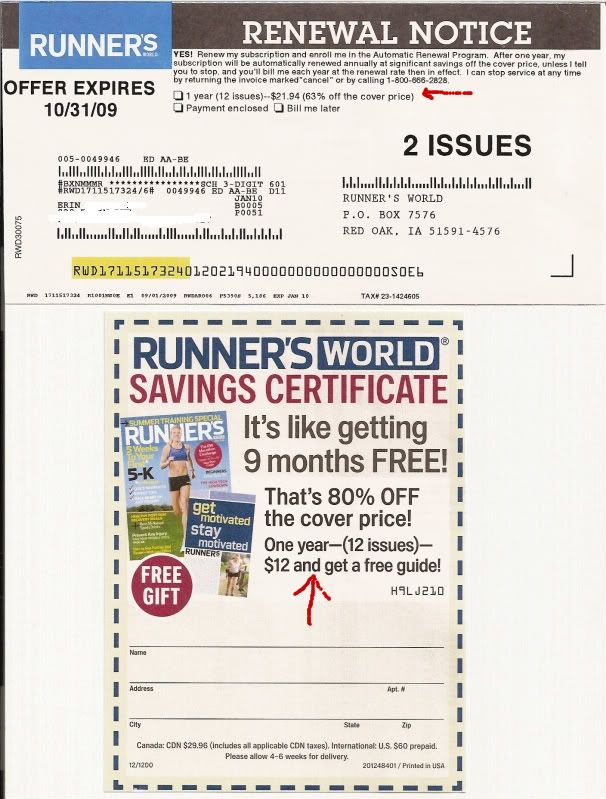 Click to see full-sized. You may need to click the image again after it opens in a new window.
Jason and I had a good laugh about that last night. Guess I won't be renewing my subscription! I'll just get a new one.
******************
This weekend, for those of you that don't know already, is the Chicago Marathon. I'll be at mile 18 handing out water. You may recall that two years ago the Chicago Marathon made the news for it's record-breaking temperatures and lack of water. Last year they had more than enough water and it was hot yet again. This year, temperatures at the start line are supposed to hover around freezing. Much better weather for those of you that are running. Not so great news for those of us volunteering. I plan to wear my rain boots. Gotta keep those feet dry lest they freeze off!
Normally I don't follow the names of the elite runners. But, after hearing the Chicago Marathon director speak at the running club meeting in September I'm intrigued. Every one talks up volunteering at the aid station by saying that we get to see the elites up close. Looks like I'll get to see a blur of Beijing Olympic Gold Medalist Marathoner
Sammy Wanjiru
. He's hoping to set a world record.
For anyone else running on Sunday I'll be cheering for you just as hard. With water or Gatordae in my hand.