Photo from http://www.sdgfp.info/
First off, the good news. It appears that after the organizers of the Illinois Marathon publicized their need for more volunteers, 200 people stepped forward and agreed to help out. Me included. I said I would do traffic-duty after I finished running my half. Probably a stupid decision, but oh well. I just really want this thing to happen. As of now, it looks like it's back on. Let's hope it stays that way.
After getting that good news yesterday, I was more motivated to do my 7 mile tempo run after work. One mile of warm-up, 5 miles between 9:24 and 9:53 minute/mile pace, and one mile cool down. My alternate workout was just to do the 7 miles slowly. I decided I would see how my shin felt. Also, my original thought process was to do half outside and half inside. I had about an hour of daylight left and didn't know if I'd be able to get all 7 miles in before it got too dark for my liking.
Long story short: I did all 7 miles outside. And I did my tempo run. But let's get to that in a minute.
Since I didn't know how far I'd be going outside, I decided just to run in town instead of driving out to the creek-side bike path. About a half mile in, I came across my first "wild life" sighting.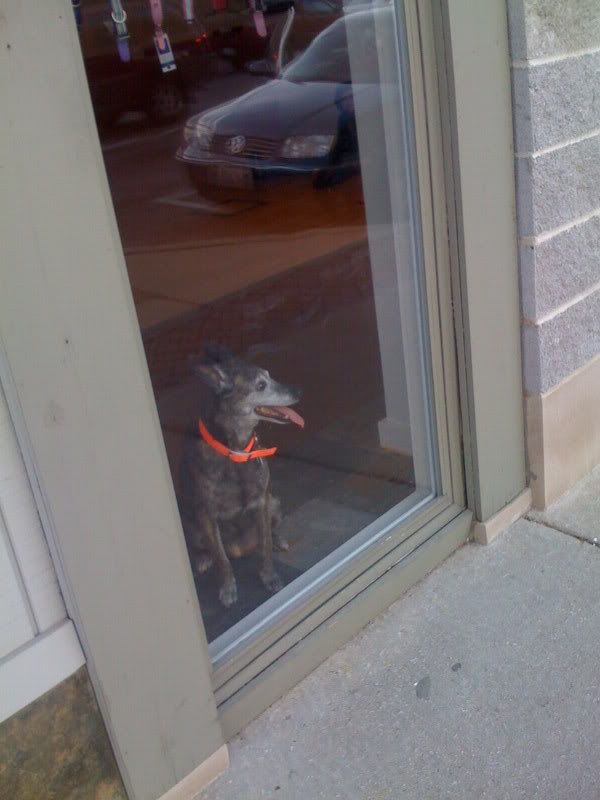 Say hello to the dog I saw in the window of the doggie daycare that I run past. I love the name of the place, too.
My first dog I adopted after I graduated college was named Spot. I even have a tattoo on my foot to honor his memory.
About a half mile later, I encountered my next sign of "wild life": a friendly looking dromedary.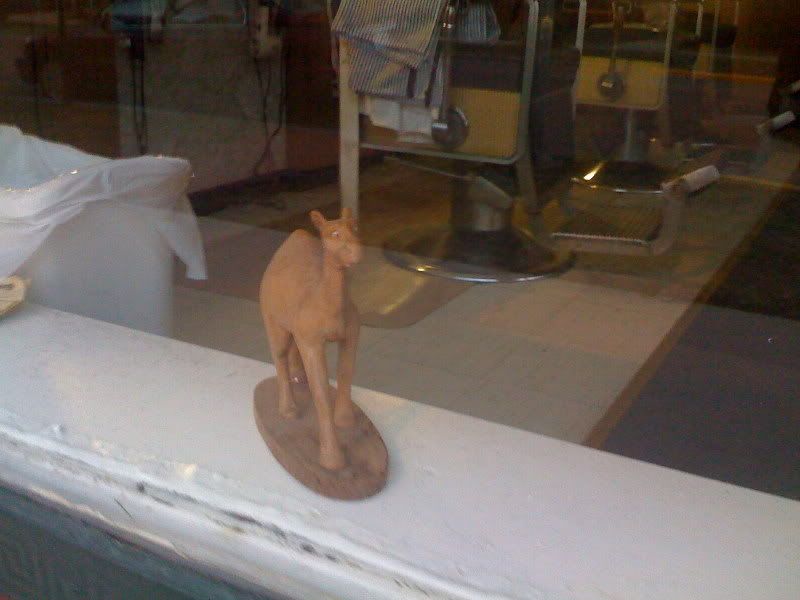 That's in the window of the barbershop I took a picture of on Monday.
Shortly after passing Mr. Camel, I hit the end of my one mile warm-up and sped up the pace. I decided to avoid looking at my Garmin as much as possible. Almost immediately upon speeding up my shin started to hurt. But, the amazing thing is, somewhere in the middle of mile 2 it quit. By the time I hit mile three it didn't hurt at all. Wild!
Since my original plan was to get 3 or 3.5 miles in outside, I hadn't really chosen a turn around point. However, when I hit my favorite street of all time in the middle of mile 2 and realized it was still light out, I decided to keep going. Why is it my favorite street of all time? Every single house on the street is FABULOUS. Including this one: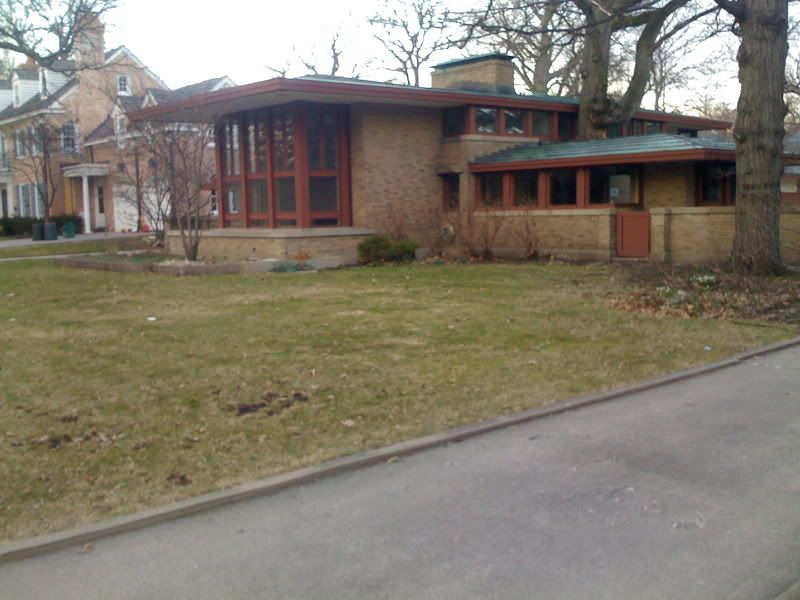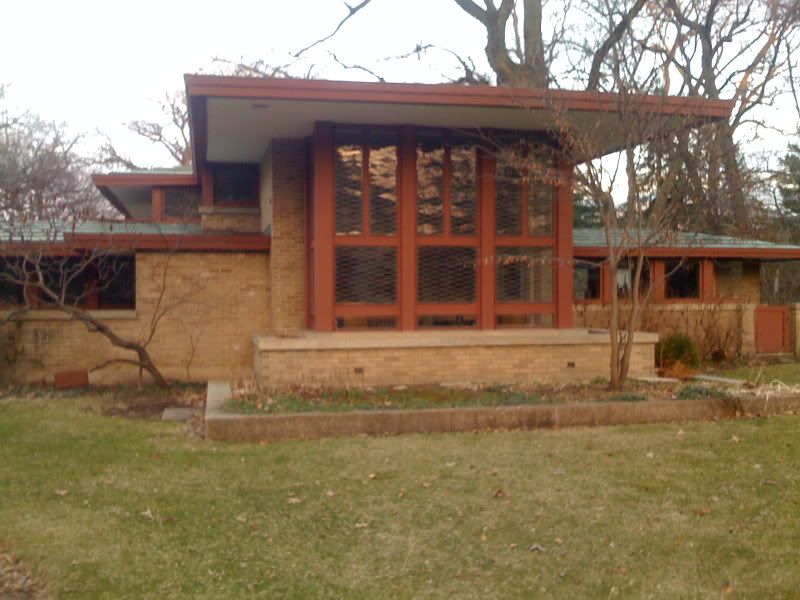 The first time I ran down this street I was in awe at all the houses but this one especially stood out. Imagine my surprise when I saw it on the cover of
this book
when I was a the Frank Lloyd Wright museum and gift shop. Wild!
The other reason I like this street is that just off it there is a short path that cuts through some woods. I decided to take that path last night. It comes out in the parking lot for a trail side museum and then continues across the street to a picnic grove.
I hit the picnic grove just before the three mile mark. Excellent, I thought. This means I'll get approximately 6 miles outside and can do my cool-down on the treadmill. I headed back the way I came. Once I reached the edge of my neighborhood, I decided to make it an even 6 miles outside. But by the time I did a loop through my neighborhood and made it back to my house, I was over 6 miles. It seemed silly to stop and go inside to do the last three quarters of a mile on the treadmill. So, even though the street lights were on and the sun had set, I kept going. I ran up to the park and back and, on the way, passed the final "wild life" of the evening.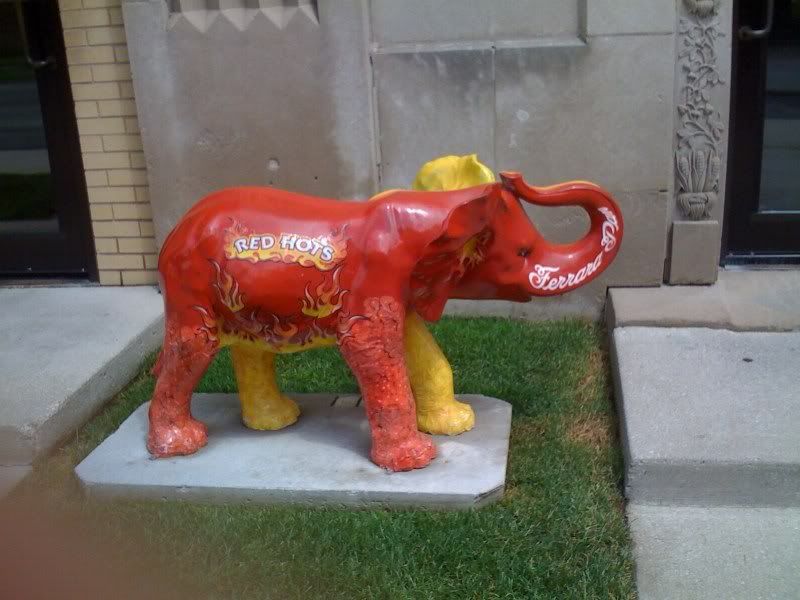 I actually took this picture last summer. It was too dark last night to get a good photo.
My seventh mile ended a slight distance from my house. I could have run the rest of the way, but I decided to have a nice, extra cool-down walk instead.
I didn't get a chance to really check my data until later in the evening. When I did, I was shocked. Shocked! Look at these times: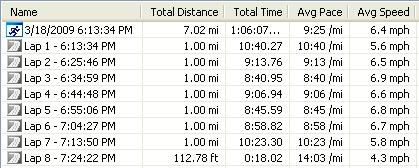 Holy sh*t! Even with the warm-up and cool-down miles I hit my tempo pace almost exactly on the nose for the first time ever! And you know what? It didn't even feel that hard! I felt as though I could have been running faster or gone for longer. And three miles under 9 minutes? I am in awe at myself. I was not honestly trying to run that fast. Wild!
I am really looking forward to my (very first!) 10-miler on Saturday. As long as my shin pain stays away or drops out after two miles like it did last night, I'll be in business.
And, as always, here's the other info from Bones in Motion.
Activity
Route:
--
Elev. Avg:
626 ft
Location:
Forest Park, IL
Elev. Gain:
-3 ft
Date:
03/18/09
Up/Downhill:
[+108/-111]
Time:
06:13 PM
Difficulty:
2.2 / 5.0
Weather:
Mostly Cloudy
50 F temp; 47% humidity
50 F heat index; winds Calm
Performance
Distance:
7.02 miles


Time:
1:06:08
Speed:
6.4 mph
Pace:
9' 25 /mi
Calories:
606
Map
Elevation (ft)
Pace (min/mile)