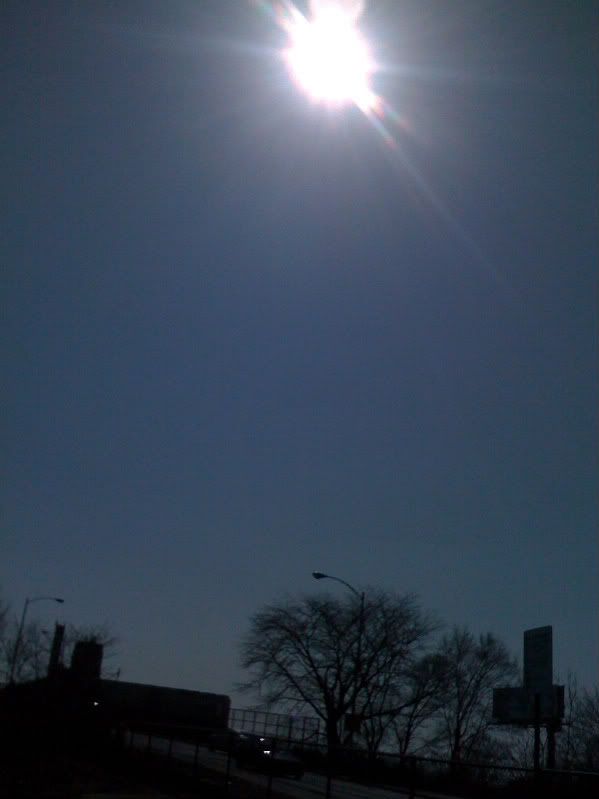 I'm a little sad that this was a step back week. Today was a GORGEOUS day to run. The sun was shining, the temps were in the mid-50s, and even the mystery bulbs in my front yard are poking their heads through the mulch.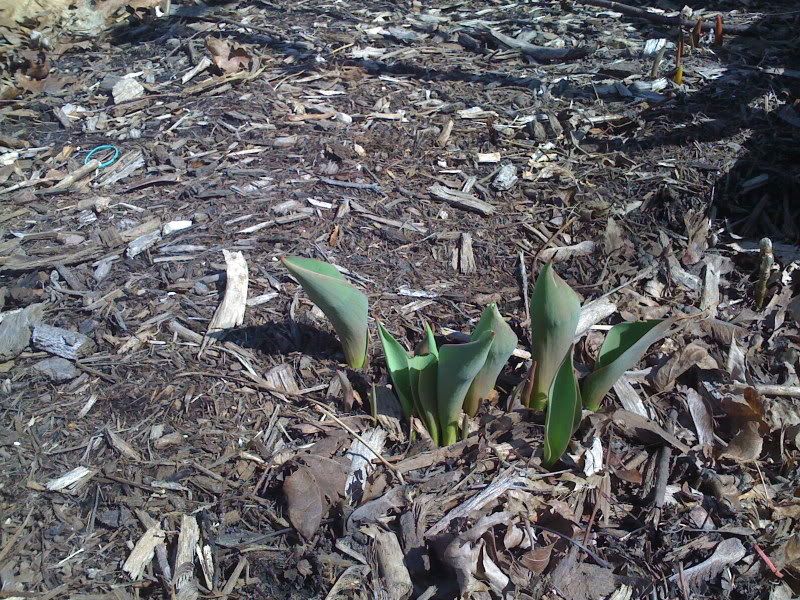 Although, it wasn't the weather that made me push my run from Saturday to Sunday. No, we had company visiting this weekend and we spent yesterday walking around downtown Chicago seeing the
green river
, visiting the Lego store, eating some traditional
Chicago-style pizza
and getting
popcorn
. My run this weekend was a four-miler and I'm sure I walked more than 4 miles yesterday. But while walking four miles is a great cross-training exercise, it's not the same as running. At least not for my purposes. So today, after our guests left, I headed out for a run.
Oh, the other thing we did while we had guests was go shopping! I hit up my local running store and bought a new pair of capris and some new pairs of socks. The socks were $5 a pair and the capris were 20% off. Yay for indoor sidewalk sales! When I went for my run today I wore the new capris and a new pair of socks. Both worked quite well.
For the first two miles of my run I had a horrible pain in my left shin. It started where my foot connects to my shin and continued almost all the way up to my knee. I think it was from a combination of starting off too fast and not doing long enough of a warm-up walk. Or maybe it was because I haven't run since Wednesday. Whatever the reason, I decided to run through it. After mile 3 I no longer noticed it.
Speaking of starting off too fast, the weather was so beautiful that I just wanted to run my little heart out. I did stop to take a picture of our lovely water tower, though. Probably the most exciting thing I see on this particular route.
Although, come to think of it, I do run past some spectacular houses. But that gives me something to take pictures of later.
When I run in town, I don't see much in the way of wildlife. Except when I stop by the dog park. While I was running, Jason was at the dog park with Trinka Deu. I stopped by for awhile to watch her play and enjoy the sun's warmth.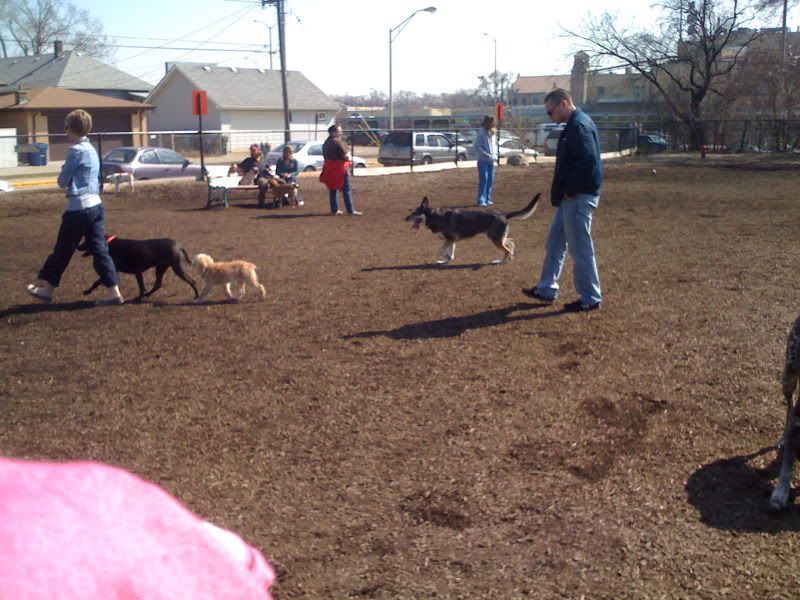 After relaxing on a park bench for awhile, we walked back home where I fought with my Garmin to get my run data uploaded. After a minor freak-out (and some help from Jason) I finally got it to cooperate. And discovered that, yes, I was running pretty fast for a training run. I knew I was, though, so I wasn't too surprised. I even booked it super-fast for awhile on the last mile. Although the map data looks a little weird due to me futzing with the Garmin when I got home, the pace data is accurate.
Activity
Route:
--
Elev. Avg:
629 ft
Location:
Forest Park, IL
Elev. Gain:
+0 ft
Date:
03/15/09
Up/Downhill:
[+98/-98]
Time:
01:14 PM
Difficulty:
1.9 / 5.0
Weather:
A Few Clouds
55 F temp; 31% humidity
55 F heat index; winds E 8
Performance
Distance:
4.04 miles


Time:
0:37:56
Speed:
6.4 mph
Pace:
9' 23 /mi
Calories:
367
Map
Elevation (ft)
Pace (min/mile)
Splits
Mile
Pace (min/mile)
Speed (mph)
Elevation
Gain
actual
+/- avg
actual
+/- avg
1
9' 13

-0' 10

6.5

+0.1

+4 ft
2
9' 55

+0' 32

6.0

-0.3

+10 ft
3
9' 47

+0' 24

6.1

-0.3

+3 ft
4
8' 53

-0' 30

6.8

+0.4

-16 ft
end
10' 40

+1' 17

5.6

-0.8

0 ft
Versus average of 9' 23 min/mile
Overall, aside from the random leg pain, it was a good run that, for some reason, left me ravenous. If this is how I feel after a fast 4 mile run, Champaign-Urbana better watch out after my half-marathon. I may just eat one of everything in the city.