Normally Saturdays are my long run days but since I'm planning to get my long run in on Sunday morning with the running group I had all of Saturday free to do what I wanted. So, after looking at the calendar I decided to try something new: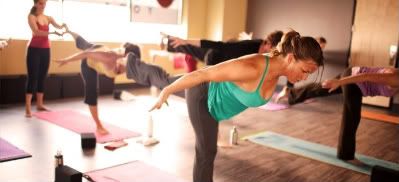 Yoga!
You may recall my distaste for yoga some months ago. What with the eye exercises and the diet preaching and the rest of it. But so many of you told me to give it another shot. So, when a new yoga studio opened up in the same shopping area as my grocery store and started advertising a week of free yoga, I thought I'd give it a try.
And it's not just any yoga, oh no. It's HOT yoga. As in, a room that ends up being 105
o
F while you're in there holding poses. After
Holly
described her hot yoga practice I knew it sounded like something I'd enjoy more than the touchy-feely yoga I'd tried before. So today I went and did it.
I came prepared with a yoga mat, a water bottle, a hand-towel, and a bandanna. I wore a pair of my spandex running shorts, a cami-style sports bra, and a top with spaghetti straps. When I first walked into the room there was another woman in there laying on her mat so I followed suit. I had about 15 minutes to lay there in the warm room while other people trickled in. The heat wasn't overwhelming at that point but it did start to feel oppressive after awhile. Thankfully, the instructor came in at that point and we got started.
The first part was all standing poses. I have no idea how long we were at it, though, because there is no clock in the room. All I know is that the instructor was great at reminding us what adjustments to make in our form and helping us push our limits. And at pushing the temperature button on the thermostat!
I've never seen myself sweat like that before. It was amazing. By the time we got to the seated and laying down poses my mat was like a slip and slide. Now I understand why some people brought full-sized towels! I was able to do most of the poses to one degree or another. The only one I couldn't do was the
Fixed Firm Pose
. My knees and hip flexors weren't having any of that. I also didn't go deep into
camel pose
because that that moment I was feeling kind of light headed and tilting my head back made it worse.
So, the big question is, did I like it? And I have to say yes, I did. It was definitely more of a workout than my previous yoga attempt and the instructor was WORLDS better. At one point she even massage my lower back! I'm sure that the heat plays a huge role in the difficulty but, honestly, other than the sweat, I didn't really notice it. I'll definitely be back a few more times this upcoming week so that I take full advantage of my freebies and try a few other classes. After that perhaps I'll buy a 5 or 10 visit pass. We'll see.
The one thing I do know is that I would have KILLED someone for a smoothie after class. However, I was in no condition to go in anywhere and purchase one. My clothes were literally sopping as if I'd just gotten out of a pool. But then I remembered that I had everything at home to make a
Green Monster
. You know, the drink that took the blog world by storm.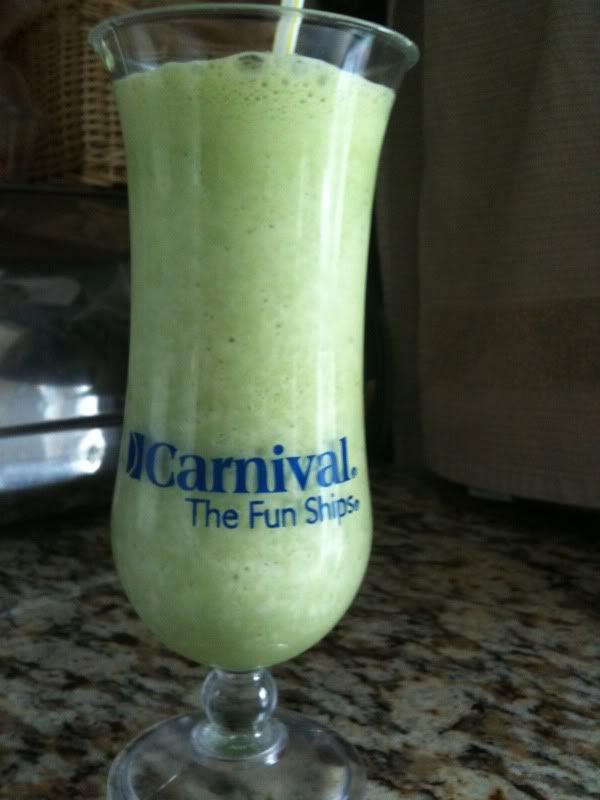 My attempt
How was it? Just okay, I guess. It certainly cooled me down but it didn't really taste like much. Maybe it's a case of the better the ingredients the better the drink. My bananas were about two days past too ripe and my spinach was just regular baby spinach in a bag. And I used 1% cow's milk. Also, it was just too thin. I was hoping for something thicker and more smoothie-like.
Anyway, after scarfing down some lunch Jason and I loaded up our bikes and drove to the bike path for another bike ride. We decided to do the same 9 miles we did last weekend. This time, though, I remembered to bring the camera.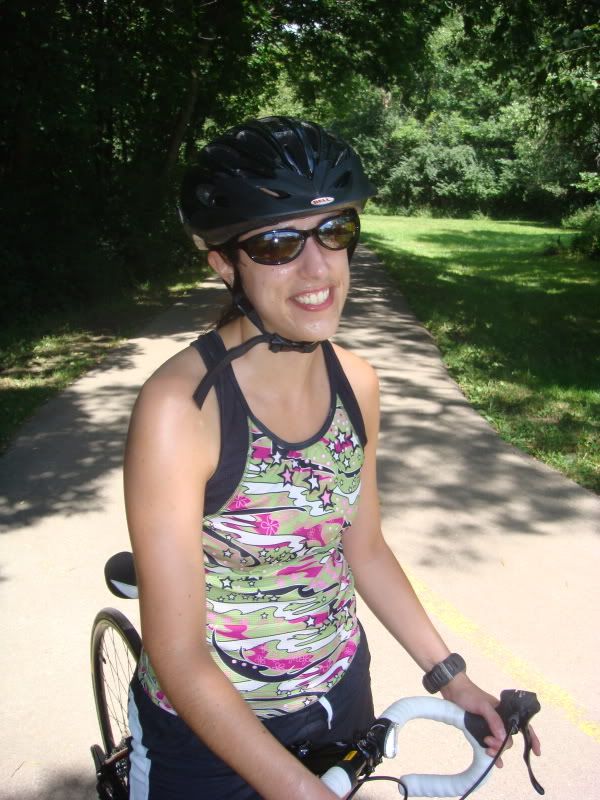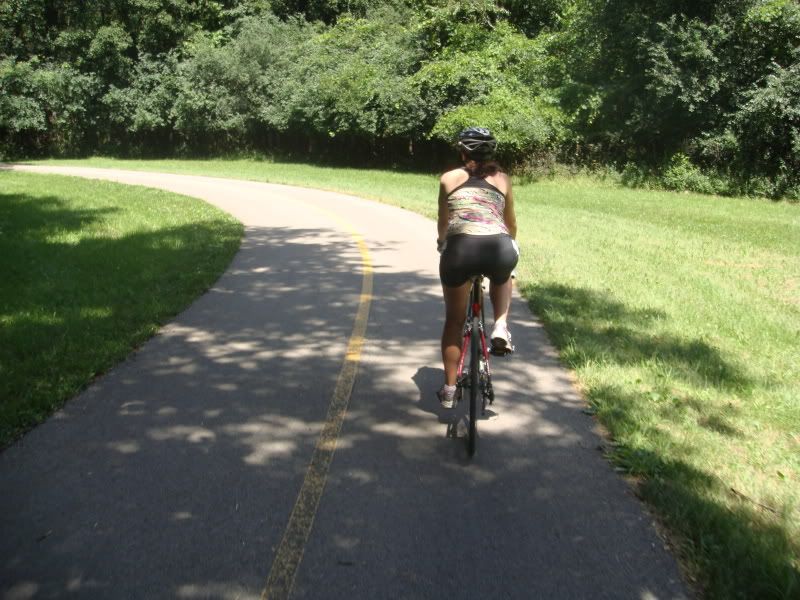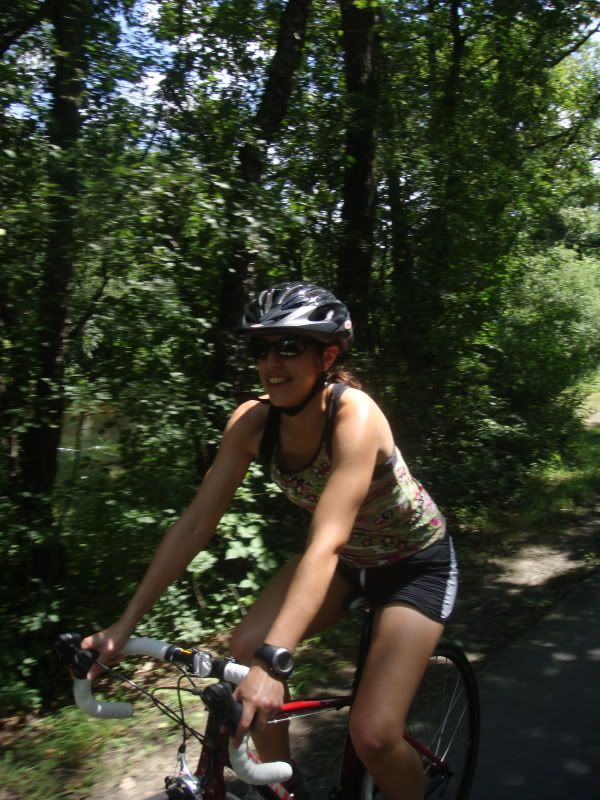 Last time the Garmin recorded 8 miles in 45 minutes for an average speed of 10.7 miles per hour.
This time? 9.14 miles in just under 48 minutes with an average speed of 11.4 MPH. Speed demons were are not, but we're getting better! I'm becoming less afraid of going faster around curves and Jason is increasing his stamina.
The breeze generated by bike riding was a welcome change after spending an hour and a half in a hot yoga studio. My hip flexors, though, were a little sore after being on the bike. Perhaps I need to raise my seat or adjust my form? Too bad I don't have a bike riding instructor!
Hopefully my crazy day of cross-training doesn't negatively impact my 12 mile run. As always, I'll have a full report afterward. Stay tuned!