I feel like I dropped off the face of the planet for awhile there. Celebrating the holiday with family and having house guests left me little time or motivation for running, going to the gym, or anything active. My mom and I had plans to go for long walks while she was visiting but the weather conspired against us.
The weather also conspired against my attempt to run just one mile as fast as I could for the Winter Misery One Miler. But, never fear! I did run. And it was pretty miserable.
My mom was awesome and offered to make dinner on Monday night while I went running with the running club. It was cold out, but the roads were relatively clear. However, I hadn't run in almost a week and my body just was not in the mood. My legs felt like lead. My lungs felt as though I had rubbed my face in cat (note: I'm horribly allergic to cats. Not just sneezing and itchy eyes, but my throat actually swells shut and my chest gets tight. Sort of like an asthma attack.). I didn't even take off my gloves and normally they are the first things to go after about a mile.
I fell behind almost immediately. I fought with my Garmin for almost the first half mile. As much as I wanted to go faster, I just couldn't find the energy. I was SO happy when the park that marks the 4 mile marker appeared out of the darkness. I was the last to arrive. I guess this just goes to show you how important routine is when running. My routine's been off for almost two weeks.
So, instead of running one speedy mile, I ran a slow, painful 5.5 miles (although, the Garmin indicates I only ran 5.1 but that's because it wouldn't find a satellite for the first few minutes).
My results for the Winter Misery One Miler? My fastest mile (out of 5.5) was 9:18.
And the temperature? A balmy 29
o
F.
You know what you need after a run like that? A nice, warm meal. Preferably prepared by someone else. My mom had a bowl of
Orcecchiette with Roasted Broccoli and Walnuts
(she also added chicken sausage) all ready for me when I got home. Yum! But a bowl of soup would have been good, too! Good thing I won
Healthy Tipping Point
's soup give away! My winnings came in the mail this week: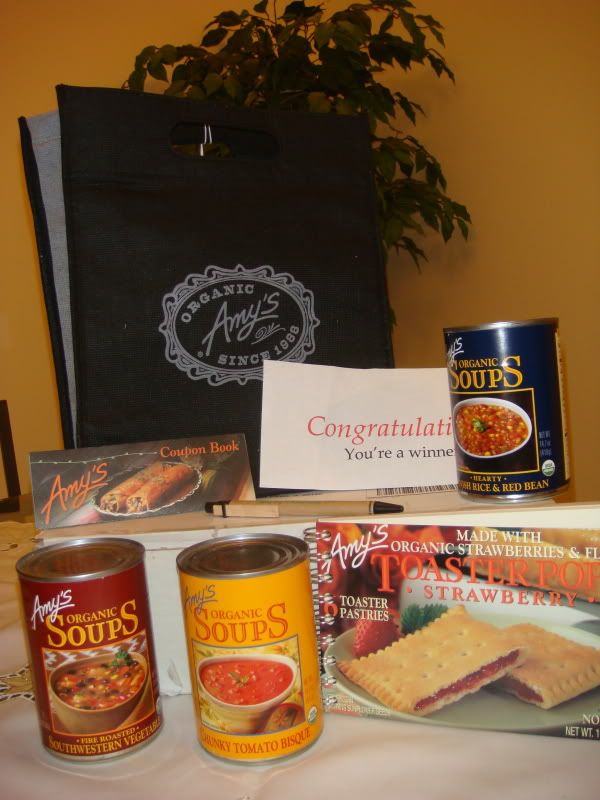 The swag included three cans of soup, a reusable bag, a pen, a notepad, and coupons. Awesome!
The running group is having a morning run on Christmas Eve starting at 8AM. We're all supposed to wear Santa Hats or red and green. I couldn't find a Santa hat, per se, but I did find something. I promise, there will be pictures. Stay tuned!