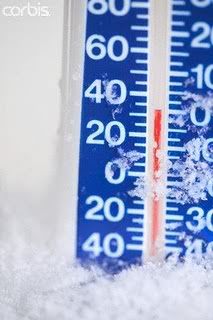 The cold really wipes you out, doesn't it? And I feel like this year we skipped from shorts weather to freezing with very little time in between.
Yesterday morning I felt as though I'd been hit by a truck. If I drank caffeine it definitely would have been a double dose day. As it was, I dragged myself to work and managed to keep my eyes open. I debated running at lunch. With the windchill it was 6 degrees F outside. Running outside would either wake me up or put me into an afternoon coma. In the end, I decided to go for it.
We did the "short" three miler which still ended up being almost 3.5 miles. However, we went north on the lakefront path which we hadn't done in awhile. Turns out they're doing some construction on the bridge over the Chicago River. Part of the concrete sidewalk is missing so they diverted foot traffic onto the bridge itself. Running on the metal grates covered with plywood certainly is springy!
I let the guys go ahead and hung in the back with the other woman. The cold makes me sluggish and I wasn't in the mood to be speedy. Same reason I skipped the OPRC run on Monday night (and walked/jogged on the treadmill instead). I can't run that hard all the time in this cold. My joints don't like it.
I bundled up in three layers on top and two layers on bottom and was pretty toasty by mile 2. I think the worst part of running in the cold is the first few minutes. You know you'll warm up but it's just so hard to go out there with fewer clothes on.
Also, has anyone else noticed that exhaust fumes are more pronounced when it's cold outside? During our run yesterday we decided that the benefits of running are probably off-set by all the exhaust we breathe in.
Much to my surprise, the cold weather actually perked me up instead of turning me into a hibernating bear. And when my boss let us off work early, I headed to the gym for some strength training. My abs actually feel a little sore today. Excellent!
It might be quiet around here for the next few days as I prepare for holiday celebrations. But, first, a few fun announcements! Caitlin over at
Healthy Tipping Point
was doing an Amy's Kitchen soup pack give-away earlier this week...and I won! My plan? To take them to work for lunches so that I can warm up after my freezing lunch time runs.
Caitlin is also doing another Pile On The Miles Challenge until January 1st. There's still no chance of me winning, but it's still fun to watch the mileage add up.
Not in the mood to pile on the miles? How about one mile?
Running Laur
is hosting a Winter Misery One Miler "race" which seriously has the cutest logo:
I'm trying to decide if I want to count my mile as part of a longer run or if I want to run one mile as fast as I can. I've never done just the latter.
Finally, I have an idea for a giveaway brewing in my head. It's not really running related and it's definitely not unisex (sorry, guys!) but I figure a little branching out never hurt anyone. Stay tuned!
**************
Stats
Activity
Route:
--
Elev. Avg:
588 ft
Location:
Chicago, IL
Elev. Gain:
+3 ft
Date:
12/15/09
Up/Downhill:
[+147/-144]
Time:
12:19 PM
Difficulty:
2.6 / 5.0
Weather:
A Few Clouds
20 F temp; 42% humidity
20 F heat index; winds NW 17 G 24
Performance
Distance:
3.44 miles


Time:
0:31:32
Speed:
6.5 mph
Pace:
9' 10 /mi
Calories:
409
Map
Elevation (ft)
Pace (min/mile)
Splits
Mile
Pace (min/mile)
Speed (mph)
Elevation
Gain
actual
+/- avg
actual
+/- avg
1
9' 03

-0' 07

6.6

+0.1

-23 ft
2
10' 02

+0' 52

6.0

-0.6

+10 ft
3
8' 44

-0' 26

6.9

+0.3

+4 ft
end
9' 22

+0' 12

6.4

-0.1

+10 ft
Versus average of 9' 10 min/mile