moar funny pictures
Happy Christmas Eve to those of you who celebrate! I've been fortunate enough to have Christmas Eve off work and school since at least 2002! The joys of working for government and then academia after college graduation. However, I've never quite been able to celebrate it the way I did this morning.
Last night I laid out my outfit for the group run this morning. Black tights, green long-sleeved shirt covered with a red long-sleeved shirt, red gloves, white fleece headband, and, the topper, my Santa hat headband! Jason was still asleep so I didn't ask him to take a picture. So, here's what you get: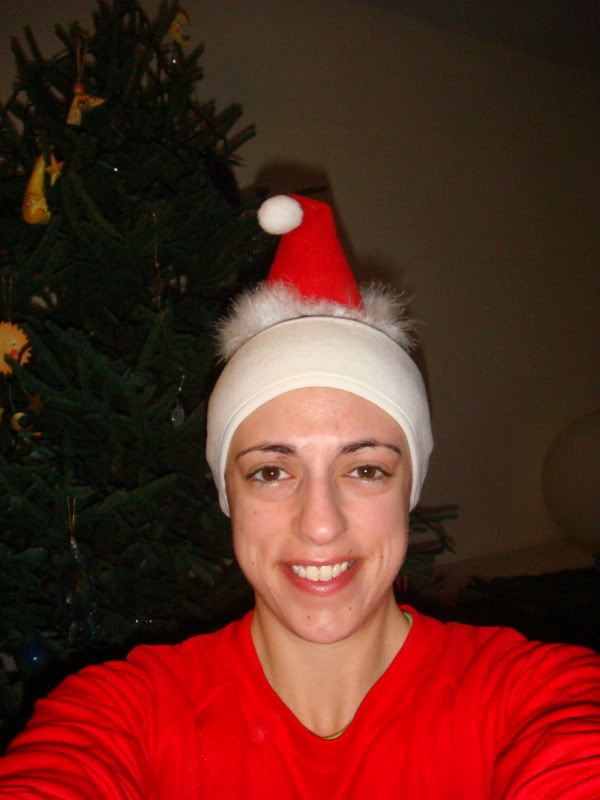 When I went into the bedroom to grab something Jason asked sleepily from the bed, "When did you grow a horn?" I suppose in the dark it could be construed as such. However, I thought it was awesome! So much better than a full on hat that would make me overheat while running!
I met up with the running group at a local coffee house/bakery/deli. We had an excellent turn out! Although the sidewalks were super icy, the streets were fairly clear and the freezing rain the forecast called for held off until after we were done. There was quite the assortment of red outfits and Santa hats. But no one else had a Santa headband like mine! Lots of pictures were taken but I don't know when I'll see them. If I get them at a later date I'll try to remember to post them. I didn't get many compliments on my headgear, but I did get a lot of congratulations on my two 10K PRs in November. The results were listed in our latest newsletter which just came in the mail this week.
I started out running with a small group of "slow pokes" like me but lost them after half a mile when one of them slipped on some ice. I stuck with another member until he turned around at the one mile mark. The problem then? We were going a new route and I didn't know it! I tried to book it to catch up with the rest of the group which is why mile 2 was my fastest. I didn't quite catch up to them, but I managed to keep them in my sights for the rest of the run and I finished up right on their heels.
I'd brought my YakTrax but didn't wear them. There was only one super slick section of sidewalk where I wished I'd had them but I managed to get through it with only one almost-slip.
After running we hung out at the cafe drinking, in my case, Chai tea lattes and eating muffins. We had so many people we practically took over the place with our chatter and laughing. I loved it. I took off after an hour, ducked into Old Navy to grab myself a little something, and then I went to the gym! I mean, I was across the street. How could I skip it? One of the running group members was going to sit in the steam room. While that sounded heavenly, I didn't bring appropriate steam room gear. So, instead, I did about an hour of strength training.
A five mile run followed by an hour of strength training on Christmas Eve morning? I can't think of a better gift to myself.
Except maybe tormenting my dogs. Who knew a Santa hat headband could be so versatile?
Phil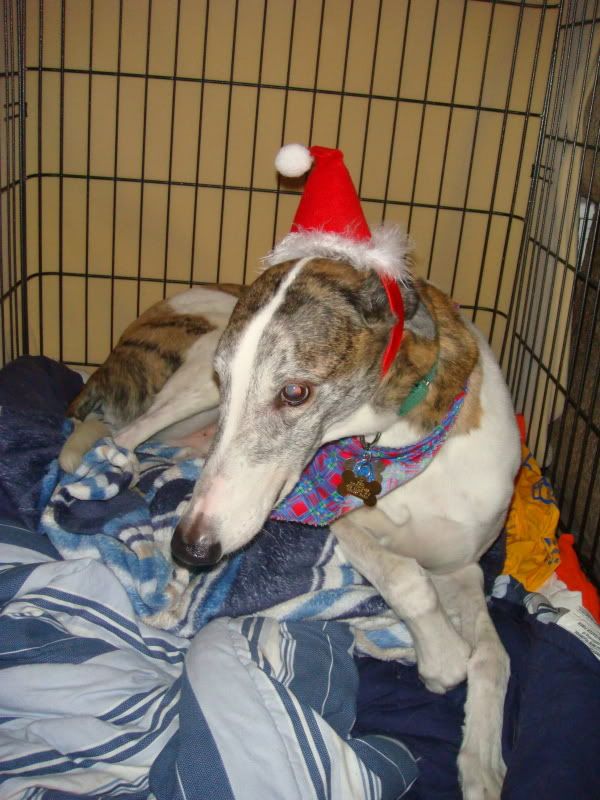 Trinka Deu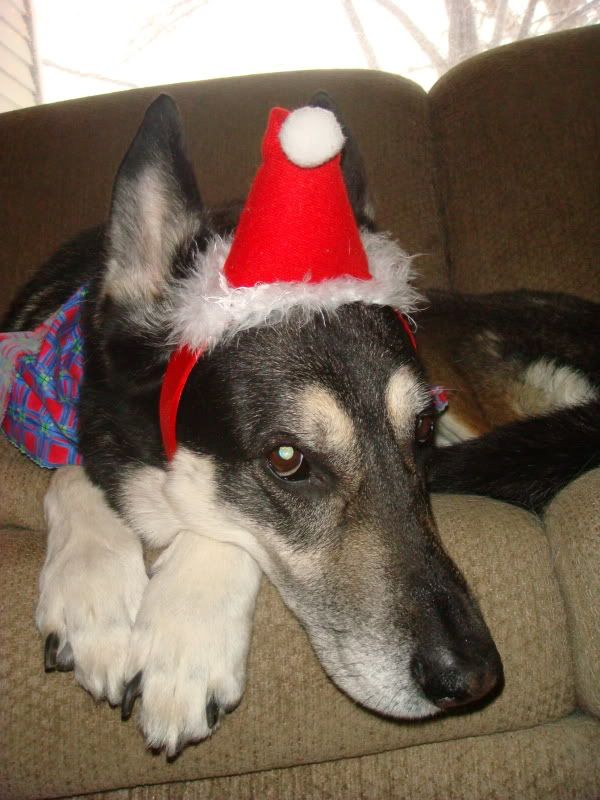 *******************
Stats
Activity
Route:
--
Elev. Avg:
629 ft
Location:
Forest Park, IL
Elev. Gain:
+0 ft
Date:
12/24/09
Up/Downhill:
[+52/-52]
Time:
08:07 AM
Difficulty:
2.5 / 5.0
Weather:
Overcast
32 F temp; 75% humidity
32 F heat index; winds E 8
Performance
Distance:
5.05 miles


Time:
0:47:06
Speed:
6.4 mph
Pace:
9' 20 /mi
Calories:
598
Map
Elevation (ft)
Pace (min/mile)
Splits
Mile
Pace (min/mile)
Speed (mph)
Elevation
Gain
actual
+/- avg
actual
+/- avg
1
9' 45

+0' 25

6.2

-0.3

0 ft
2
8' 27

-0' 53

7.1

+0.7

-9 ft
3
9' 17
-0' 03
6.5
+0.0
0 ft
4
9' 43

+0' 23

6.2

-0.3

+22 ft
5
9' 24
+0' 04
6.4
-0.0
-3 ft
end
9' 00

-0' 20

6.7

+0.2

-9 ft
Versus average of 9' 20 min/mile