Image from Complete Running
I may have a bruise on my kneecap. The sidewalks may be spattered with snow and ice. I may have had a to-do list a mile long. But, I still managed to run yesterday. My wonderful husband offered to take care of a few things on the to-do list so that I could go get in a run.
My plan? A minimum of 8 miles at whatever slow pace I wanted. And what did I end up doing? 9 miles at a 9:43 average pace. It felt great!
Sure, it was a little cold when I left the house. And, yes, it sucked having to wait at stop lights in the chilly air in sweat-soaked clothes. I jumped up and down and paced around to keep my legs from freezing up. But my knee didn't bother me at all. I did feel a few twinges in my right Achilles tendon, though. Have to keep an eye on that. Also, an English muffin with peanut butter and a homemade lemon bar for breakfast are not really appropriate running fuel. There was one point when I felt rather sick to my stomach, but thankfully it passed.
I ran on the street for much of my run. The streets were almost totally clear of snow and ice but many of the sidewalks were not. I do own YakTrax, but the issue is that they don't work as well when the pavement goes from snow and ice to clear and then back again. So, the street it was. Although, noon on a Sunday in the residential neighborhoods I run in means not many cars.
And when I got home, I was greeted by one of my most favorite smells in the whole world: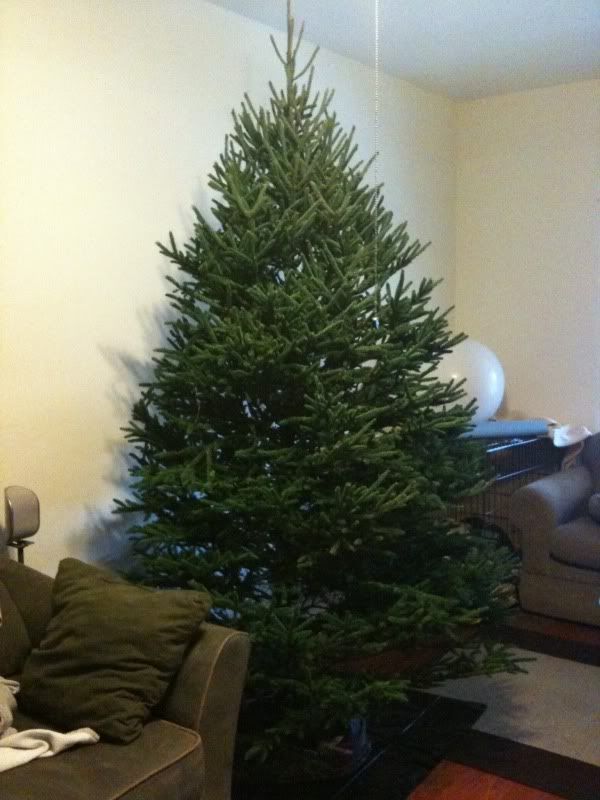 While I was out running I ran past a Christmas tree lot and thoroughly enjoyed the smell of the evergreens. One of the to-dos that my hubby offered to do was go buy our Christmas tree. Running past that lot made me look forward to getting home to our very own tree.
I also "ran" a few errands and then ended up run/walking around the block with the dogs after dinner. Let me tell you, sprinting to the end of the block with your greyhound after drinking a beer and eating pizza for dinner? Blugh.
Also, trying to take a photo of your sweet but stupid greyhound in front of the Christmas tree? I'd rather run 9 miles :-)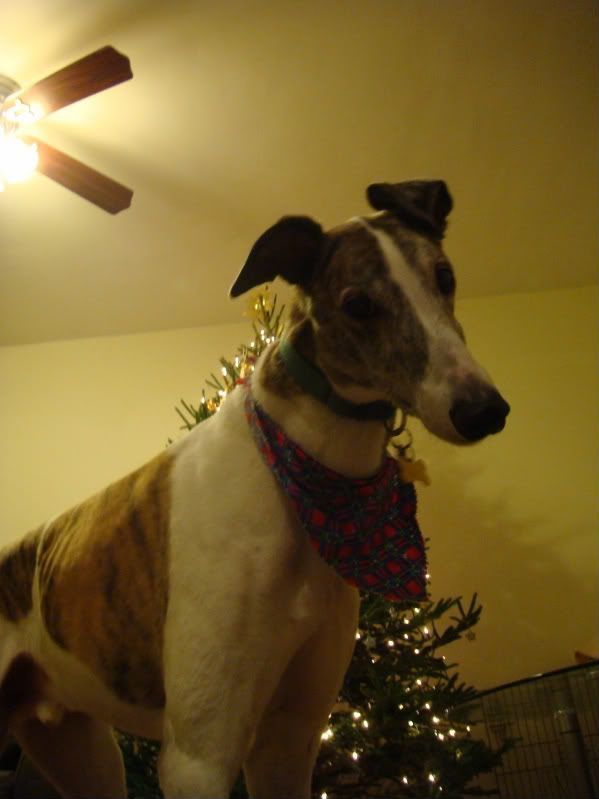 ****************
Stats
Activity
Route:
--
Elev. Avg:
625 ft
Location:
Forest Park, IL
Elev. Gain:
+0 ft
Date:
12/13/09
Up/Downhill:
[+45/-45]
Time:
10:58 AM
Difficulty:
2.8 / 5.0
Weather:
Overcast
36 F temp; 85% humidity
36 F heat index; winds W 6
Performance
Distance:
9.01 miles
Time:
1:27:31
Speed:
6.2 mph
Pace:
9' 43 /mi
Calories:
1073
Map
Elevation (ft)
Pace (min/mile)
Splits
Mile
Pace (min/mile)
Speed (mph)
Elevation
Gain
actual
+/- avg
actual
+/- avg
1
9' 52

+0' 09

6.1

-0.1

+4 ft
2
11' 32

+1' 49

5.2

-1.0

+6 ft
3
9' 26

-0' 17

6.4

+0.2

0 ft
4
9' 35

-0' 08

6.3

+0.1

-9 ft
5
9' 39
-0' 04
6.2
+0.0
+10 ft
6
9' 51

+0' 08

6.1

-0.1

0 ft
7
10' 06

+0' 23

5.9

-0.2

-3 ft
8
11' 33

+1' 50

5.2

-1.0

-6 ft
end
9' 45
+0' 02
6.2
-0.0
0 ft
Versus average of 9' 43 min/mile