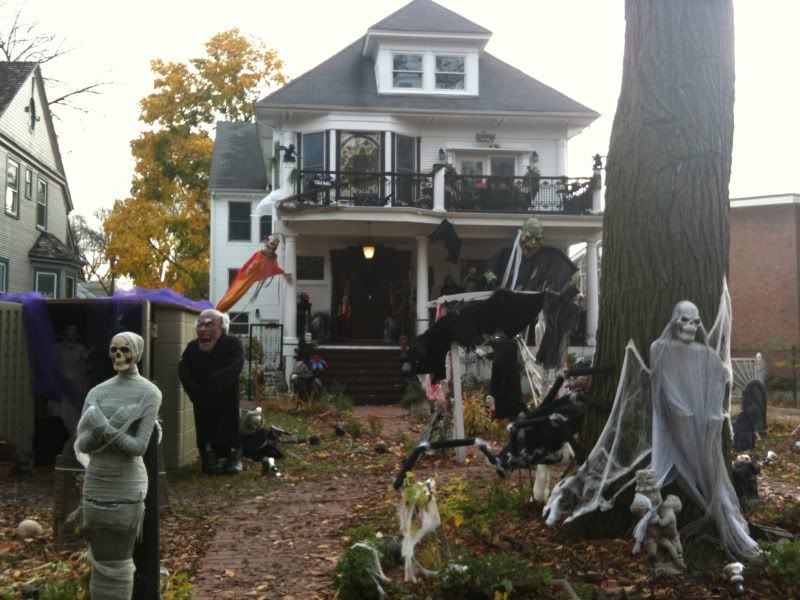 So on Saturday morning (Halloween morning) I set out for an 8 mile run. My plan? To run from my house to the starting point of the Monday night OPRC runs, do the OPRC route, and then head home.
Except I got lost.
Imagine, it's Halloween. A lone woman is running through a deserted town. She's looking left and right as if she's searching for something. And then, she comes across this: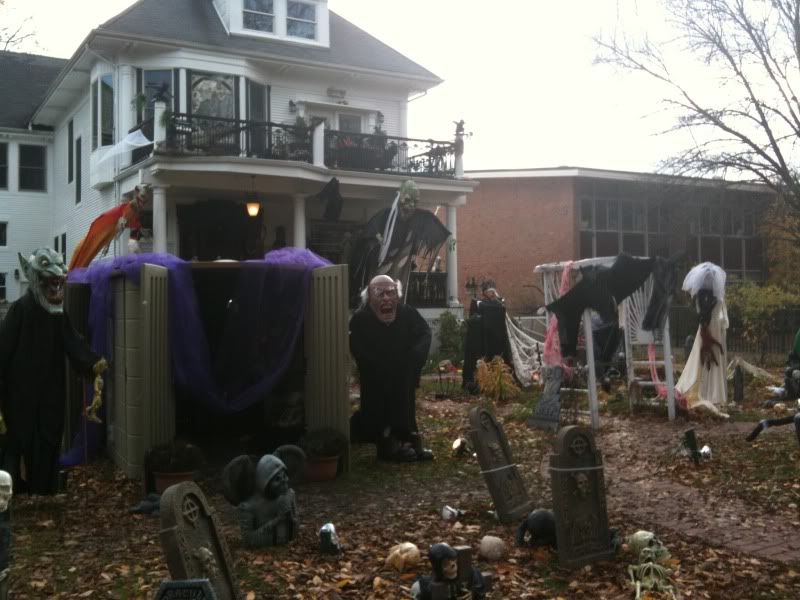 *cue screaming*
Okay, not really. I just missed a turn and couldn't quite figure out where I needed to go in order to pick the original route back up. But I knew vaguely where I was. So I just kept going. And I'm glad I did because if I'd run my regular route I'd never have come across that house and their amazing Halloween display. Seriously, the photos do not do it justice.
I mean, you can't even see the zombie Michael Jackson singing and dancing in the little hut in the front yard.
Anyway, it was a good run. And, interestingly enough, I came across this house just after the 10K mark. The 10K mark that came at 58:20. Oh yeah. If I don't get under an hour at this race next Sunday I'm gonna be ticked!
I had a weird pain in the arch of my right foot about mile 5 but it worked itself out. Good thing, too. I had a full day ahead of me and I didn't want to spend it hobbling around. Being Halloween and all, my husband and I went to see
Paranormal Activity
in the afternoon. I'm not sure my heart was beating that fast during my run!
We also attended a Halloween party later that evening. I seriously thought about going as
Kara Goucher
but ended up going as a different kind of racer. Jason, as always, was my pit crew: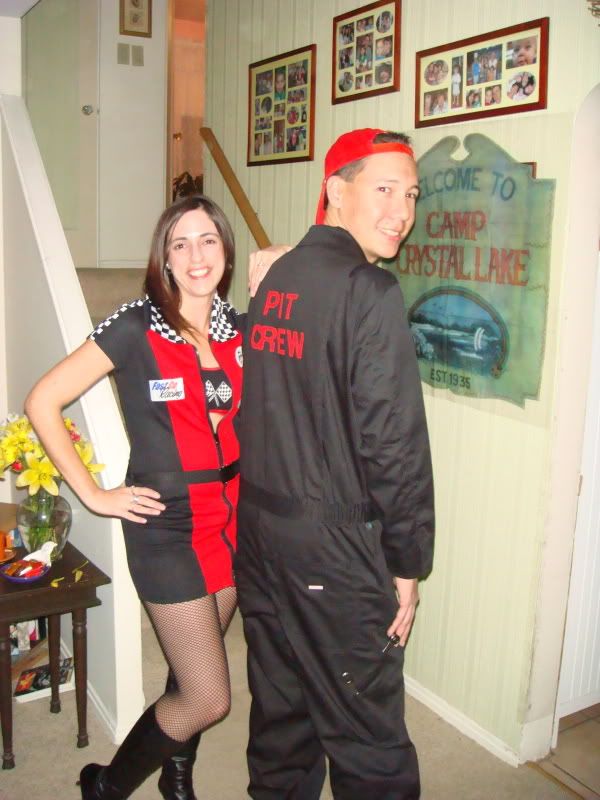 So, yeah, a great run to start out a great Halloween. How was yours?
*************
Stats
Activity
Route:
--
Elev. Avg:
627 ft
Location:
Forest Park, IL
Elev. Gain:
+0 ft
Date:
10/31/09
Up/Downhill:
[+65/-65]
Time:
08:06 AM
Difficulty:
2.4 / 5.0
Weather:
Partly Cloudy
42 F temp; 70% humidity
42 F heat index; winds W 15 G 23
Performance
Distance:
8.27 miles


Time:
1:18:28
Speed:
6.3 mph
Pace:
9' 29 /mi
Calories:
980
Map
Elevation (ft)
Pace (min/mile)
Splits
Mile
Pace (min/mile)
Speed (mph)
Elevation
Gain
actual
+/- avg
actual
+/- avg
1
9' 37

+0' 08

6.2

-0.1

+3 ft
2
9' 19

-0' 10

6.4

+0.1

+6 ft
3
9' 33
+0' 04
6.3
-0.0
0 ft
4
9' 24

-0' 05

6.4

+0.1

0 ft
5
9' 14

-0' 15

6.5

+0.2

-9 ft
6
9' 26
-0' 03
6.3
+0.0
+16 ft
7
9' 26
-0' 03
6.3
+0.0
-3 ft
8
9' 34

+0' 05

6.3

-0.1

-16 ft
end
10' 26

+0' 57

5.8

-0.6

+3 ft
Versus average of 9' 29 min/mile