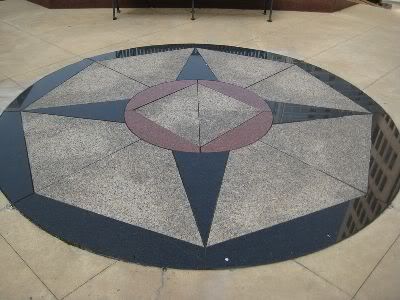 This week is totally crazy for me. We've got construction going on at our house, I have plans every night after work, and my weekend is booked. Not a good plan for someone with a race on Sunday!
So, since I wouldn't have a chance to run after work any night this week I brought my running stuff to work for a lunch time run. I haven't run at lunch since August!
Kim
got injured and I somehow got dropped from the email list of the people from work who run at lunch. They were doing mostly long runs in the morning before work anyway since most of them were training for the Chicago marathon and then I just figured that they were taking a break post-marathon.
I wasn't looking forward to running on my own at lunch. The sun was out (hooray!) but it was rather chilly. But, I'd packed my gym bag so I dragged my butt to the locker room. Imagine my surprise when the other woman from the work lunch time running group showed up! Turns out they are indeed still running at lunch Tuesdays and Thursdays. I was so happy to see them.
We went south along the path that heads toward Soldier Field. I'd never run south with them so it was fun to try a new path. And we were booking it! The Garmin data on my computer says that my fastest speed was over 3000 miles per hour. Garmin, sometimes I wonder about you. Actually, my splits look really funny, too, because I didn't pause the Garmin at the halfway point while we paused to regroup. Check those out down below.
On the way back, two of the guys decided to run through a gaggle of geese sitting on the grass. Turns out, Chicago geese don't care about runners. The geese totally ignored them!
It was a good run. I started to lag towards the end of the third mile but thankfully so did the other woman I was running with. Let's just say we were drafting off the guys in front of us :-)
********************
The reason I couldn't run after work on Tuesday was because it was the monthly Oak Park Runners Club meeting. This month's topic? My favorite thing! Yoga!
No, seriously, we did lots of standing poses and a few floor poses that were way more about stretching and strengthening. I think I could MAYBE get into that type of yoga. What was hilarious is that we were all competing with each other to see who could do the pose "the best". I guess that's what happens when you get a bunch of competitive runners in one room. Also, I had to laugh when everyone moaned about
tree pose
. I like tree pose!
So, yeah. A good run followed by some yoga that didn't make me want to roll my eyes. Overall, a great day in workout land.
**********************
Stats
Activity
Route:
--
Elev. Avg:
591 ft
Location:
Chicago, IL
Elev. Gain:
+17 ft
Date:
11/03/09
Up/Downhill:
[+177/-160]
Time:
12:21 PM
Difficulty:
1.9 / 5.0
Weather:
A Few Clouds
46 F temp; 33% humidity
46 F heat index; winds NW 3
Performance
Distance:
3.80 miles


Time:
0:34:28
Speed:
6.6 mph
Pace:
9' 04 /mi
Calories:
456
Map
Elevation (ft)
Pace (min/mile)
Splits
Mile
Pace (min/mile)
Speed (mph)
Elevation
Gain
actual
+/- avg
actual
+/- avg
1
8' 32

-0' 32

7.0

+0.4

+23 ft
2
9' 46

+0' 42

6.1

-0.5

-16 ft
3
8' 32

-0' 32

7.0

+0.4

-3 ft
end
9' 40

+0' 36

6.2

-0.4

+13 ft
Versus average of 9' 04 min/mile