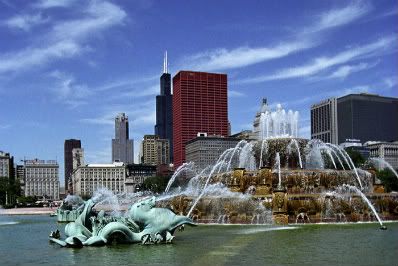 Thursday started out with a lunchtime run. Interestingly, only me and one other guy showed up to run. I admit I was a little apprehensive to run with just one other person that I don't know all that well. I was afraid I'd be too slow. Apparently my Garmin decided to give me a confidence boost and, in a spectacular measuring failure, it told us we did our first mile in under seven minutes. And when I uploaded it to Bones in Motion, well, apparently I am one of the fastest women in the world. One mile is 4:25? Only in my wildest dreams.
Anyway, it seemed to get it's act together for the next 3 miles. I'd guess we did 4.5 miles instead of the 5 it thinks we did. I managed to keep up a pretty brisk pace until the last mile. Then then guy I was running with took a "short cut" across Grant Park (past Buckingham Fountain, pictured above, sans water) and I just dragged. See, in the chaos of the construction going on at our house, I didn't really have the space to make myself breakfast yesterday morning. So, I ate a small muffin and a banana. I scarfed a granola bar about an hour before running, but I still felt way under-fueled. If the guy I was with hadn't been pushing us, I definitely would have run much, much slower.
At the end of our run, a third guy caught up with us. He tried to talk me into running another 10K Turkey Trot with the group on the 22nd. I still haven't decided.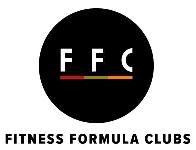 After work, I changed into gym clothes and headed to my new gym for my new member consultation and baseline fitness test. The goal is to get you set-up with their computerized workout development program and give you a baseline to compare your improvement against. It's really more for people who have no idea what they're doing but I thought it would be good to try out anyway.
The fitness test? Body fat percentage, resting heart rate, sit-and-reach test, number of sit-ups in one minute, 12 minute run on the treadmill, and 5-15 reps on various weight machines.
My scores?
Body fat: 22%
Resting heart rate: 64
Sit & Reach: 35.5 cm
Sit-ups in one minute: 32
Treadmill Run: 1.35 miles in 12 minutes (which calculated to a V02 Max of 37.35 ml/kg/min but I really have no idea what that means)
And that treadmill run? Super easy. I felt as if I could have gone for much longer at just under 9 minutes per mile. I even had that thing cranked up to over 7 MPH at the end. Of course, I had the incline set to 0 so that might have something to do with it. But it's been awhile since I had an easy treadmill run at anything other than 5.5 MPH. Additionally, I think it's cool that I added some additional mileage for the day. Estimated total for the day? 5.85 miles.
The trainer told me my running form was good and she was super impressed with my sit-up form. I guess all that Pilates has done something, at least!
I'm meeting with her again next week to go over some functional strength training exercises she suggests for runners. She says weight machines and gym classes are all well and good but that they don't always work the parts of the body that runners need to strengthen the most. I'm looking forward to seeing what she has to show me. Then I just need to figure out how to get it all into my routine!
******************
Lunch time run stats (caution: these are probably WAY off)
Activity
Route:
--
Elev. Avg:
590 ft
Location:
Chicago, IL
Elev. Gain:
+20 ft
Date:
11/05/09
Up/Downhill:
[+164/-144]
Time:
12:18 PM
Difficulty:
2.1 / 5.0
Weather:
Fair
53 F temp; 36% humidity
53 F heat index; winds W 12
Performance
Distance:
5.01 miles


Time:
0:43:33
Speed:
6.9 mph
Pace:
8' 42 /mi
Calories:
577
Map
Elevation (ft)
Pace (min/mile)
Splits
Mile
Pace (min/mile)
Speed (mph)
Elevation
Gain
actual
+/- avg
actual
+/- avg
1
4' 25

-4' 17

13.5

+6.6

+19 ft
2
8' 36

-0' 06

7.0

+0.1

-3 ft
3
8' 47

+0' 05

6.8

-0.1

-13 ft
4
9' 40

+0' 58

6.2

-0.7

+10 ft
5
9' 16

+0' 34

6.5

-0.4

0 ft
end
9' 20

+0' 38

6.4

-0.5

+6 ft
Versus average of 8' 42 min/mile