see more Lolcats and funny pictures
Replace "cat" with "dogs" and you have my Saturday morning. I originally set my alarm so that I would be up and on the road running by 8AM. But, when my alarm went off I immediately wanted to go back to sleep. My body was sore and tired from a busy week and a new gym routine.
However, the dogs had other ideas. Therefore, after ignoring their whining and barking for 30 minutes, I gave in. I dragged myself out of bed so that they could be fed and decided that while I was up I might as well go for a run. I usually like to go for at least 8 miles on Saturdays, but after adding up my mileage for the week I realized I only needed to do another 10K to hit 20 miles for the week.
See, I'm also participating in
Pile on the Miles 2009
. And while I have no chance of winning any of the awards for the most mileage, I'd like to not look like a total slacker. So, a 6.2 mile run on Saturday it would be.
I decided to take it nice and slow. This would be the bookend to my fast 10K just a few days earlier. Overall it was an uneventful run. I totally forgot to hit the STOP button on my Garmin when I hit 6.2 miles so it kept recording while I stretched and got myself a glass of chocolate milk. That totally threw my average pace off! Oops.
I'm feeling a few twinges here and there. My right arch feels funny occasionally. It's difficult to describe but it's almost as if it's really tight and being stretched makes it tingle. I think I need to massage it. Also, after my run on Saturday morning I spent a good chunk of the rest of the day sitting. Most of that was in the car to and from having lunch with
Kate
. My right hip did not appreciate having to move my leg from the accelerator to the break, but lunch was great and I loved meeting Kate so I'd say it was worth it. Just need to remember to stretch a lot this week!
Finally, I actually went to the gym on a Sunday for the first time in what may be, well, forever. I had time to kill so I decided to head over there and lift some weights.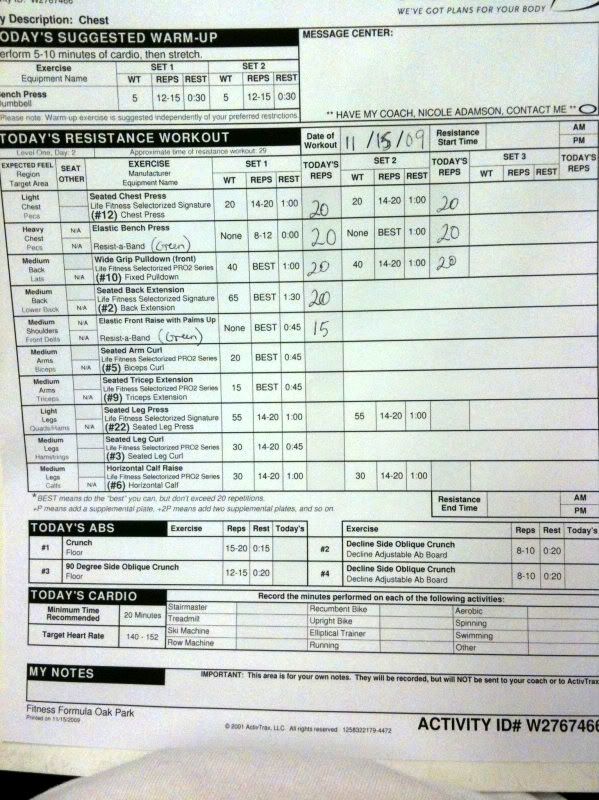 Click to see full sized
I warmed up with 10 minutes on the elliptical and then did the routine pictured above. It's supposed to take 30 minutes, but I didn't time myself. Also, I usually skip the ab workouts listed and do my own thing with the stability ball. But, I love having a little checklist that changes so that I don't always do the same thing over and over or wander around the weight floor looking lost. It's like having a personal trainer without the cost. So cool.
****************************
Stats (which are off because they include me just standing around in my kitchen and walking around my house at the end)
Activity
Route:
--
Elev. Avg:
626 ft
Location:
Forest Park, IL
Elev. Gain:
+0 ft
Date:
11/14/09
Up/Downhill:
[+121/-121]
Time:
08:27 AM
Difficulty:
2.1 / 5.0
Weather:
Fair
51 F temp; 65% humidity
51 F heat index; winds SW 8
Performance
Distance:
6.40 miles


Time:
1:09:52
Speed:
5.5 mph
Pace:
10' 55 /mi
Calories:
766
Map
Elevation (ft)
Pace (min/mile)
Splits
Mile
Pace (min/mile)
Speed (mph)
Elevation
Gain
actual
+/- avg
actual
+/- avg
1
9' 17

-1' 38

6.5

+1.0

+3 ft
2
9' 40

-1' 15

6.2

+0.7

+10 ft
3
9' 39

-1' 16

6.2

+0.7

-10 ft
4
9' 51

-1' 04

6.1

+0.6

+10 ft
5
9' 52

-1' 03

6.1

+0.6

-10 ft
6
10' 06

-0' 49

5.9

+0.4

-4 ft
end
27' 38

+16' 43

2.2

-3.3

0 ft
Versus average of 10' 55 min/mile