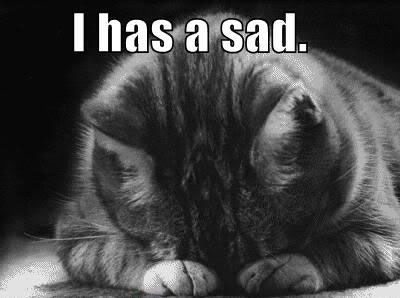 Warning: This post may contain some negative thoughts.
Last night was my usual Monday night run with the running club. I debated running to the starting place and then running home, but took so long deciding that I ran out of time and had to drive.
I looked around for the women I've run with previously but none of the other slowpokes where there. I wasn't really feeling like a run so I didn't know if I'd have the drive to keep up with the speedier ladies.
We started out fast, like always. I just don't understand this desire to run so fast right out of the gate. It's not a race.
I fell behind very quickly. But, I had to keep everyone in my sights since I still don't really know the route all that well. So, although I was at the very back and almost half a block behind everyone else, I had to keep running my little heart out. When my Garmin beeped at the one mile mark I was shocked to see that I'd just done that first mile in 8:30 (not including pauses for traffic). And I was STILL at the very back of the pack. I managed to keep up that pace for another mile. But I was starting to get very discouraged. Everyone was so far ahead of me. I didn't know the route very well. I was angry that no one was nice enough to slow down and run with me. I hated that they didn't even notice I was back there. I hadn't brought my iPhone (cause I thought I'd be running with a group!) so I didn't even have my map or a way to call Jason if I got lost.
And then I started having that same breathing problem I encountered on some of my long runs and at my last half marathon. My chest just closed up. I started wheezing. I couldn't get a deep breath and I started to tear up. So, I walked. I walked for what felt like forever. I was getting further and further behind the group until I couldn't even see them anymore. Thankfully I knew where I was at this point. But I was still so angry. I envisioned telling everyone off. I thought about just walking the rest of the way but figured if I ran I'd get done faster. So, I started running again.
When I got within sight of the park where we stop for water, I saw almost everyone else in the group take off for the rest of the run. When I finally made it to the water fountains only three people were still standing there. One of them was another woman my age. I had noticed her up ahead of me but she had been falling further and further behind the group. We chatted for a minute by the fountains and discovered that we both prefer to run a little bit slower. So, we ran back to the finish together.
I'm just so angry at the group right now. I mean, look at how they advertise themselves on the website:
Join the Oak Park Runners Club (OPRC). No prior running experience required. The club is one of the oldest and most active runners' organizations in the Chicago area. Our members are a diverse group: young and not so young, fast and not so fast, recreational runners and competitive racers, joggers and marathoners.
and
Monday Night Fun Runs
Open to all comers, the club's Monday night fun run begins at 6:30 p.m. from The Competitive Foot Store
Yet, last week when I was able to chat with the club secretary, she said that when people contact her with questions she tried to convey that if you're slower than 10 minutes per mile that you might not like running with the group. Make up your minds, people! Are you going to encourage everyone to join or are you going to scare off the slow people? These runs are supposed to be fun.
And what really makes me angry is when the faster runners, in an effort to be encouraging, laugh off your comments about being slower than them. Last night one of the fastest runners introduced himself to the woman I'd finished with. This is how the exchange went:
Woman: Oh, yeah, I didn't get a chance to talk to you during the run. You're one of those speedy people all the way up front.
Man: Oh, no, this was a slow night for me!
Me: Hahahahah
Man: What?
Me: Your slow miles equal the fastest mile I've ever run in my life
Man: Oh, I doubt that!
No, really. It's true. And I hate when people don't acknowledge that. I don't care if you're faster than me. I just want you to realize that not everyone is the same speed.
So, yeah, I'm a little discouraged. If I want to run on my own, I don't need to pay $15 and show up at the same place every Monday night. I joined the group because I want to run with the group. I suppose there are other reasons to join the group. Volunteering at races. Going to the monthly meetings (the first one of the fall season is tonight. Our speaker is the race director for the Chicago Marathon). Attending the holiday party. But it just makes it hard to like these people when they leave me in the dust and don't look back.
On the plus side, if you subtract the time I had to wait at intersections but still include the time I spent walking, this is the fastest run I've done with the running group. Too bad I was still at the back of the back of the pack.
*********************
Stats
Garmin
Bones in Motion
Activity
| | | | |
| --- | --- | --- | --- |
| Route: | -- | Elev. Avg: | 628 ft |
| Location: | -- | Elev. Gain: | +0 ft |
| Date: | 08/31/09 | Up/Downhill: | [+19/-19] |
| Time: | 06:36 PM | Difficulty: | 2.0 / 5.0 |
Performance
Distance:
5.39 miles


Time:
0:49:56
Speed:
6.5 mph
Pace:
9' 16 /mi
Calories:
633
Map
Elevation (ft)
Pace (min/mile)
Splits
Mile
Pace (min/mile)
Speed (mph)
Elevation
Gain
actual
+/- avg
actual
+/- avg
1
9' 07

-0' 09

6.6

+0.1

-3 ft
2
8' 42

-0' 34

6.9

+0.4

-6 ft
3
10' 18

+1' 02

5.8

-0.7

+6 ft
4
9' 15
-0' 01
6.5
+0.0
+3 ft
5
10' 49

+1' 33

5.5

-0.9

0 ft
end
9' 24

+0' 08

6.4

-0.1

+3 ft
Versus average of 9' 16 min/mile