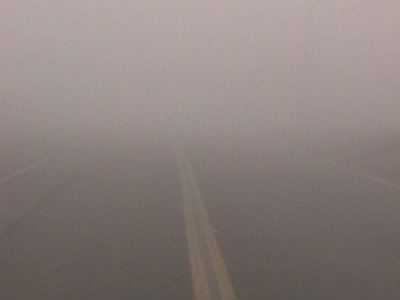 I think fog is beautiful. It's both mystical and frightening. It shows up in scary and romantic movies alike. I even recently read a fascinating article all about fog in London.
Fog, however, is not conducive to many forms of transporation. Driving in fog is dangerous. Flying in fog can be deadly. But what about running in fog? Well, as I discovered yesterday, I believe it needs to be added to the list of things you shouldn't do.
No, I didn't trip over anything or run out in unseen traffic. Don't worry. When I left the house around 8:30 on Saturday morning the fog was hovering around the tops of the taller buildings. But, when there is fog you know there is humidity. On top of taking a week off of running (due to illness, schedules, and, yes, lack of motivation) I should have known the run wouldn't go so well.
Do you ever hit a period of running where every run is horrible? You arrive at your finish point demoralized, dripping, and disgusted? I feel as though every run I've had for the past few months has left me feeling this way.
Yesterday I didn't even make it to the 2 mile mark before I had to walk. And then I spent most of the last mile walking, too. I eventually gave up, disgusted with myself, and stopped my Garmin when I was still at least a quarter mile from home. And then I just walked the rest of the way. I was dripping sweat, my hands felt sticky, and I was just exhausted. And I wasn't even running fast.
I know I can blame most of this crappy run on the humidity and the fact that I'm coming off the tail end of my cold. I know that I really screwed up my schedule with all these gym classes. But that doesn't explain the lack of really good runs in recent memory.
I've been contemplating looking for a running coach. I feel like I've hit a plateau in my running and that I need an external source to push me to the next level. My ultimate goals are to get my half marathon time under 2 hours. It can be 1:59:59 for all I care. But that requires me to get quite a bit faster. I don't know if I can do it on my own. So, if anyone knows a good running coach in the Chicago area who takes on private clients, let me know!
***************
Stats
Activity
Route:
--
Elev. Avg:
627 ft
Location:
Forest Park, IL
Elev. Gain:
+0 ft
Date:
09/12/09
Up/Downhill:
[+114/-114]
Time:
08:31 AM
Difficulty:
2.0 / 5.0
Weather:
Fog
65 F temp; 100% humidity
65 F heat index; winds Calm
Performance
Distance:
4.68 miles


Time:
0:51:24
Speed:
5.5 mph
Pace:
10' 59 /mi
Calories:
536
Map
Elevation (ft)
Pace (min/mile)
Splits
Mile
Pace (min/mile)
Speed (mph)
Elevation
Gain
actual
+/- avg
actual
+/- avg
1
10' 15

-0' 44

5.8

+0.4

+4 ft
2
10' 45

-0' 14

5.6

+0.1

+10 ft
3
11' 01
+0' 02
5.4
-0.0
-4 ft
4
10' 39

-0' 20

5.6

+0.2

-7 ft
end
13' 09

+2' 10

4.6

-0.9

-3 ft
Versus average of 10' 59 min/mile