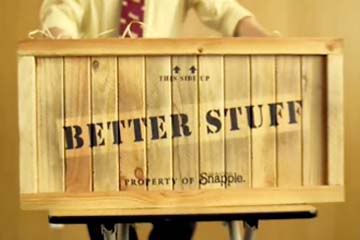 So, I've got this 8K race coming up on the 27th. I'm not REALLY training for it. I mean, I want to, but my schedule is just all sorts of screwy. I printed out a 10K training plan that actually has me running an 8K on the day I'm truly schedule to run one. I've kind of been following the plan...when it works with my schedule. This weekend, it happened to work perfectly with my schedule. Meaning Saturday's run was supposed to be six miles with two at race pace.
On my way home from work on Friday my $100 Bose in-ear headphones crapped out on me. They're doing that thing where the connection somewhere inside the wires goes flakey and one side loses sound intermittently. As you can guess, I'm pretty irritated about it. I went to Best Buy to look for replacements. Sadly, our Best Buy no longer carries these headphones. I guess they ARE two years old. Anyway, I have lots of headphone issues due to having a small head and tiny ears. Most in-ear headphones just fall right out of my ears, especially when I'm running. So, after wandering the aisles for 30 minutes, I finally decided on these Sony ones: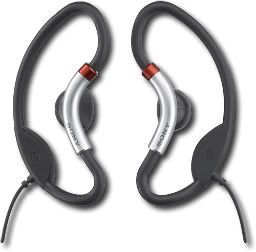 They're not perfect. The part that actually goes in my ear is a little too big, they take some skill to put on (especially when my hair is down), and the tops interfered at first with my visor. But, they stayed put during my run and did their job of conveying the music to my ears. I have to say, the staying put thing was a leg-up on the Bose ones. Even those would fall out of my ears occasionally. I still want to replace my Bose ones for commuting purposes, but I think these will do for running purposes.
While at Best Buy I also picked up an armband for my iPhone. Strangely, they only carried one option. This Rocketfish brand one:
It gets cruddy reviews on the Best Buy website and I can sort of see why. I, however, took it entirely out of the packaging at the store so that I could try it on. It fits great and the neoprene is soft on my bare skin. However, it
is
neoprene so it certainly holds in the sweat! Blech. I agree with the reviews that it's a pain to change the volume and I can totally see this thing falling apart in less than six months. But, it was all they had and it was still better than my jerry-rigged armband.
So, with my gear upgraded, I set out on my 6 mile Saturday morning run with the goal of doing two miles at race pace. I decided "race pace" would be anything under 9:25 minutes per mile. Now, I know the goal is to run those fast miles in the middle of your run, but I hadn't run at all since Wednesday and that was only 1.5 miles! Plus, the weather was perfect and I actually felt good for once. I'd tried a new pre-run fuel routine of a
Mini Clif Bar
and a small glass of skim milk with Hershey's syrup. My fresh legs combined with the new fuel put such a spring in my step that my first two miles ended up being my race pace miles at just under 9:00 minutes per mile each! Whoa! And, believe it or not, the next four miles all stayed under 10:00 minutes per mile each. I didn't run negative splits, but all six miles were strong and I didn't have to take any walk breaks.
This is definitely better stuff.
Oh, and speaking of that 8K I'm running, it's serving double-duty. I'm not only running it as an actual in-person race, it's also counting as my run for the
Fall Five Miler
being hosted by RunningLaur. Definitely check it out. I mean, look at the adorable race bib!
*******************
Stats
Activity
Route:
--
Elev. Avg:
627 ft
Location:
Forest Park, IL
Elev. Gain:
+0 ft
Date:
09/19/09
Up/Downhill:
[+134/-134]
Time:
08:32 AM
Difficulty:
2.1 / 5.0
Weather:
Mostly Cloudy
65 F temp; 70% humidity
65 F heat index; winds S 6
Performance
Distance:
6.03 miles


Time:
0:57:40
Speed:
6.3 mph
Pace:
9' 34 /mi
Calories:
713
Map
Elevation (ft)
Pace (min/mile)
Splits
Mile
Pace (min/mile)
Speed (mph)
Elevation
Gain
actual
+/- avg
actual
+/- avg
1
8' 54

-0' 40

6.7

+0.5

+3 ft
2
8' 52

-0' 42

6.8

+0.5

+10 ft
3
9' 48

+0' 14

6.1

-0.2

-6 ft
4
9' 59

+0' 25

6.0

-0.3

+13 ft
5
9' 55

+0' 21

6.0

-0.2

-17 ft
6
9' 54

+0' 20

6.1

-0.2

-3 ft
end
9' 10

-0' 24

6.5

+0.3

0 ft
Versus average of 9' 34 min/mile