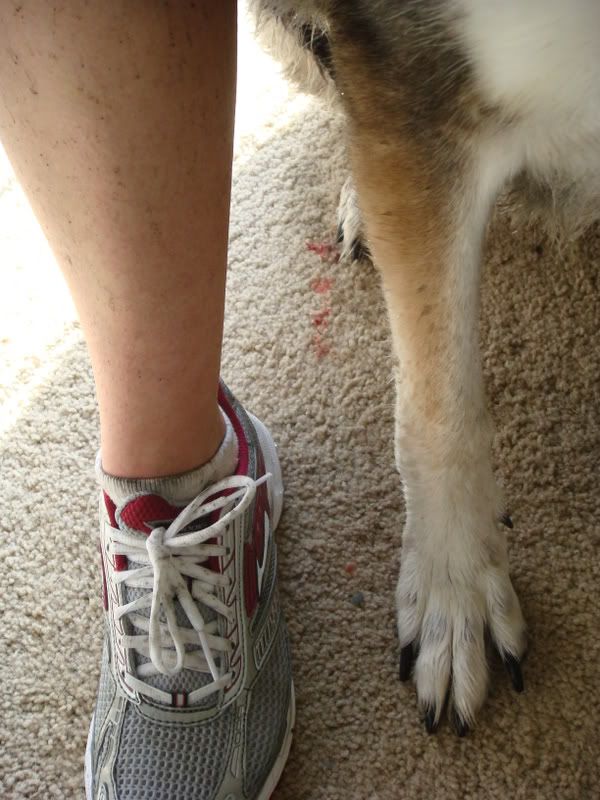 Click the picture to see it larger. Also, that red stuff on the rug? Wood stain, not blood
This week was what is called a step-back week. So, instead of doing a long run on the weekend, today was just a three-miler that was supposed to done at a 10:55 minute per mile pace.
Remember last weekend when I was running using my YakTrax? Well this weekend I almost needed a boat!
The weather is in the 50s (that's Fahrenheit) and the sun is out. What does that mean? Other than gorgeous running weather, it also means that all the snow we've gotten since Christmas is melting. And pooling. And puddling. This means wetness and mud!
Since it was just a short run, I decided to take Trinka Deu (my German Shepherd mix) with me. She's a little out of shape so I figured it would keep me honest in terms of not going to fast.
It didn't work.
As you can see from the Garmin data, while running through puddles and skidding over the last little bit of icy snow, I still managed to go almost a minute faster than my goal pace. Oops. I also find it interesting that miles one and three were almost the same average speed. I'm not sure what happened in mile two. I also find it interesting that the Garmin Training Center data and the Bones in Motion data are so different even though the BIM data is pulled directly from uploading the Garmin data.
Anyway, my new shoes are definitely broken-in now. Splashing through puddles left us both wet and muddy as the photographic evidence indicates. What you can't see in the photos are how soggy my shoes are or how soaked my socks became. I didn't care though. There is something liberating about running through puddles, even if they are cold.
Garmin Training Center data:
Bones in Motion data:
Activity
Route:
--
Elev. Avg:
0 ft
Location:
Forest Park, IL
Elev. Gain:
+0 ft
Date:
02/07/09
Up/Downhill:
[+0/-0]
Time:
09:39 AM
Difficulty:
0 / 5.0
Weather:
Mostly Cloudy
52 F temp; 76% humidity
52 F heat index; winds SW 20 G 35
Performance
Distance:
3.03 miles


Time:
0:30:49
Speed:
5.9 mph
Pace:
10' 10 /mi
Calories:
254
Map
Elevation (ft)
Pace (min/mile)
Splits
Mile
Pace (min/mile)
Speed (mph)
Elevation
Gain
actual
+/- avg
actual
+/- avg
1
10' 28

+0' 18

5.7

-0.2

-- ft
2
10' 32

+0' 22

5.7

-0.2

-- ft
3
10' 46

+0' 36

5.6

-0.3

-- ft
end
9' 10

-1' 00

6.5

+0.6

-- ft
Versus average of 10' 10 min/mile