The above photo was taken near the start of the bike path I do my long runs on right before it crosses a street. It's there to remind bikers to slow down and watch for cars before continuing. I should have paid attention to it today. No, not because I had a car encounter (thank goodness), but because I did an 8 miler today and my average pace ended up being just shy of 10 minutes per mile. What was I supposed to be aiming for according to my training plan? Just shy of 11 minutes per mile. Oops.
But, I'm getting ahead of myself as usual.
Normally I do my long runs on Saturdays but yesterday I was busy attending the Chicago Auto Show. After walking around McCormick Place for approximately 3 hours I just didn't have the energy to run. So, I pushed my run off to Sunday.
The sun was shining when I woke up this morning but it wasn't as warm as I had hoped. By the time I ate my oatmeal, drank some water, and got dressed the sun wasn't shining as strongly and it was still only 29
o
outside. When I got out of my car at the start of the path I felt chilled to the bone. The first mile was torturous and I thought I would never warm up and get into the groove. I passed several other runners, though, so I knew I would survive.
The bike path follows the Salt Creek. Remember those pictures I posted last week of everything covered in snow? Well, that snow has all since melted and now the creek looks more like a river. I stopped to take a few pictures of the "creek". I tried to get some pictures of the geese that were nesting on what looked like an old stone footbridge support but those didn't come out so well.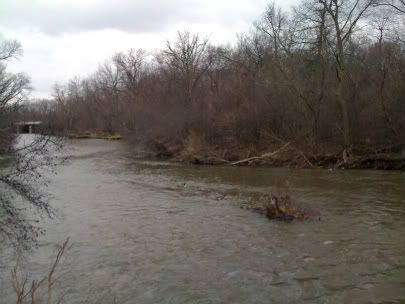 I kept thinking about stopping to take additional photos of the path, but I didn't truly warm up until several miles into my run and I didn't want to stop because I was so cold. For most of the first half of the run I felt like I was really struggling. I kept glancing at my Garmin to see my pace and every time it was hovering around 10:00 minutes/mile. I knew that was too fast for a training run but I just couldn't seem to slow down despite the feeling of struggling.
Just before mile four I saw a young deer bound across the path in front of me and I stopped to watch it. We stared at each other for awhile before we parted ways. Shortly after that I hit my half-way point and downed some Jelly Belly Sports Beans and some water. Admittedly, the Sports Beans felt like rocks in my stomach until, shortly after rounding a curve, I came across a small clearing filled with a doe and two bucks. My camera phone doesn't take great photos of deer, but I tried.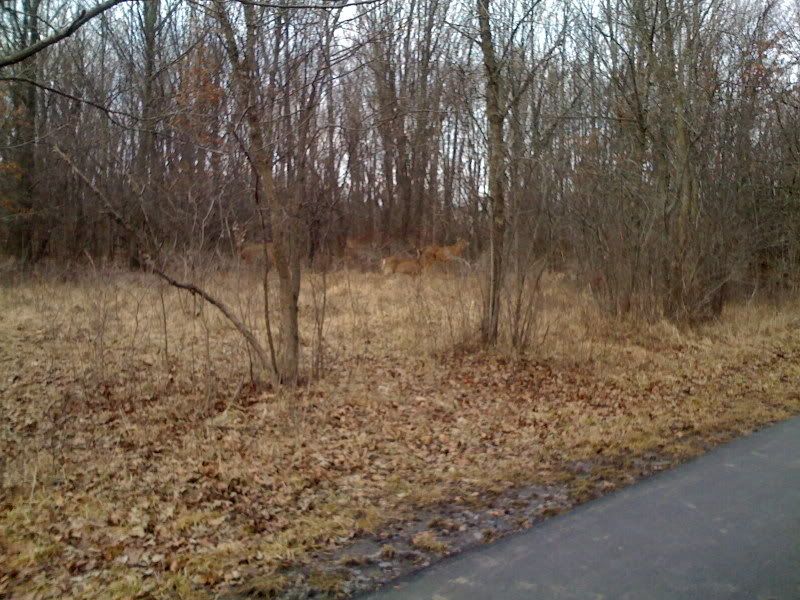 Click the photo to see it larger
I stood and watched the three deer for awhile before they moved out of sight. A few hundred yards later I saw the young deer I had passed earlier. Something about encountering deer always puts a spring in my step and the next few miles went by quickly. I finally found my groove and felt as if I could run forever.
The last mile, however, felt tough. I was starting to tire but I just kept telling myself that 8 miles is way more than half of a half-marathon. That I've run 8 miles before. That I was almost there.
Just before the end of the path there is a huge pile of logs that I'm guessing have been pulled out of the creek. I promise you I'll get a picture of them soon. When I see these logs I know I'm almost done. Same thing today. I saw the logs and pushed through to the end.
While walking back to the car I looked down at my Garmin and realized that I'd just run 8 miles in just under 80 minutes. That's when it hit me how fast I'd been running. I just ran 8 miles at my best 10K race pace! While I know that's too fast for a training run, I'm excited to realize that all my training over the past six weeks seems to be paying off. I'm feeling much more confident about making the 2:30 mark for my half.
Now, if I could just find the energy to do something other than lay around on the couch after doing my long run I'd be in business.
And, as always when I run outside, here's the Garmin and the Bones in Motion data for your perusal (the Bones in Motion splits table was SO OFF this time that I'm not even posting it):
Garmin Training Center Splits Table:
Bones in Motion information:
Activity
Route:
--
Elev. Avg:
621 ft
Location:
Hines, IL
Elev. Gain:
+0 ft
Date:
02/15/09
Up/Downhill:
[+209/-209]
Time:
12:45 PM
Difficulty:
3.5 / 5.0
Weather:
Mostly Cloudy
30 F temp; 57% humidity
30 F heat index; winds Vrbl 3
Performance
Distance:
8.01 miles


Time:
1:19:25
Speed:
6.1 mph
Pace:
9' 55 /mi
Calories:
680
Map
Elevation (ft)
I have a feeling I'm going to be paying for this speed, however. I've developed a new pain in what I believe is my adductor area. Here's hoping a good nights sleep and some ibuprofen helps out.