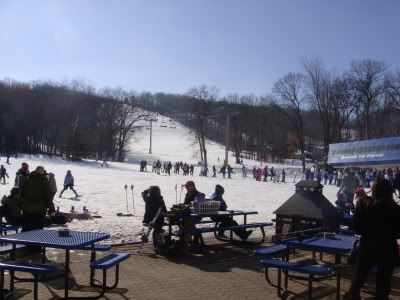 View of the main run at Cascade Mountain
The great thing about running is that you can call practically any other activity you do "cross-training." Yesterday's cross-training involved downhill skiing!
I've only been downhill skiing once before at
Snowbowl
in Flagstaff, Arizona. My husband and I went just this past Christmas (December 2008) and I discovered that while I'm a cautious skier, I'm not half bad.
I knew there were ski areas north of where we currently live and when
Lindsay
mentioned that she wanted to go skiing, I decided to make it a plan. My hubby LOVES to ski and his birthday was Saturday so I figured it would be a nice birthday weekend outing.
We awoke at 6:30 AM and were out the door around 7:15. We drove the hour to Lindsay's place to pick her up and then it was another 2+ hours to
Cascade Mountain
. We stopped at a ski rental place just outside the entrance to the ski area so that Jason and I could rent skis. We're seriously considering just buying ski equipment so that we don't have to rent every time. Aside: I never, ever thought I would be planning to own skis just like I never, ever thought I'd be training to run a half-marathon.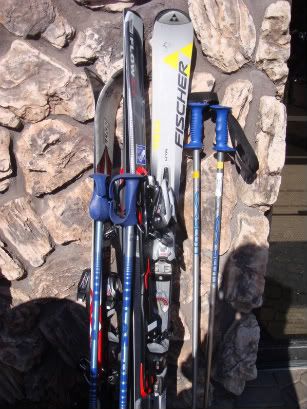 My skis, Lindsay's skis, and Jason's skis. I'm short.
We finally got our lift tickets around noon and got in line for the main lift. Cascade Mountain has A LOT of chair lifts so the wait was never more than a few minutes.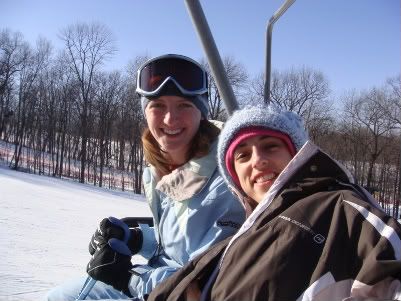 The short wait time was quite a change from some of the long waits at Snowbowl. What else was different? Well, obviously this wasn't an Arizona-sized mountain and most of the snow was man-made. I'd been told that skiing on man-made snow is different than nature-provided snow and it is in many respects. The main difference is that man-made snow tends to be icy. There were a few spots where stopping or slowing down were difficult because the skis just skidded over the tops of the ice slicks. What did this mean for me? Quite a few falls, I'm sad to say. Thankfully, all I came away with injury-wise is a bruise on my left elbow and sore trapezius muscles.
Not only are there a lot of chair lifts, there are lots of options for runs. I suppose when your runs are short you want to give your skiers a lot of variety. Apparently, you also want to give them amusing advertisements, too.

Click the picture to see it larger.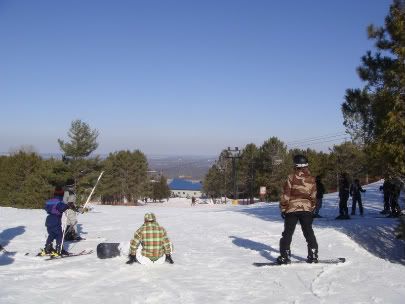 We skied for a few hours (doing green circle and blue square runs), took a break for some sustenance, and then Jason went off to attempt some black diamond runs while Lindsay and I ambled down the easy green circle runs. Around 4:30 Lindsay and I decided to sit by the outdoor fire while waited for Jason to return.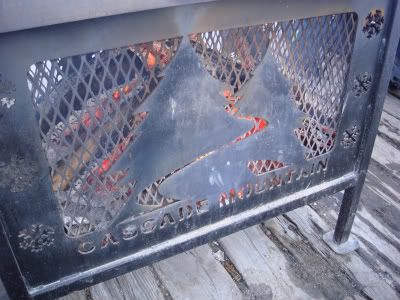 Finally, around 5:00 we gathered our gear and hit the road. The ski area is open until 9:00 PM because they have some of the slopes lit. But we were tired and sore and knew we had a long drive ahead of us and the snow was really becoming more ice than snow at that point.
But, we had a lot of fun and we'll certainly be back!