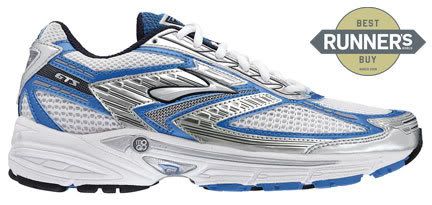 Photo from http://www.brooksrunning.com
Tonight was my easy 2 mile run. I like my Monday easy runs. I can knock them out in less than 30 minutes. That's not even enough time to listen to an entire episode of
Wait, Wait...Don't Tell Me!
.
Anyway, since I don't have much to report about my run (other than I will be super thrilled when I can get off the treadmill and tell you about things I see outside. Yeah, I remember outside....barely) I thought I'd tell you about my running shoes.
I got my first pair of running shoes a birthday gift from my mom back in 2005. We went to the local running store and they had me run on a treadmill and all sorts of other fun stuff in order to fit me for shoes. Together we decided on a pair of Brooks Adrenaline GTS's. That was before I even considered myself a runner. I had a treadmill and thought about running but wasn't sure where to start. But I knew I needed good shoes.
Those first pair of Adrenalines lasted me two years before I replaced them with, yep, another pair of Brooks Adrenalines. That second pair took me through training with the Beginning Women's Running Group and my first 5K. I then decided that I should treat myself to yet another pair of shoes. Good shoes are one of the key components in avoiding injury. Back to the local running store I went to buy ANOTHER pair of Adrenalines. I swear I tried on every other shoe in the store but it appears that I'm an Adrenaline girl. I remember when I bought this third pair the sales guy was incredibly apologetic about the color. "I can check in the back and see if we have these in any other color if you want" he kept saying. But the thing about running shoes is that you can't base your decision on looks. So what if they're yellow and baby blue. Do they fit? Then there you go.
Anyway, here's my second pair (on the right) of shoes with my third pair (on the left) keeping them company.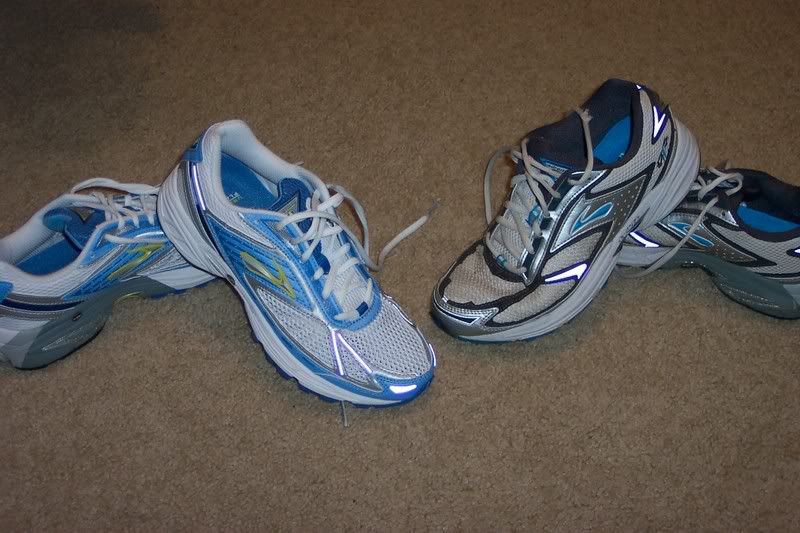 I still have that second pair of shoes. They've been my non-running gym shoes for awhile.
That third pair of shoes lasted me through many training miles, my longest run to date, my first 10K, and several other races. However, shortly after moving to Forest Park I decided to patronize my new local running store and buy a new pair of shoes. Once again, I tried on a few options but, as always, ended up back with the Adrenalines. The only change was that they suggested I go down a half size. I haven't noticed a difference.
The photo at the top of this entry is my current running shoes. When I decided to write an entry about my shoes I went over to the Brooks website to find a picture of them. I clicked on the link to the Adrenalines only to discover that they were on sale! See, running shoes are sort of like cars. The manufacturers come out with new models every year and then discount last year's models. January is a great time to buy running shoes because last year's styles are always on sale. I just forgot it was that time. Imagine how excited I was to see my shoes listed for only $61 when they typically retail for close to $100. In addition, they had them in a color I've never seen in a store: pink! Okay, technically they might be more red than pink in person but either way, it's something other than blue! As you can see from the previous photos, all my prior shoes have been some shade of blue. I'm so excited about pink/red shoes it's ridiculous. You might be able to tell from my blog layout that I like pink.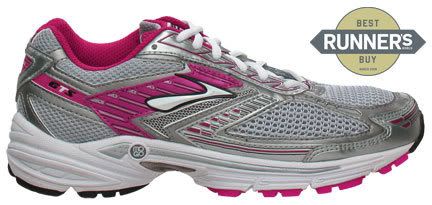 Brooks's website allows you to choose "in-store pick-up" as a possible option. You enter your zip code and they attempt to find a store in your area that has your shoes in stock. If they find one, they email or text message you with the store information. If they can't, they ship you your shoes. Even with shipping these were a great deal. I don't technically need new shoes quite yet, but I will soon. Plus, the idea of having two pairs of running shoes that I can alternate makes me giddy. My Beginning Women's Running Group coach and mentor always talked about how she alternated her shoes. It made me think that "real" runners had more than one pair of shoes. I'm sure that's not true, but realizing that I will have two pairs of shoes to use gives me a sense that I'm more than just a casual jogger. It makes me committed! As if deciding to train for a half-marathon didn't or something.
Regardless, I love my Adrenalines. And you know, even if you aren't planning on running even a block, I highly recommend going to a good sport shoes store (not somewhere like Dick's Sporting Goods or Sports Authority. Head to a local running store or even a chain like Fleet Feet instead.) and get fitted for a good pair of sneakers/running shoes/tennis shoes/gym shoes/whatever you call them. You wouldn't drive your car with bald tires, why should you drive your body in your feet's equivalent?