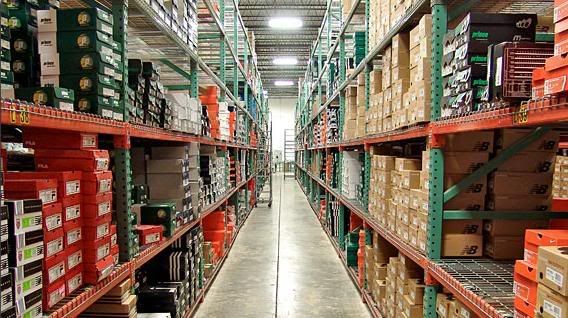 Image of warehouse at Holabird Sports
Remember how excited I was just last week to find
my shoes
on sale and in a fun color? Remember how I chose to do in-store pick-up?
Two days later I got an email from the company Brooks uses for all their online purchases telling me that they were unable to locate a local store where I could pick-up my shoes. Not a problem, the email went on to say, they would ship them to me in 2 business days.
The next day I got an email stating that I needed to confirm the additional sales tax and shipping charges before they could ship my order. I did so and that was the last I heard. They charged my credit card last Friday (not a pending charge, a full-on money taken out of my account charge) so I assumed all was well.
I got an email yesterday saying that they are very sorry but the shoes I ordered are out of stock and therefore they are canceling my order. No mention of crediting the charge back to my account, but telling me if I had any questions to contact Brooks' customer service.
I contacted Brooks and they told me that "oh, those are just pending charges on your credit card. They'll go away now that the order is canceled." I tell them that, no, they are not pending charges. They tell me to call Shopatron, their ordering and shipping vendor for all online purchases.
I contacted Shopatron who confirmed that, yes, my credit card was credited at 11:00 AM yesterday morning and that the credit should show up on my credit card within 24-48 hours or, at most, 5 business days.
I have to say, this is the first time I've ordered something online where the company charged my card BEFORE the item shipped. I understand that they most likely want to make sure that they're going to get their money before they let the product out of the warehouse, but I still think it's an odd way of doing business. I'm also irritated that either they couldn't keep their website updated enough to account for the shoes being out of stock or that in those few days spent emailing back and forth they sold out. I wonder what would have happened if I had skipped the pick-up in store option and just asked for them to be shipped.
Overall, I was not pleased with ordering from brooksrunning.com. I was so irritated that I almost swore off Brooks shoes altogether. Except, of course, for the fact that their shoes fit me the best. And that I guess it's not really Brooks' fault. More the fault of the company they outsource their online sales to.
I ended up ranting about this experience in the
The Original Live Journal Runner's Club
and someone commented stating that she had just bought these exact same shoes a few weeks ago from a company called Holabird Sports. I immediately went to their website and found my shoes!
Not only did they have my size in the fun color for essentially the sames price as they were on Brooks' website, but they also had free shipping! And no sales tax! Of course I ordered a pair. However, I admit I was a little apprehensive that perhaps they were sold out, too. But, take a look at the picture of their warehouse! Pretty amazing and difficult to believe they could run out of anything. Anyway, I got an email this morning stating that my shoes had shipped, complete with a tracking number and everything.
Certainly an up and down experience. I'll definitely update about the shoes when they arrive. Which will hopefully be soon.
P.S. I almost held the teaser pose with my legs straight last night. I got really close!