Welcome to Waterfall Glen Forest Preserve. 9.5 miles of crushed stone paths, woods, fields, rolling hills, heat and humidity. Okay, maybe it's not always hot and humid but OH MY LAWD it was yesterday morning.
A large group of us from the running club arrived at the trail head for what I hoped would be a nice, easy run. Two people who I know run my pace showed up so I knew I wouldn't be alone. Although, since the trail is a loop I figured that I couldn't get too lost if I ended up at the back.
Since there are no drinking fountains on the path I brought my water bottle fuel belt. It felt weird to be running with it since I haven't done so in almost a year. But, I was very very grateful for the water.
My goal was to do 10 minute miles. Apparently I was in denial about the weather. The first mile went well, three of us had formed our own little group, we were in the shade, and although it felt a little difficult I figured I'd settle in shortly. We tackled a few hills and made it to just after mile 3 before we stopped to walk. However, this walking break was necessitated by the fact that the trail was flooded! So, we had to detour from the trail and walk along the railroad tracks.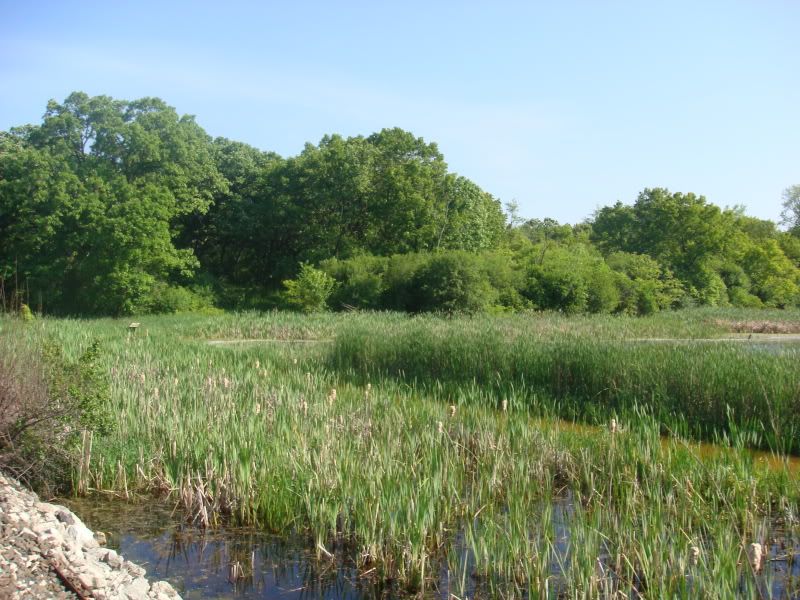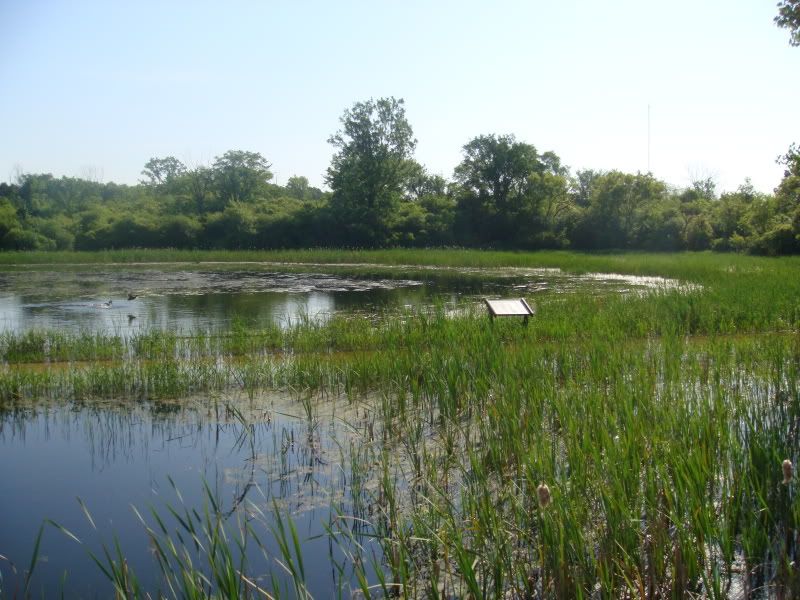 By this point we were in full sun and it was obvious to me that I was going to struggle. Heat and humidity are my kryptonite. I welcomed our next break when we stopped to check the map to make sure we were on the right path.
About that time I noticed that someone had drawn these arrows into the path: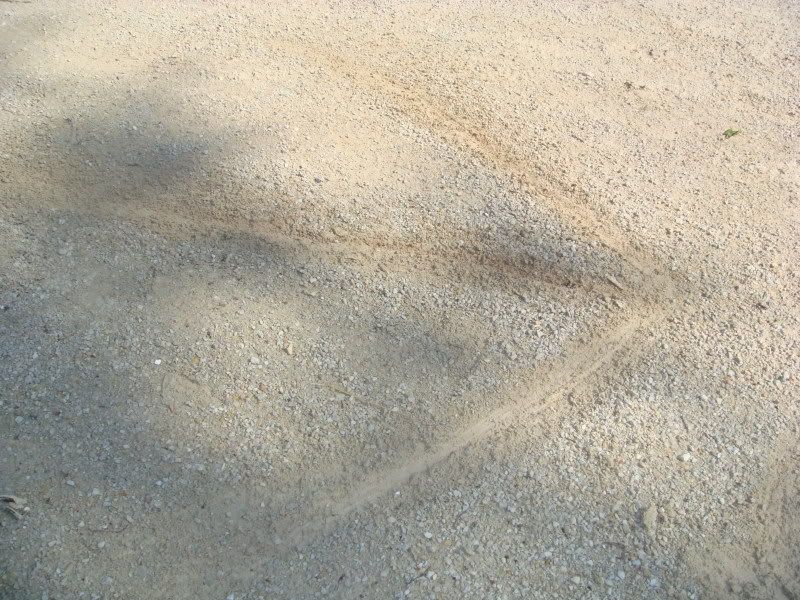 The rest of the running group was somewhere ahead of us and they had taken it upon themselves to leave us some markers. How thoughtful! They really did come in handy at a few points.
Just before mile 7 we stopped for what we thought was a working well-water hand pump. Sadly, it was chained up with a "CLOSED" sign on it. We almost went off in search of another pump some hikers told us about, but in the end we decided to just power through. Probably not the smartest idea, but I really just wanted to be done. Unfortunately, I stopped my Garmin when we were debating on searching for water and forgot to start it up again right away. Oops.
Our little group of three dwindled to two as I told the other woman to go on ahead. I needed to walk. I was pissed at myself for doing so but even though I wasn't wearing a heart rate monitor I could tell my heart rate was crazy high. So, we walked. About mile 8 the club president appeared heading towards us. He gave us a burst of energy for about half a mile and then we fell behind once again.
Finally we could see a light at the end of the tunnel and as we turned the final corner and came into view of the rest of the group they cheered for us. "YAY!" I yelled back. "We didn't die!!"
Turns out almost everyone thought this run was brutal. Literally two weeks ago we were running in long sleeved shirts. We were just not prepared for 90
o
and humid. We weren't prepared for running in it or for going to breakfast afterward. I mean, we still went to breakfast but watching us make ourselves semi-presentable on the side of the road must have been hilarious. One guy literally wrung out his shirt. I handed out
Pond's cleaning cloths
and they were received as though they were the nectar of the gods. We shared a towel, slathered on deodorant, used the car as a make-shift changing room, and spritzed body spray. I've never been more grateful for a dry shirt and flip flops in my life.
I felt like I'd been put through the wringer for the rest of the day. This run was hard. Definitely one of those times when you wonder how you're going to train for a marathon if it's going to be hot like this all summer. I guess I'm going to have to learn to love early, early mornings. Perhaps I'll just start sleeping in my running clothes so all I have to do is roll out of bed.
Regardless of how hard the run was, I need to give a huge shout out and thank you to Maribeth for being unfailingly encouraging, Jacob for sticking with me the entire time (and sharing his LunaMoons), and the rest of the OPRC crew for leaving us trail markers, waiting for us at the end, and generally being hilarious.
P.S. I would like to lodge a complaint about the name of this forest preserve. I didn't see a single waterfall. I know; because if I had, I would have been standing under it.
P.P.S. Don't forget about my
book giveaway
! You have until Wednesday night to enter.
**************************
Activity
| | | | |
| --- | --- | --- | --- |
| Route: | -- | Elev. Avg: | 696 ft |
| Location: | Darien, IL | Elev. Gain: | +0 ft |
| Date: | 05/23/10 | Up/Downhill: | [+646/-646] |
| Time: | 08:17 AM | Difficulty: | 3.2 / 5.0 |
Performance
Distance:
8.79 miles


Time:
1:39:52
Speed:
5.3 mph
Pace:
11' 22 /mi
Calories:
1005
Map
Elevation (ft)
Pace (min/mile)
Splits
Mile
Pace (min/mile)
Speed (mph)
Elevation
Gain
actual
+/- avg
actual
+/- avg
1
10' 00

-1' 22

6.0

+0.7

+39 ft
2
10' 10

-1' 12

5.9

+0.6

+33 ft
3
10' 14

-1' 08

5.9

+0.6

0 ft
4
12' 14

+0' 52

4.9

-0.4

-16 ft
5
11' 33

+0' 11

5.2

-0.1

-115 ft
6
11' 24
+0' 02
5.3
-0.0
+20 ft
7
11' 50

+0' 28

5.1

-0.2

+17 ft
8
11' 40

+0' 18

5.1

-0.1

0 ft
end
13' 45

+2' 23

4.4

-0.9

-14 ft
Versus average of 11' 22 min/mile