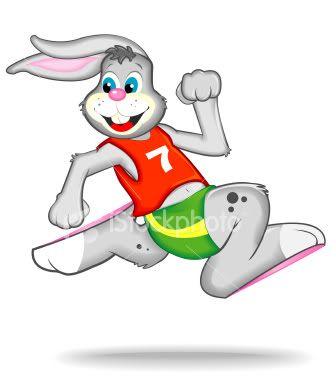 I've been feeling kind of yucky for the past few days and, as such, I wasn't really in the mood to run after work. Thank goodness I have the track group to motivate me!
And let me tell you, there was some major motivation going on last night! I arrived a little late so I was only able to get in a short warm-up but it didn't seem to make a negative difference.
Last night's session consisted of five 800s and four 400s with alternating 30 second and full recovery intervals. I hit my first 800 right on the nose. Even though the weather was warmer I was keeping my times consistent. I'm going to give the credit to my new compression shorts: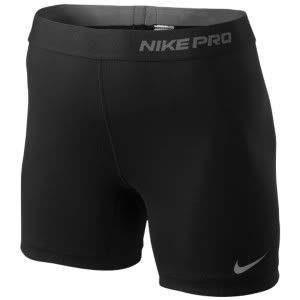 At one point during the 800s our couch was yelling our halfway point times. "1:55!" He yelled at me.
"Oh good," I thought to myself. "I can slow down a little bit and still be close to my goal time."
But wait a minute. I'm never going to get faster if I don't try and push myself a little bit harder. So, I tried my hardest to keep up with the women who run just a little bit faster than me. I was so focused on the woman in front of me that I didn't allow myself to think about slowing down. I think I'm going to dream of the back of her shirt tonight.
And it worked! My last 800 was my fastest out of all of them AND I passed the girl I was using as a rabbit.
Half mile warm-up: 9:49 pace
1st 800 - 3:58
2nd 800 - 3:53
3rd 800 - 3:55
4th 800 - 3:56
5th 800 - 3:41
Then it was on to the 400s. "Oh no," one of the new girls exclaimed. "These are like all out sprints."
Well no, not quite, but dang they can sure feel like it! However, I again tried to close the gap between myself and the slightly faster women and it was definitely reflected in my times. These are my fastest 400 times yet!
1st 400 - 1:45
2nd 400 - 1:46
3rd 400 - 1:46
4th 400 - 1:41
Then it was off to a one-mile cool down. I would have sworn to you that we were running closer to a mid-9's pace. Um, the Garmin seems to think differently.
1 mile cool-down: 8:50
Total mileage: 5.27
This was such a great workout! Having everyone there really does help me push myself even harder and it's great being able to chat with people while recovering, warming up and cooling down. Plus, it gets me out there when I don't know if I'd force myself otherwise.
Although, next time, I need to remind myself not to eat handfuls of dried fruit as my afternoon snack. My GI system definitely had something to say during this workout. I'd be completely embarrassed except that when you're surrounded by other runners I don't think anyone much cares. At least, I hope not.
And don't forget about my
Ultimate Runner Giveaway
! At this rate I'm going to have leftover books! Where is everyone? Don't you like free stuff??