Last night was the usual Monday night 5.5 mile run with my running group. It was also technically our "run of the month" meaning that we would go out to dinner as a group afterward.
However, I wasn't really feeling it. None of my regular running buddies showed up and everyone left me way in the dust during the first mile. I had a headache, was obviously dehydrated, and my heart just wasn't in it. Each mile felt like a struggle and I even thought about turning around and only doing three miles instead of the full 5.5. But, I stuck to it and ran my own, slower than normal pace even though I really just wanted to stop and go home. And in the end I ran my dreadful 5.5 miles alone and then went home to a bowl of cereal for dinner.
I wish I was the type of person that found solace in running alone with just my own thoughts. I wish when I was upset I could go out for a run and feel better. But, I'm not. Running alone gives me too much time to think and when I'm sad or upset that's all I think about.
So why am I sad? Well, you remember this gal?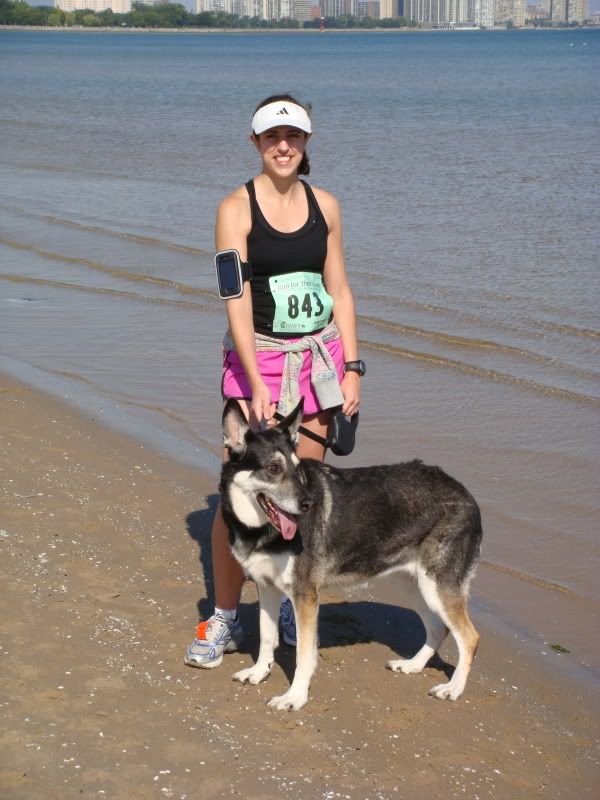 That's Trinka Deu. She's my 9 year old German Shepherd/Husky mix. Last Thursday she was diagnosed with a terminal form of cancer. We've explored our options, thought long and hard about it, and on Monday we decided not to pursue any treatment. The last vet she saw today gave my husband a hard sell for the treatment but, in the end, I think we're just going to let her live out what's left of her life. Which may be only a few weeks to a few months but it's either that or spend a lot of money, time, and emotional energy putting her through chemo that has an icicle's chance in hell of curing her.
Of course, my broken heart was all I could think about on my run. Every time my thoughts turned to her tears would threaten to well up. And when I cry I have a difficult time breathing. And, of course, I spent most of Monday crying, too, which lead to the dehydration and the headache. Plus, when I'm sad I don't have much of an appetite which is always a recipe for disaster when it comes to running.
I know there are people out there that would find solace in a good, hard workout. I'm not one of them. It just hurts too much.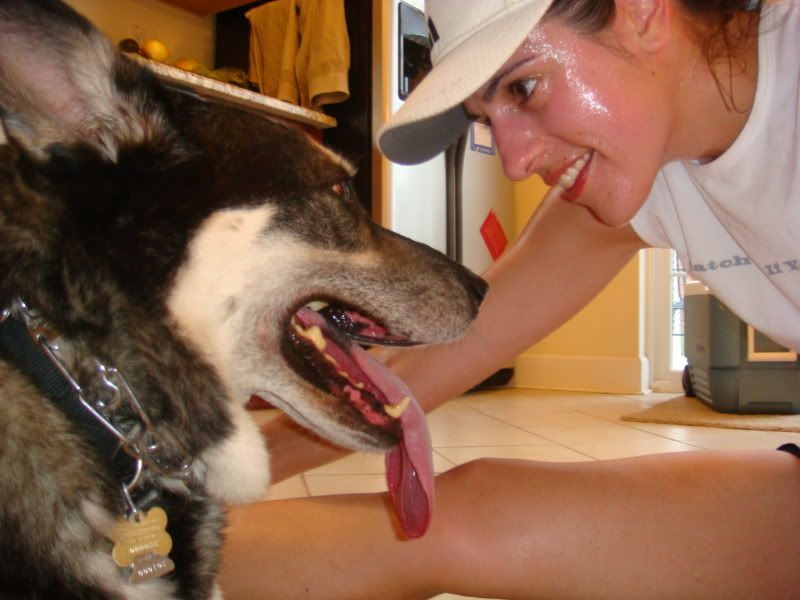 *********************************
Activity
| | | | |
| --- | --- | --- | --- |
| Route: | -- | Elev. Avg: | 628 ft |
| Location: | Forest Park, IL | Elev. Gain: | +3 ft |
| Date: | 05/10/10 | Up/Downhill: | [+22/-19] |
| Time: | 06:35 PM | Difficulty: | 2.1 / 5.0 |
Performance
Distance:
5.50 miles


Time:
0:52:59
Speed:
6.2 mph
Pace:
9' 38 /mi
Calories:
648
Map
Elevation (ft)
Pace (min/mile)
Splits
Mile
Pace (min/mile)
Speed (mph)
Elevation
Gain
actual
+/- avg
actual
+/- avg
1
9' 14

-0' 24

6.5

+0.3

0 ft
2
9' 26

-0' 12

6.4

+0.1

-9 ft
3
9' 55

+0' 17

6.0

-0.2

+3 ft
4
9' 44

+0' 06

6.2

-0.1

+7 ft
5
10' 08

+0' 30

5.9

-0.3

0 ft
end
9' 22

-0' 16

6.4

+0.2

+3 ft
Versus average of 9' 38 min/mile