Just a quick little post about Monday evening's run. Monday was the start of training for the Napa-to-Sonoma Half Marathon.
Holly
developed a training plan for both of us.
Here's this week's workouts: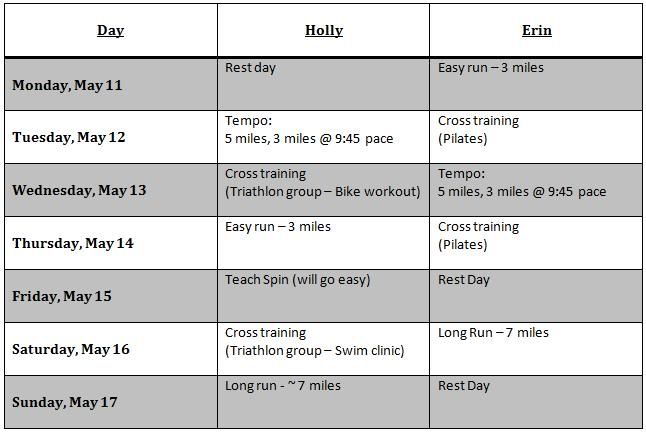 Click to see it larger
So last night was an easy 3 miles. However, I'd been nursing a headache and exhaustion all day. My boss even wanted to send me home early because I looked so ashen. Too bad I had an important afternoon meeting!
Anyway, when I got home I wasn't really feeling a 3 mile run. But, guess what? Jason (the husband guy) decided that this was the night he would start the
Couch to 5K
running plan! We'd bought him shoes and shorts earlier but he hadn't put them to good use yet.
So, he loaded the Couch to 5K Podcast onto his iPhone and off we went. Together we did 2.15 miles alternating 60 seconds of jogging with 90 seconds of walking and a 5 minute warm-up and cool-down for a total of 30 minutes. Jason did great! I think he's in better shape than he thought.
Once we finished the Couch to 5K workout, I ran the last .85 miles on my own to make it an even three. Overall, for the entire 3 miles I averaged an 11:41 minute/mile pace. Obviously not quite the workout I would have gotten on my own, but it was fun to run with the hubby (and the dog) and I think the very easy run was just what my body needed. I felt much better afterward.
And check out our stats!

Activity
Route:
--
Elev. Avg:
622 ft
Location:
Forest Park, IL
Elev. Gain:
+0 ft
Date:
05/11/09
Up/Downhill:
[+36/-36]
Time:
06:02 PM
Difficulty:
1.8 / 5.0
Weather:
A Few Clouds
58 F temp; 43% humidity
58 F heat index; winds E 10
Performance
Distance:
3.00 miles


Time:
0:35:04
Speed:
5.1 mph
Pace:
11' 41 /mi
Calories:
275
Map
Elevation (ft)
Pace (min/mile)
Splits
Mile
Pace (min/mile)
Speed (mph)
Elevation
Gain
actual
+/- avg
actual
+/- avg
1
12' 54

+1' 13

4.7

-0.5

+4 ft
2
11' 47
+0' 06
5.1
-0.0
-4 ft
3
10' 08

-1' 33

5.9

+0.8

0 ft
end
9' 10

-2' 31

6.5

+1.4

0 ft
Versus average of 11' 41 min/mile