First off, let me just say that I am SO HAPPY that spring and/or summer has arrived and everything is green again. I mean, just look at the creek along my usual bike path! It's so beautiful. Let's take a quick look back over how it's looked from January until now.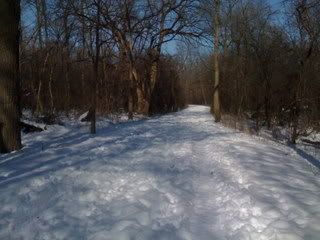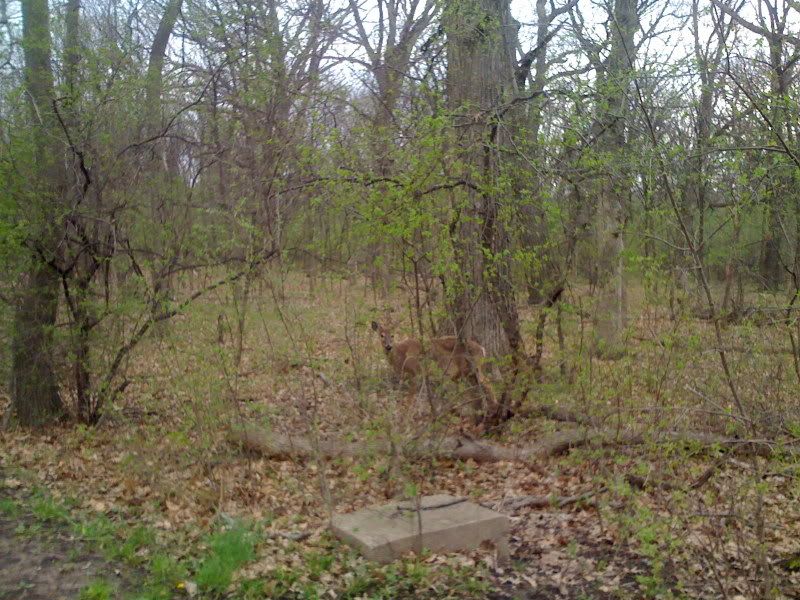 Wow. The greenness really sneaked up on me, huh?
Secondly, my calves were so tight on this run. Ouchie! I've been reading recently in the Livejournal Runners Community that tight calves can lead to shin pain. That was certainly true for me today! I even started off slow but my right shin was killing me. It hurt so bad until about mile 3. I think that's when my calves finally loosened up.
Thirdly, I managed to get out on the path around 8:15 this morning after a bowl of instant steel cut oatmeal, honey, and almond butter. And some Sport Beans. Aside from the shin pain, the run was fairly decent. My plan was to try and pace myself around a 10 minute mile for the entirety of my 8 mile run. And, aside from having to stop at the one stoplight during both the out and the back parts of the run, I did pretty well. Check it out:

I also walked some between the mile 4 and mile 5 marker while I ate another package of Sports Beans and drank some water.
Finally, I ran in something a little different today. On Friday my boss let us off work early so I went up the street to Nordstrom Rack to look at jeans and other random things. I wandered into their "active wear" section and found an adorable Adidas running skirt for $19.99! I tried it on and it fit perfectly. So, it came home with me and I wore it out today. I admit I was a little apprehensive to wear it on my long run. What if my thighs chaffed? What if it rode up? Thankfully, neither of those things happened. In fact, I loved wearing it so much that I wore it around the rest of the day while doing all my errands.
Isn't it cute?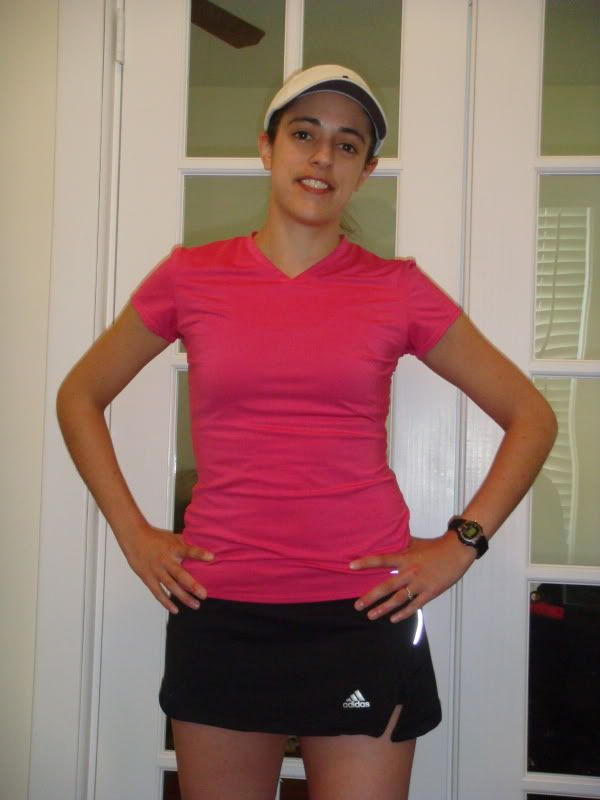 Click photos to see them larger
I think I'm going to try and wear it on all my long runs. If it keeps behaving itself and I don't have any chaffing issues, I'm thinking about wearing it for the half-marathon in July. Now I just have to find a tank-top that actually fits tight enough in the chest without being too tight at the hips.
So, with that, I leave you with today's stats.
Activity
Route:
--
Elev. Avg:
621 ft
Location:
Brookfield, IL
Elev. Gain:
+4 ft
Date:
05/23/09
Up/Downhill:
[+223/-219]
Time:
08:15 AM
Difficulty:
2.7 / 5.0
Weather:
Partly Cloudy
69 F temp; 54% humidity
69 F heat index; winds Calm
Performance
Distance:
8.00 miles


Time:
1:22:44
Speed:
5.8 mph
Pace:
10' 21 /mi
Calories:
794
Map
Elevation (ft)
Pace (min/mile)